When shopping for engagement rings it's easy to get tangled up in the questions such as "what makes a good engagement ring?", "do engagement rings have to have diamonds?", "what other stones can be worn every day?"… the list can be extensive.
If you've found yourself ogling some pink sapphire rings and wondering if they might be suitable for your own engagement ring, we've got you covered. In this blog, we'll be answering all of your questions about both antique and vintage pink sapphire engagement rings.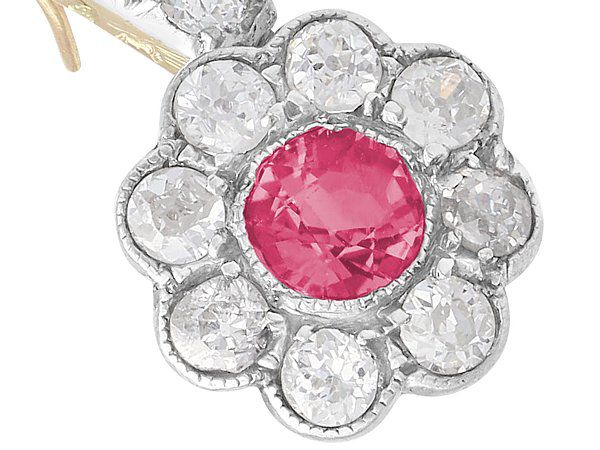 The History of Pink Sapphires
Pinkness is a naturally occurring element of sapphires, and so pink sapphires have existed for as long as the blue stones to which we are familiar. The pink stones have become more readily available in recent years, however, as new gemstone deposits were discovered in Madagascar in the late 20th century.
Pink sapphires are not nearly as rare or expensive as pink diamonds, but they are still far rarer than sapphires of all shades of blue, making them a unique choice for an engagement ring that you're not likely to see more than a few times in your life.
What is the Meaning of Pink Sapphires?
In ancient Asian cultures, pink sapphires are regarded as symbols of love and beauty, often being related to the lotus flower because of their perceived delicacy and purity. The contemporary Western interpretation of pink sapphires is that they are innately regal and romantic.
These feminine gemstones convey a softness and warmth that always goes down a treat for anyone lucky enough to see them in person. Given the inherent sparkle that sapphires have, pink sapphires are often utilised as more affordable stand-ins for pink diamonds, which are exceptionally expensive.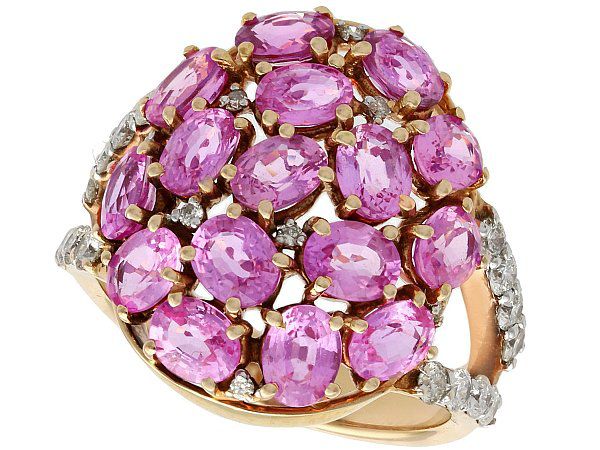 Are Pink Sapphires Good for Engagement Rings?
Just like blue sapphires, pink sapphires make a great choice for engagement rings. On the Mohs scale – a way of measuring the 'hardness' of minerals – sapphires place as a 9 out of 10. With diamonds taking the top spot at number 10, this means that sapphires are very strong and hardwearing gemstones.
Pink sapphires in particular have beautiful colours and tones that are hard to come by in other stones of the same strength. If you or your future bride-to-be have September birthdays, sapphires are actually your birthstone, so you can combine the beautiful colouring and romance of a pink gemstone with the sentimental value of matching your engagement ring to your birthstone.
All in all, pink sapphires get a pass from us as a good choice for engagement rings.
Our Favourite Pink Sapphires
The Pink Sapphire Showstopper
This first example of our stunning pink sapphires is a real showstopper. Featuring a pink sapphire and a blue sapphire, this twist style ring even combines yellow gold and platinum to be a totally unique affair.
Each stone is roughly 5 carats in weight, making this a very sizable option for an engagement ring. If you like the idea of a statement piece of jewellery – which you presumably do considering you're eyeing up pink sapphires – then maybe this is the ring for you. This ring is an especially great idea if these blue and pink hues have special significance to you and your partner.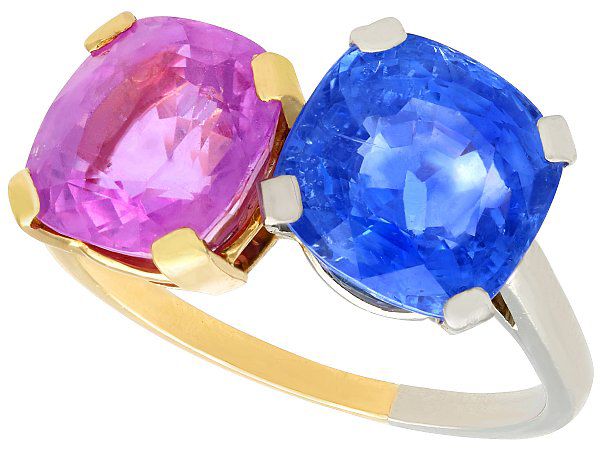 The Pink Sapphire Statement Cluster
This dress ring features a fantastic 1.45ct oval mixed cut pink sapphire at the centre of a rectangular formation of diamonds that's dazzling to behold. This is another ring that has a lot of presence about it, which you'll find often with pink sapphire rings. Because of their relative rarity, pink sapphires are usually reserved for dramatic jewellery pieces so they can be suitably adored.
This ring, crafted with white gold and platinum, has a cool tone to it that allows the pink to really pop. This engagement ring has been crafted in the Art Deco style, having all sorts of shapes and structures that any Art Deco fan would love.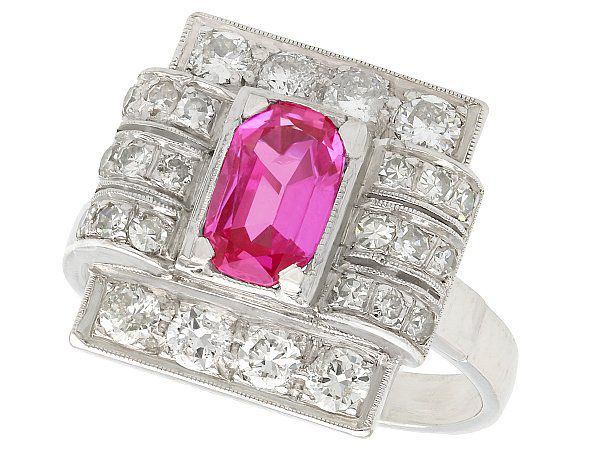 Pink Sapphire Trilogy
This last antique ring comes out the Victorian era, dated to the turn of the 20th century. The central pink sapphire is oval cut, supported on either side by two pear cut diamonds. This trio culminates in a decorated yellow gold setting that creates a hugely regal aesthetic. If you or the person you want to marry enjoys feeling like royalty, this is the pink sapphire engagement ring for you.
The combination of cuts is something that makes this ring a truly unique option for people who like their jewellery to stand out amidst the throngs of diamond solitaire rings. The sapphire in this ring even has a certificate authenticating its Burmese heritage.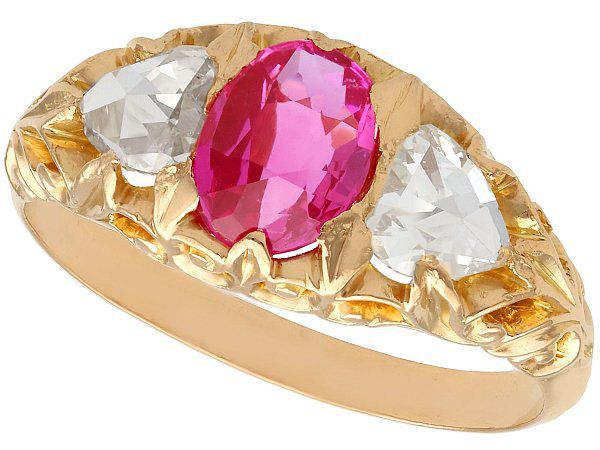 We love pink sapphires at AC Silver, and we hope this blog has been enough for you to see that there's a lot to love about them! What do you think of our own pink sapphire engagement rings?