We accept, when buying vintage and antique jewellery, that there is a certain element of responsibility on our hands to care for it. All jewellery needs a little TLC from time to time, requiring cleaning, special storage, and sometimes maintenance to prevent or treat damage.
If you're wondering how to care for amethysts, that's what we're looking at today. Let's get into it.
Light Exposure
One thing that's unique to amethysts is that there are susceptible to losing some of the saturation in their colouring when they are exposed to bright light for too long. If you live somewhere sunny, it might be a good idea to store your amethyst jewellery in a solid box that prevents this type of damage.
Equally, although amethyst jewellery is strong enough to wear daily, consider giving your stunning vintage amethyst ring a break from wearing every now and then – especially in the summer. This amethyst tip is most helpful for rings and pendants, with pieces of jewellery like earrings being naturally more shielded from the sun.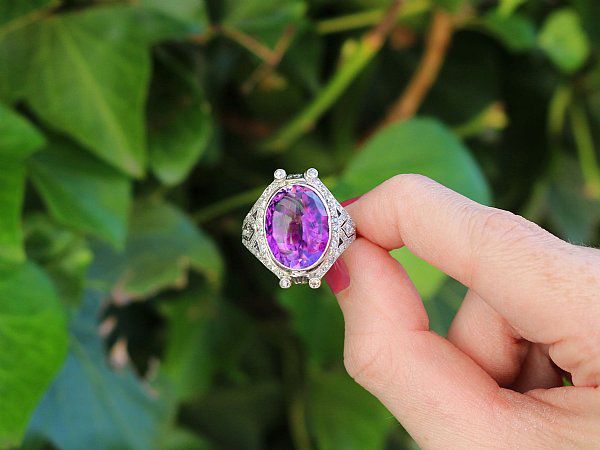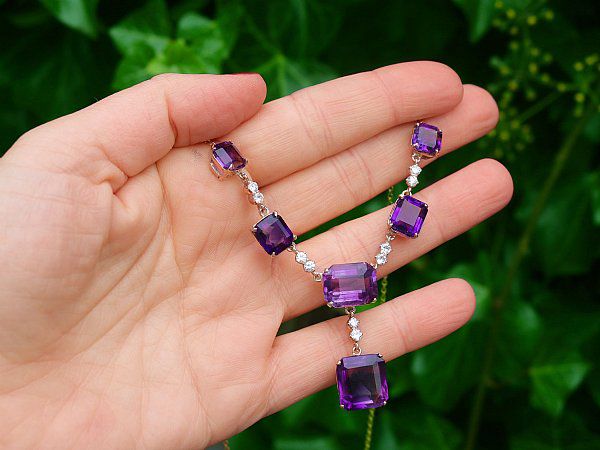 Temperature Change
An abrupt temperature change can lead to fractures in your amethyst jewellery. This is typically only applicable if you're going to wear your amethyst jewellery in the bath and then place it on a cold granite counter, for example, but it is still important.
You should not subject your amethyst jewellery to high temperatures, as this can also lead to damage in the stone. Ensure all of your jewellery is removed before entering a bath, hot tub, or any other exceedingly warm environment.
Equally, you should avoid keeping your amethysts stored somewhere too cold. While they cannot especially suffer from the cool temperature, they are much more likely to suffer damage from being taken out of this temperature for being worn.
Scratches
Although we have mentioned that amethysts are quite a hard stone, less likely to scratch than many other gemstones, they are still at risk. When you're wearing your amethyst jewellery, avoid wearing clothing pieces that are likely to cause scratching, such as zips. It's important to do what you can to look after your jewellery, even more so if you have vintage and antique pieces.
Scratches are also preventable during the storage of your jewellery. If you want to ensure your jewellery is as safe as it can be, store separate pieces in soft cloth bags within your jewellery box. This not only keeps amethyst jewellery from being scratched by hard pieces like diamond jewellery, but it also prevents the amethyst jewellery from damaging softer gemstones like those found in opal and pearl jewellery.
All in all, it's easier than you might think to protect your jewellery. It might sound like a chore, but for all of the beauty that amethysts bring to your life, they deserve the best care you can provide. If you look after your jewellery right, you'll find that it can last more than one lifetime!