Pearls are deeply romantic natural gemstones that are often used in engagement rings. We're keen on pearl engagement rings, and we hope you are too – today we're having a look at a few of our favourite engagement rings with pearls, as well as tackling the hard questions. What do pearl engagement rings mean? What do pearls symbolise? And of course – how much should you be spending on a pearl engagement ring?
What Does a Pearl Engagement Ring Mean?
Pearls – perhaps because of their unique and enchanting lustre – are often linked to wisdom. They offer protection to their wearers, as well as steering them into lucky situations, including potential financial gains. Supposedly, they have a soothing effect as well, which is also unsurprising given their beauty. How could you feel anything but happy when looking at a stunning pearl on the hand?
Representing the strength of a relationship as well as loyalty between two people, pearls are a good choice for people wanting to choose a different style of engagement ring. If you and your partner would like an element of calm serenity brought into your lives, consider a pearl engagement ring. Below, we have a couple of intensely peaceful pearl engagement rings that would bring new levels of calm to your lives.
How Much Does a Pearl Engagement Ring Cost?
On their own, pearls aren't particularly expensive gemstones when compared to other precious gemstones like sapphires or emeralds. One of the main issues with the cost of pearl rings is the presence of any other gemstones in the ring. A lot of pearl engagement rings feature diamonds, which naturally ramp the price up accordingly.
A lot of our pearl engagement rings have pearls and diamonds combined in a huge variety of styles. Typically, the more expensive end of our pearl engagement rings will include large diamonds as well pearls. The designs are also frequently more complex in our more luxurious rings than the more stripped-back, minimalist options. Check out two of our rings below to see the contrast between a more pricey, elaborate ring, and a minimalistic design that comes with a more purse-friendly price tag.
Beautiful Pearl Engagement Rings
When we looked for examples of famous pearl engagement rings, we couldn't get past Emma Stone's pearl engagement ring. The actress's fiancé presented her with a pearl and diamond ring from Japanese design house, Kataoka. A central pearl is accented by a ring of delicately set diamonds in the warm gold ring. The band of the ring is accented with more diamonds as well as a floral motif around the band and the central pearl itself.
While Emma Stone's pearl engagement ring is on the dainty side, the pearl itself is a fairly sizeable one, sticking out prominently from the ring. We have a lot of similar pearl rings where the stone sticks out from the ring boldly. These are good ring design styles because they allow the ring to be easily cleaned and maintained, as well as making it easy to show off the natural glow that pearls have.
Engagement rings with pearls are beautiful and unique, displaying effortless grace and glamour that's both demure and sophisticated. Pearl jewellery requires a lot of upkeep, but it's entirely worth it for how stunning and unique each piece is; you will never look anything less than classy when sporting some stunning pearls.
1. Natural Pearl and Diamond Twist Ring in 18ct Yellow Gold
Our first example for the best pearl engagement rings on the market has to be this stunning twist ring. One natural pearl is set alongside a 1.20 carat, Old European cut diamond, with accent stones to finish.
This antique French piece of bridal jewellery is uber romantic, a completely perfect choice for someone who likes traditional romance. The pearl here is set apart from the diamonds too, meaning it won't be scratched or damaged by its ring-mates.
The twist shape with two prominent stones is sometimes referred to as a toi et moi ring, meaning 'you and me'. This style of ring is inherently romantic, making it the ideal choice for those wanting their proposal to be filled with love and romance.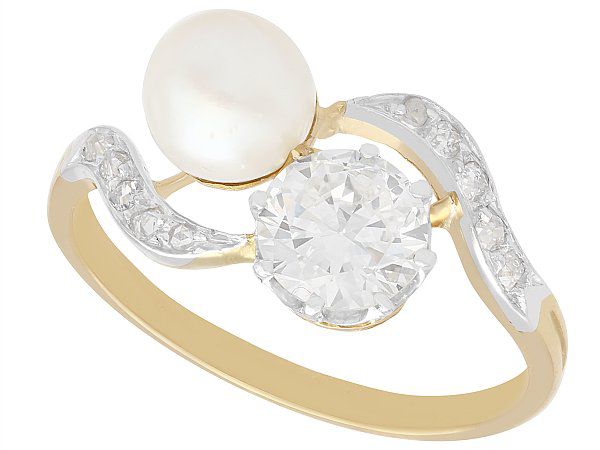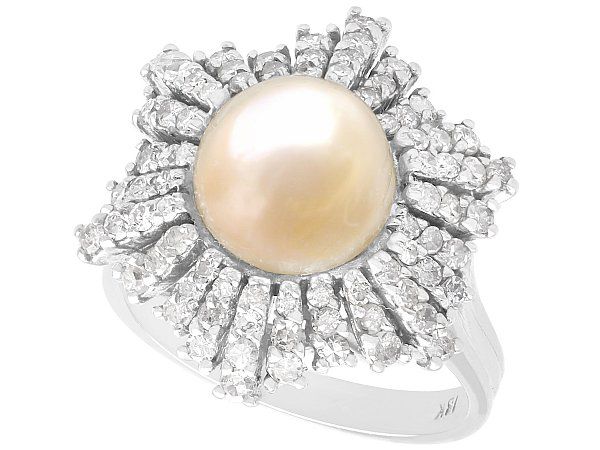 2. Natural Saltwater Pearl and Diamond Dress Ring
This cluster style setting displays a central saltwater pearl that has stunning colour and lustre. Straying away from the common bright, white colour, this pearl has a warm glow to it that touches somewhere between a pink tone and a soft yellow shade.
Diamond columns spray from the central pearl to create a beautiful sheen of glittering white. The undulating length of the diamond columns creates a star-like shape for the overall ring – a showstopper for sure! This is listed as a dress ring because of its size, but it makes for a beautiful large engagement ring.
It's true that this is a large ring with heaps of presence, but don't let that put you off when it comes to engagement rings. It could even be a brilliant anniversary ring for those celebrating successful years of marriage together.
3. Pearl and Pink Sapphire Vintage Ring
Something totally different can be found in this beautiful example. The chocolate coloured pearl is very stately, having enormous presence and beauty that makes it so beautiful. The way the pearl has been set allows the pearl to stand proud away from the rest of the setting – statement jewellery at its finest.
At either side of the chocolate delight are trios of pink sapphires. They're set in a beautiful claw-set style that allows their oval shape to perfectly compliment the rich roundness and colouring of the pearl.
Below the sapphires, four diamonds are set at each side of the ring in a white gold cuff style. This creates a trio of colour between the brown pearl, the pink sapphires, and the bright whiteness of the diamonds. All together, the colours contrast with the yellow gold setting to create a beautiful ring.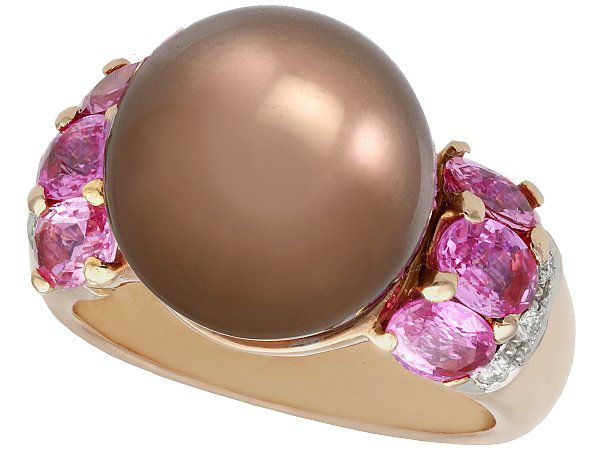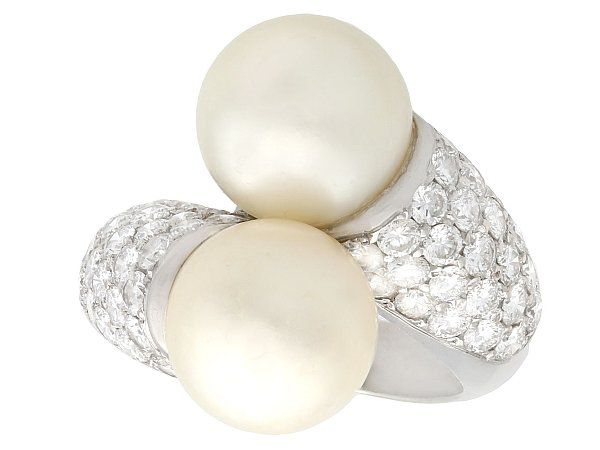 4. Cultured Pearl and Diamond Twist Ring
Our next example of a brilliant engagement ring with pearls is a stunning two stone twist ring. The cultured pearls in this ring are of an exceptional size, making them a great choice for a showy engagement ring. Not only are there stunning pearls, but there's also a total of 1.70cts of diamonds!
The twisting shape of this ring means it takes up a lot of space on the hand – a great choice for someone with larger hands or longer fingers. The diagonal sweeping mount settings for the pearls allows the vast majority of the stone to be on show.
The more pearls are exposed to air, the more lustrous they become. A ring like this – while you might not choose to wear it every single day – allows for a lot of air to come into contact with the pearls, guaranteeing stunning lustre.
5. Diamond and Pearl Rose Gold Cocktail Ring
Something more dainty can be found in this rose gold, diamond, and pearl ring. The unique pattern created by this ring is a fun and delicate design that's perfect for someone who wants to wear something individualistic without being over the top.
There are three pearls set in a symmetrical pattern against three diamonds, with diamond accents holding the central setting to the rose gold shank of the ring.
This ring is the kind of antique example that we love to show off. It's unique in its design, it's sturdy enough to last a lifetime – having been made in the early 1900s – and it demonstrates the kind of beautiful creations that handmade jewellery craftsmanship can create. Truly a stunning piece of antique jewellery, this ring is romantic and timeless.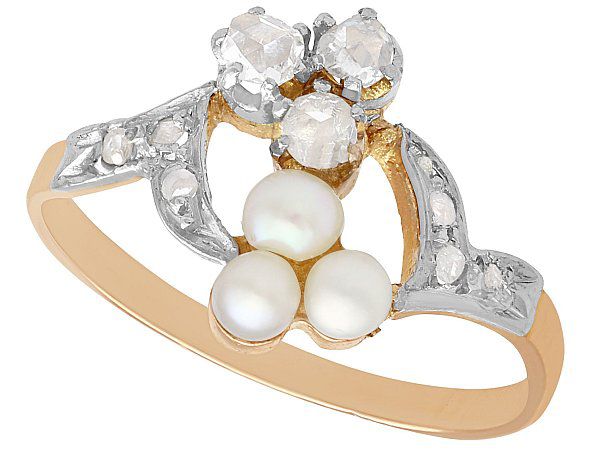 6. Pearl and Diamond Yellow Gold Dress Ring
Our final exmaple of the top 6 engagement rings with pearls is another beautiful antique design. Much like the previous example in this list, this 1900s ring features a delicate balance between diamonds and pearls. Three pearls accent the centre of the setting in a neat vertical row, with two diamonds ensuring they are evenly spaced.
The diamonds that accent the setting create an almost Rococo style frame around the focal point of the ring. This ring's design has a more grandiose style to it, whilst maintaining a small enough size that it works as an engagement ring effortlessly.
The yellow gold band connects to the white gold setting, allowing both the diamonds and pearls appear both brighter and whiter. This ring's style is unique, with a definite feeling of that 'antique' vibe that you always want to see when you're looking at antique jewellery.
Now that you've seen a selection of some of the pearl engagement rings we have in our store, what's your overall stance on an engagement ring with pearls?