Sometimes it's easy to get wrapped up in the biggest and boldest when it comes to diamond rings. When you're looking to scale things back, you want to check out the more delicate side of the jewellery world. In that spirit, today we're celebrating our daintiest diamond rings that are perfect for engagement rings, birthday gifts, anniversary presents and more.
Vintage 1950s Solitaire Ring
The most traditional and timeless engagement ring style has to be the diamond solitaire ring. Dainty diamond solitaires are a great idea for anyone that wants an understated engagement ring. Equally, smaller diamond rings look very fitting on petite hands with small fingers. This vintage 1950s diamond solitaire is the perfect example of a classic engagement ring.
The diamond at the centre of this ring is a 0.38 carat stone, making it a delicate bright spark just ready to sit on your finger. Yellow gold and platinum come together in this ring, cementing its position as a truly timeless piece.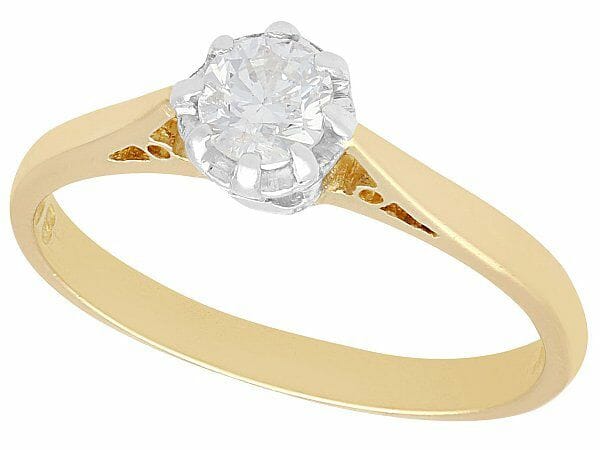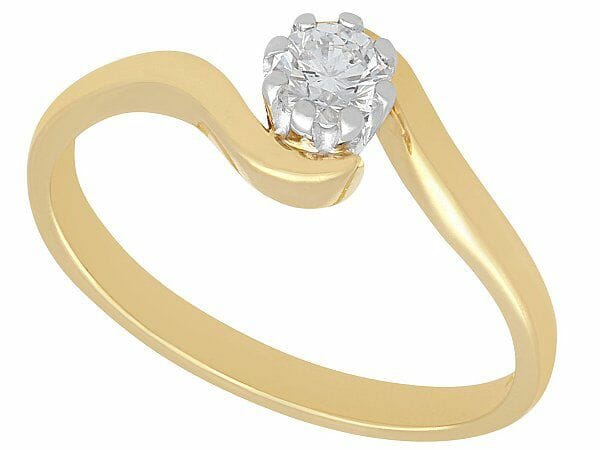 Solitaire Twist Ring
Another diamond solitaire style ring, this one gets its uniqueness from the twist style setting that holds the diamond setting in place. The gentle curve of the yellow gold band on this ring gives it its dainty title, the band of the ring is on the narrow side, making the ring a stunningly delicate piece of jewellery.
Anyone who wants a traditional engagement ring with a twist of something unique would be delighted with this diamond ring. The diamond itself is on the smaller side, weighing in at 0.29 carat. The setting style allows the diamond to have more presence than a stone of this size typically would.
Three-Stone Art Nouveau Ring
Most three-stone rings, or trilogy rings, have the gemstones in a horizontal arrangement. This dainty piece takes a completely different direction by stacking the diamonds one on top of the other. Typically, a ring with this arrangement would be bulky and oversized. This ring, however, manages to avoid looking like 'too much'.
The setting metal is thin and delicate, creating an elegant spread across the finger that makes this unique ring something to be envied. The Art Nouveau style can be seen in this ring clearly through the sweeping motion of the yellow gold twist design.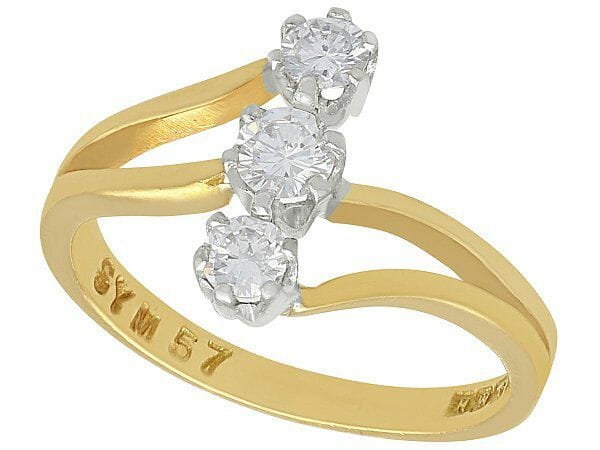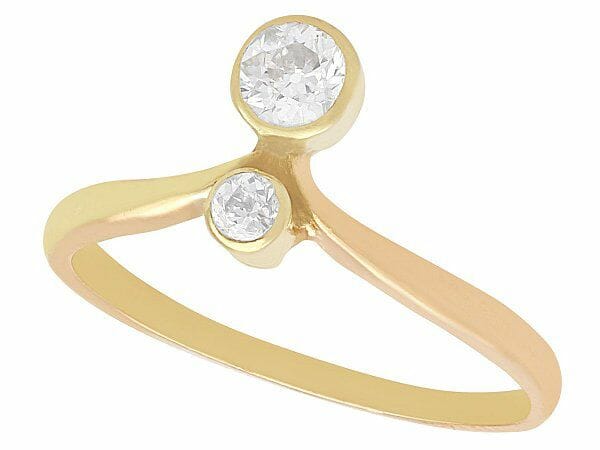 Two-Stone Diamond Ring
This antique piece of jewellery manages to look like something completely out of time all together. It dates to the 1910s, but it would look right at home on any catwalk today. The duality of the stones gives this ring some real dimension, as well as multiple options for how to wear it.
This is another example of a dainty diamond ring that would be a perfect engagement ring for someone that wants something unique without having to deal with anything too burdensome or bulky. Yellow gold is a common theme in this blog, but it's perfect for delicate rings like this, adding a certain warmth that's easy to love.
Princess-Cut Diamond Solitaire Ring
The last entry on our dainty diamond rings list is this stunning princess-cut diamond solitaire ring. It seems as though most dainty rings are round-cut or something similar, which is why it seems important to highlight that there is a great variety of gemstone cuts available for anyone who wants something different.
This is a typical engagement ring style, with the princess-cut stone rarely featuring on non-engagement rings. If you're looking for a diamond ring as a gift for some other occasion, however, consider the princess-cut diamond. It's stylish, elegant, and timeless. Diamonds are perfect for any occasion, and this ring is no exception.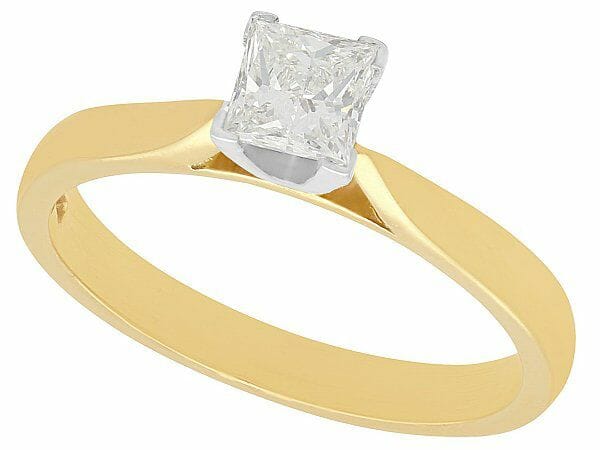 These are just five of our dainty diamond rings, but there are many more in our selection that are more than worthy of your time. Whether it's because you have smaller hands, or you simply have a penchant for the more delicate things in life, take a look at some of the smaller diamond rings in our selection.