When you're looking for the perfect engagement ring, it can be easy to get lost in the fray with the level of variety that's on offer. Today, we've collected a few of our vintage engagement rings that are the best representations of their vintage styles. Instead of becoming overwhelmed at the number of options available, let's get into the nitty gritty of seven fabulous vintage engagement rings that are sure to delight you.
The 1950s Solitaire Ring
This is the classic of the classics. If you want an engagement ring that's immediately recognisable as an engagement ring, this is the one for you. Coming straight out of the 1950s, this claw-set, round-cut diamond ring is set in platinum, ensuring that that 3.03 carat diamond is held safe and secure.
You did hear right, by the way, this diamond solitaire is 3.03 carats of diamond. It sounds overwhelming, but in a traditional style ring like this, the large carat size is surprisingly manageable. If a 3-carat stone is above your price point for an engagement ring, fear not, we have a lot of examples of this style that are much less likely to break the bank.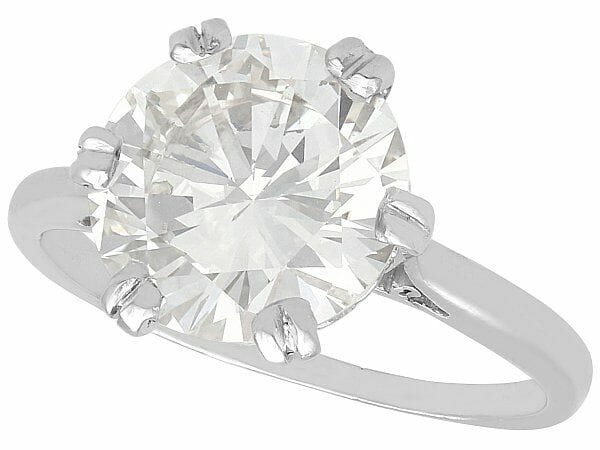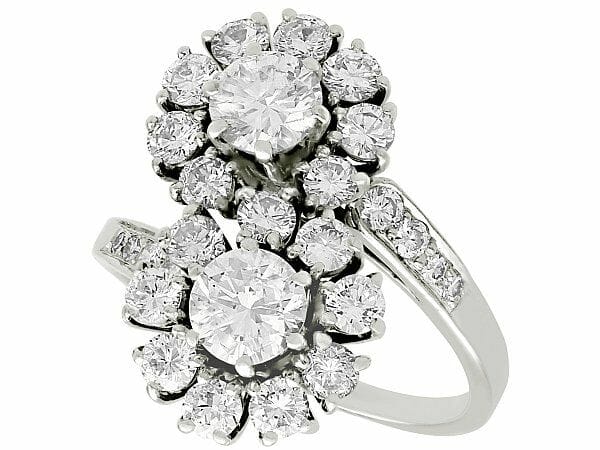 1970s Twist Ring
The 1970s was an experimental time for jewellery, with lots of new designs being explored. This engagement ring, with two feature diamonds surrounded by swirling halos of smaller diamonds, is the epitome of 1970s style. Something of a show-stopper, this ring came from the era of disco dancing and it knows it.
Perfect for people with larger hands or longer fingers, this design style is delightfully vintage, and its exceptional sparkle keeps it from looking 'too old' (if such a thing exists). Consider a halo/twist style like this if you're a fan of the fabulous and somewhat over-the-top.
1950s Cluster Ring
Detouring back to the 1950s, we have this stunning aquamarine and diamond cluster ring. Cluster rings aren't entirely common engagement rings, but the cluster ring style was a popular choice in this period. Picture yourself wearing this with a puffy-sleeved blouse and a poodle skirt and it's easy to see why.
Aquamarine engagement rings help you include some colour whilst keeping the brightness of diamonds as your focus. A cluster setting like this is a great way of incorporating a variety of coloured gemstones in your engagement ring without having them steal the show from the diamonds.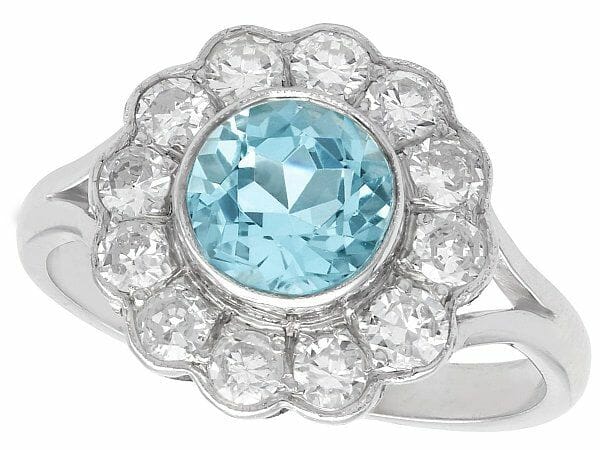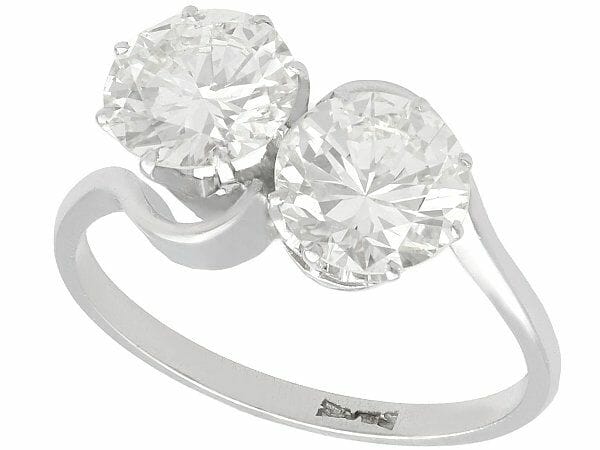 1940s Toi et Moi Ring
The toi ei moi – or 'you and me' – ring style is among the most romantic options on the market. With each gemstone, in this case the classic diamonds, representing each member of the marriage, this ring couldn't hold more sentiment if it tried.
A 1940s engagement ring also holds great appeal, having that truly 'vintage' feel that is impossible to replicate with modern jewellery. This is a platinum ring, perfect for this style, since each stone is held delicately in place. The fineness of the band, with its slim and elegant curves, requires a strong metal to stay secure.
1970s Marquise Cluster Ring
Another '70s treat comes in the form of this sapphire and diamond cluster ring, taking a vague marquise shape. Sapphire engagement rings have been a very popular choice for some time now, seeing definite spikes at the engagements of Princess Diana and Kate Middleton.
This sapphire, diamond, and yellow gold combination is not to be sniffed at, with a 2.90 carat sapphire holding its own against the surrounding diamonds. The richness of the blue sapphire could make anyone swoon, and it's the perfect choice for those who are big fans of the gemstone or the colour. Coloured gemstones are something of a unique choice for engagement rings, ready for those looking to stand out.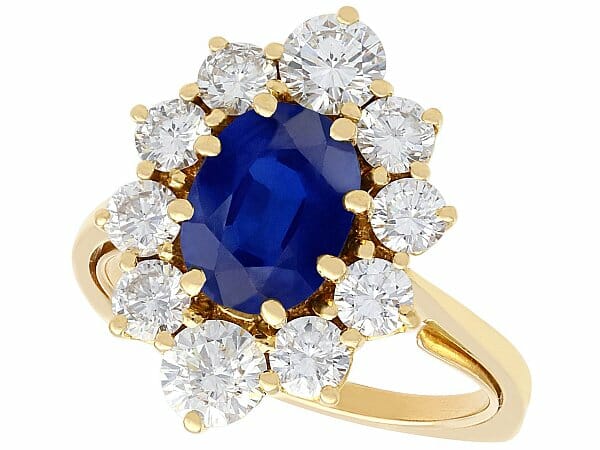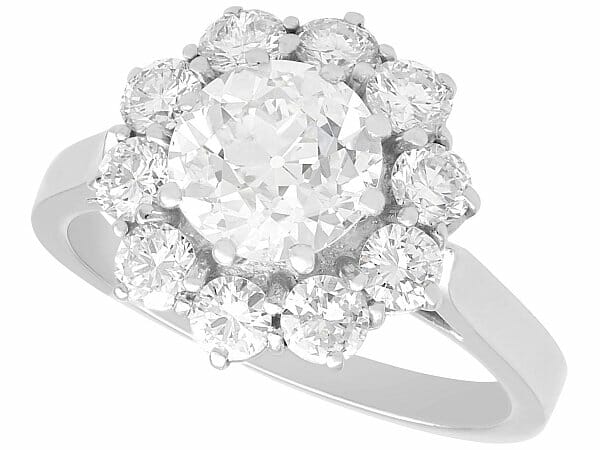 Antique and Vintage Diamond Cluster Ring
Rings like this are rare, though not entirely unheard of; the feature diamond comes from an antique 1920s ring, which has been removed from another jewellery item and placed in this vintage setting. The surrounding diamonds and the setting itself all date to the 1950s, most likely a family heirloom that was modernised for a special event.
Today, this ring is typical of the 1950s cluster style, with a show-stopper 1.75 carat feature diamond in an Old European cut, a hand-cut style leaves every stone unique, unlike today's mechanically laser cut stones.
1990s Diamond Twist Ring
I know what you might be thinking, the 1990s isn't vintage, surely? Hate to be the one to break it to you, but 1990 was 31 years ago, which does indeed throw it into the category of being vintage. This vintage twist ring is a truly unique ring that incorporates a lot of elements that were very popular engagement ring choices in the 1990s.
Two pear-cut diamonds face off in a twist setting, with five baguette-cut diamonds following their trails. These stone cuts were very common choices in this era, and having the two together, combining the rounded and the angular, makes this ring a stellar choice for anyone who wants something that truly stuns.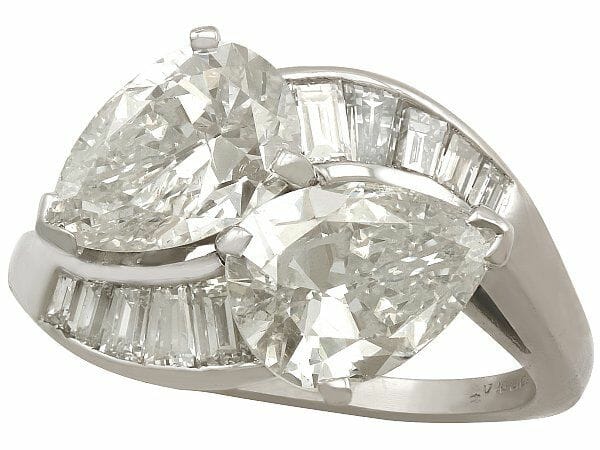 We hope you're feeling inspired by checking out these engagement rings. When it comes to vintage jewellery, we know that it's easy to get distracted. Why not start with a style you like the look of, or a favourite gemstone, and progress forward from there?