We love to take the time to celebrate the daintiest and most delicate among our collections. Today, our focus is on dainty three stone engagement rings. Why do people wear 3 stone engagement rings? Are three stone engagement rings popular? What do three stone rings symbolise? Care to join us on as we answer these questions and celebrate all things small and smaller?
The Three Stone Engagement Ring
There is a name for engagement rings with three stones – perhaps you've heard it. They go by 'trilogy' rings more often than not. Trilogy rings have been a presence in the jewellery world for some time now, but only recently have they been increasingly popular for engagement rings. Yes, the three stone engagement ring is indeed a popular choice. There's something understandably appealing about having the spread of diamonds, rather than the more traditional single stone. The dainty three stone engagement rings are even more understandably popular; for the same price as a solitaire, you can get three times the diamonds.
As far as why people wear three stone engagement rings and what they mean, there are multiple opinions on the symbolism of trilogy rings. One of the meanings is that each stone is representative of different parts of life, with the past, present, and future. If you're giving a trilogy ring as an engagement ring, it's a brilliant idea because of this very symbolism. Sometimes, trilogy rings are given to an expectant mother, as a representation of the couple becoming a trio.
Our Dainty Three Stone Engagement Rings
This vintage 1950s diamond trilogy ring has the exact amount of daintiness that anyone could love. Altogether, the diamonds equal 0.73ct, making them the perfect size for anyone who either wants a smaller ring or has smaller hands. Petite women often do better with smaller engagement rings, as they don't overwhelm the hand, and this ring is the perfect way of having multiple gemstones on your ring without having a ring too big for the hand.
The overall style of this ring is a classic, and it's perfect for those wanting an even spread of gemstones without breaking the bank for a huge ring.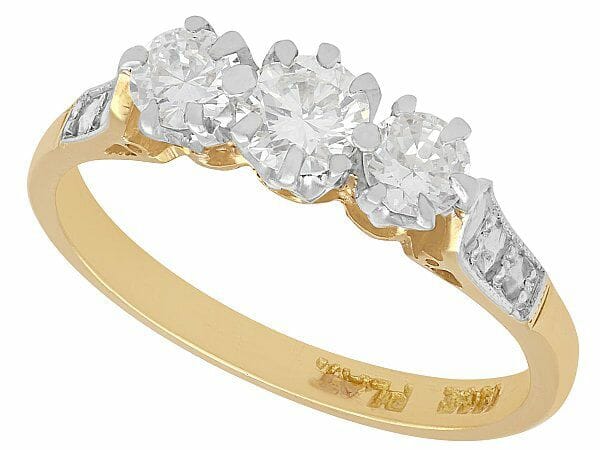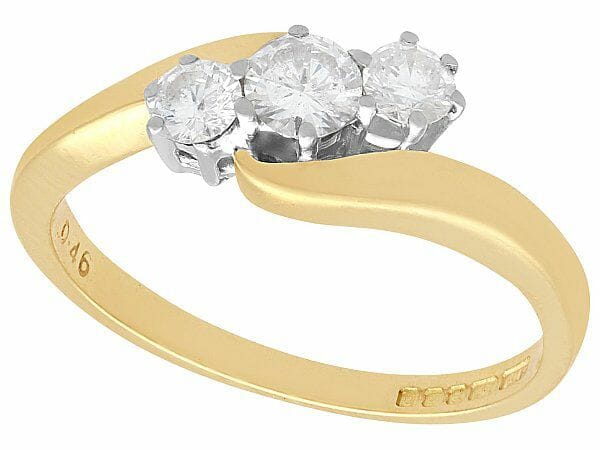 This next diamond ring is hallmarked to 2001, making it one of the more modern items in our collections. The total carat weight of this ring is 0.46ct, making its sparkle even more subtle than our first ring. Something unique that comes out of this ring is the way the diamonds are set. The yellow gold shank is set in a twist design, meaning that the diamonds sit in an upwards slope. The subtle elegance in this ring is unlike anything else.
This is the perfect ring for someone who wants their ring to be unique without needing something that sits loud and proud on the hand.
This vintage offering has something completely different. A central ruby with two diamonds at either side brings a pop of colour that every ring deserves. Ruby is the birthstone for people born in July, which would make this the perfect ring for anyone born in July, getting engaged in July, or even getting married in July. Incorporating rubies and diamonds together is a good way of personalising your engagement ring to be more in-line with your tastes.
The colour of metal that's popular for engagement rings changes regularly. At the moment, yellow gold is in, but white gold has its own timeless look that's always a good choice.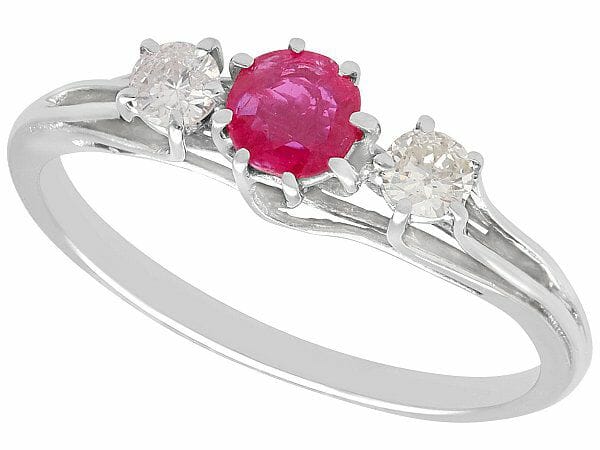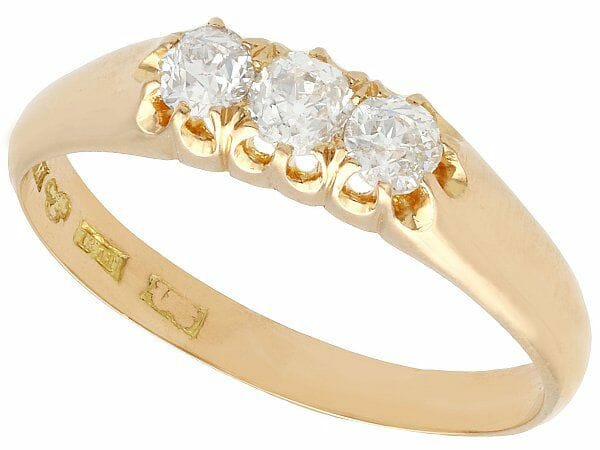 The last three stone diamond engagement ring we're checking out today is an antique. Hallmarked to 1898, this Swedish ring definitely has the 'antique' look about it that we love so much. The claw setting on the three diamonds is typical of antique rings from this era, adding to that dreamy antique aesthetic. If you're a big fan of antique jewellery, this is the perfect dainty three stone engagement ring for you.
Often, antique jewellery is bulky and broad, because the tools and methods of jewellery-making in the past required a lot of setting metal in order to hold the gemstones in place. This ring is a delightful departure from that often-oversized look.
Our rings, whether antique, vintage, or contemporary, are highly valued to us. Everything from the smallest piece of jewellery to the most grandiose has a place in a jewellery collection, and we're just glad that you enjoy our dainty three stone engagement rings as much as we do! Which is your favourite?