The pear-cut gemstone originates from the 1400s, when all gemstones were cut by hand by master craftsmen. Today, with the advent of highly-advanced laser cutting, gemstones can be more dainty and delicate than ever whilst maintaining their beloved sparkling shine. Pear-shaped, or pear-cut, engagement rings were used since the advent of engagement rings as we know them. Today, we're going to take a look at some of our own dainty pear-shaped engagement rings as well as answer some burning questions about the pear-cut.
Are Pear-Shaped Engagement Rings Popular?
Since the pear-cut has indeed been around since the 15th century, I think it's safe to say that the pear shape is exceedingly popular. Engagement rings as we know them today, however, have not always been in common use. The predecessors to engagement rings didn't always involve gemstones, let alone uniquely-cut gemstones.
So, as long as engagement rings as we know them have existed, there have been pear-cut options that have maintained popularity. All in all, pear-shaped engagement rings have never been the most popular choice, but they have had a consistent fan base over time who have ensured that they are a constant in the engagement ring world.
What Does a Pear-Shaped Engagement Ring Say About You?
Given that the pear-cut diamond is among the less frequently-seen of engagement rings, it is safe to say that anyone choosing it likes to go their own way. A unique style befits a unique personality, someone who doesn't care for conforming to norms.
The pear shape is often compared to a tear, although don't let this bring you down. The pear shape is sometimes referred to as a tear of joy, or wedding tears, both of which are positive things to associate with the shape. So, perhaps the pear-shaped engagement ring is a sign that you wear your heart on your sleeve whilst having the boldness and the braveness to show the world your true, individualistic self.
Which Direction Do You Wear a Pear-Shaped Engagement Ring?
When it comes to jewellery, there really aren't any hard and fast rules for wearing. You are free to wear a pear-shaped ring any way you like. As is often the case with such things, however, there is a 'traditional' way of wearing it, that I suppose could technically be considered to be 'correct'.
The most common and typical way of wearing a pear-shaped ring is to have the point of the pear closest to your fingernails. This way, the pear shape appears to be upright when you are looking at your own hand. If you're enough of an individual to chose the pear-shaped stone, perhaps the rules of how to wear it shouldn't apply to you at all.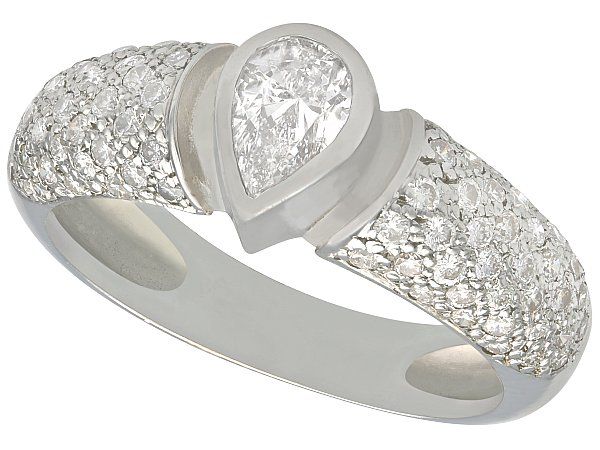 What Wedding Band Goes with a Pear-Shaped Engagement Ring?
Choosing a wedding band to match your engagement ring can be something of an adventure if you've chosen a unique engagement ring. Most pear-cut rings will require a custom wedding band. Thankfully, there are lots of options for customising your wedding band, many of them involving unique flairs that are sure to add to the beauty of your engagement ring.
One such example is a diamond sunburst wedding band. These bands are made to curve around the rounded end of your pear-cut engagement ring, featuring a neat splay of diamonds that spread out in a sunburst pattern, accentuating the engagement ring itself. You can also opt for v-shaped wedding bands that feature diamonds, creating an overall look that's similar to a marquise shape. Don't fret too much about what goes with a pear-cut engagement ring, as there are so many bespoke services out there now for bridal jewellery that you'll be flooded with choices.
Our Top Dainty Pear-Shaped Engagement Rings
I've trawled through our pear-shaped rings to find the best ones to fit the brief of a dainty engagement ring, and I've come up with three great choices. There are more than three pear-shaped rings in our stock, but only the daintiest have been chosen for this blog.
Our first entry is this sapphire and diamond pear-shaped ring crafted in 18ct white gold. The central stone is the pear-cut sapphire. Sapphire engagement rings are an enduringly popular choice, and this sapphire has excellent colouring and facets which generate tons of sparkle and shine. Surrounding the sapphire is a selection twelve round-cut diamonds. The setting around these diamonds is fitted to their roundness, keeping a unique shape that matches up well with the pear shape.
Our next entry, an all-diamond vintage French piece, is technically a twist ring, also called a crossover ring. In typical French style, this ring is effortless and elegant in a totally unique way. The focal pear-cut diamond is accented by three marquise cut diamonds – adding further uniqueness to the overall piece. On either side of the main setting, three baguette cut diamonds are set into the band of the ring. This pear-shaped diamond ring would be an excellent engagement ring for anyone who appreciates something completely out of the ordinary.
Finally, we have a vintage 1970s piece that's cleverly imitating a much older, Victorian style. Anyone who appreciates the finery of times gone by will love this frilly, romantic ring. Yellow gold encapsulates the ring, forming a delicate bow at the rounded end of the pear-cut sapphire. Again, the central sapphire is surrounded by diamonds on all sides, ensuring there is still a tasteful amount of dazzle to your engagement ring. A further seven diamonds ornament the bow itself, spreading the focus out across the different features of the ring. Although there is a lot of decoration on this ring, its overall size and the level of detailing keeps it dainty and delicate.
And there you have it, a comprehensive guide to some of the most-asked questions about pear-shaped rings, as well as a look at some of our finest and daintiest pear-cut engagement rings. Which is your favourite?