The ear piercing is a fairly ubiquitous phenomenon in human culture. Earrings that dangle down, whether you call them dangle earrings, drop earrings, or (my personal favourite) dangly earrings, are among the most beautiful and universal types of earrings. They suit every face shape, every skin tone, and every hairstyle, and they have history in every culture around the world.
Interested in exploring the beauty of dangle earrings for yourself? Read on.
How to Wear Dangle Earrings
It sounds silly to tell you how to wear dangly earrings, but it isn't always that simple. When it comes to antique jewellery in particular, there are a lot of different closures to dangle earrings that are not commonly in use today. Screw-backs, lever-backs, hook-and-loop fastenings, and clip-ons from the past are not all as easy to use as the familiar butterfly closures and hooks of dangle earrings that are commonly utilised today.
Thankfully, the vast majority of these closures are easy enough to adapt to, and you shouldn't run into too many problems with the literal wearing of them. If you have multiple ear piercings, it is the most common choice to wear your dangle earrings on the lowest lobe piercing you have.
However, you can mix things up if you have multiple piercings and you're interested in standing out from the crowd. Multiple lobe piercings look great with dangling earrings in each piercing; this also has the benefit of creating a stunning movement between your piercings, as each earring will hang to a different height. If you have an array of dangling earrings, wear the longest ones on the lowest lobe piercing, and the shortest ones on the highest lobe piercing to make a beautiful aesthetic.
You can mix things up even further if you have more alternative piercings like the helix piercing. These piercings are on the upper and outer edge of the ear. Typically, these piercings are worn with hoop earrings, but it's certainly a creative idea to get some dangling earrings involved in the process – experiment and see what you learn about your own style.
How to Style Dangle Earrings
Styling jewellery is not the same as wearing it, let's get that cleared up first. Styling your jewellery is more about the rest of your look. Owning a fine pair of dangling earrings is all well and good, but if you don't know how to do your hair or what outfit to combine with them, they may as well stay in the jewellery box. Fear not, however, as styling dangling earrings will not be your Everest. You have accomplished plenty, and you are not about to succumb to styling difficulties now.
The key thing with dangling earrings is to gauge the level of formality required. Are you headed into the city for a weekend break with your friends? This is a more casual affair that is unlikely to have you bringing out every diamond you own. For these more casual events, you can wear smaller dangle earrings, bringing the sparkle without upstaging all those around you. These types of earrings look great with a button-down shirt, a blouse, or even a casual sundress. Wear your hair down to maintain the overall look of low-effort chic.
Something more formal – a black-tie event, for example – can also be the perfect opportunity to utilise your dangling earrings. Black-tie usually indicates a floor-length gown is required, and thus is the perfect opportunity to go full-glam. Hair up is best for a formal event, whether it is in an elaborate style or a more traditional bun or French twist. Dangling earrings in this setting should be as big and bright as possible. Let them brush your shoulders if you can. Depending on the neckline of your dress, you may want to include a necklace in your ensemble. A strapless or off-the-shoulder gown is complemented by a jewellery suite that involves both dangling earrings and a necklace, while a gown with a boat neck, v-neck, high neck, or asymmetric neckline would look best with dangling earrings as the focal accessory.
Editing your outfit is the best way to guarantee that you stand out as a frontrunner for the most stylish person present.
Less can really be more when it comes to outfits, while adding more and more beautiful pieces to your outfit can end up bringing the whole thing down. Keep this in mind when accessorising your outfit and you'll be well on your way to being the best dressed person you know.
When is Best to Wear Dangle Earrings?
A lot of people think of statement earrings when they consider dangle earrings. Surely there is no way that dangling earrings can be worn daily without you seeming like some sort of high-and-mighty Queen of Sheba personality. This is not the case, however, thanks to the overwhelming versatility of earrings. Dangle earrings can be every bit as subtle as a stud, allowing you to wear them for an everyday look without ever seeming overdressed for your day-to-day life.
When it comes to the best time to wear dangle earrings, however, there's nothing like a party. It doesn't matter if it's a Christmas party, a birthday, a special wedding anniversary, or any other kind of party. Get-togethers with your favourite people are the ideal scenario for showing off everything you've learned about how to style dangle earrings.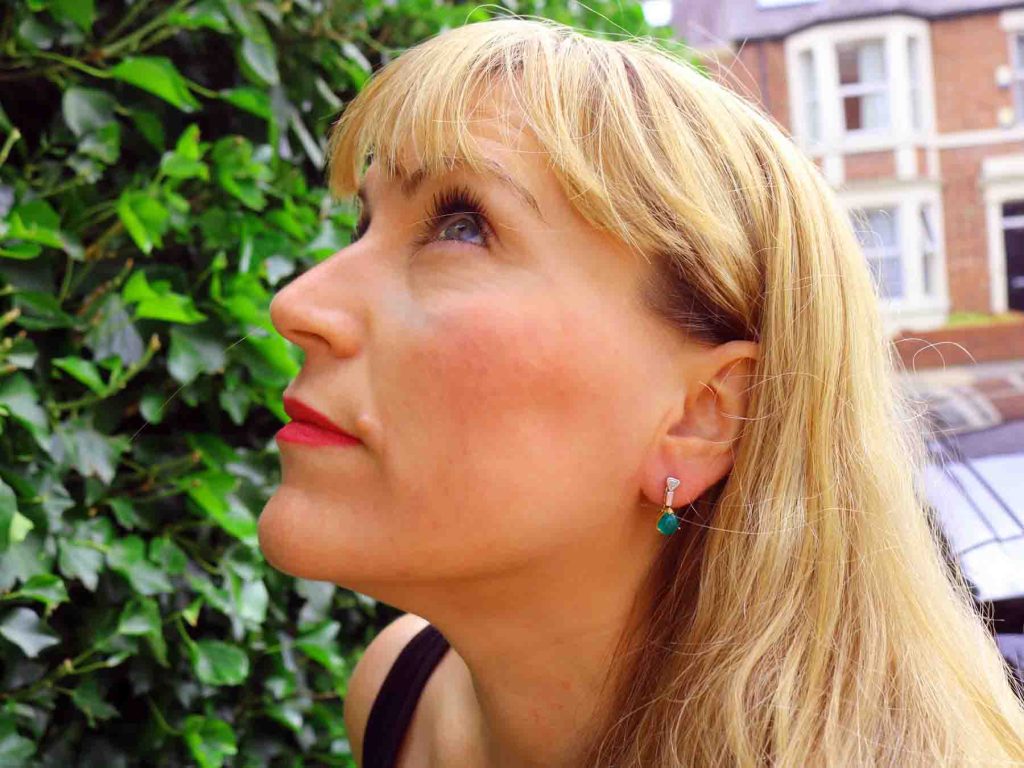 Get a luscious lipstick on, add your most dazzling pair of dangling earrings, and have the cherry on top be a great big smile. You're sure to turn heads as the most glamorous and adored party-goer.
If you can't bear the thought of only being able to wear dangly earrings when it's party-time, consider wearing more toned-down examples for work, meals out, and fun daytime activities. This adds that special touch of class to your aesthetic that lets you express your inner Lady Di without being over-the-top or tacky.
All in all, dangling earrings are an excellent accessory, and are every bit of a wardrobe essential as a little black dress or a good pair of heels. Try out some new styles with your dangling earrings and see the difference it makes to your confidence. You're sure to love the results!