Eternity rings have been a popular choice for an anniversary gift since the middle of the 20th century, when the De Beers diamond company started selling them. Although eternity rings were popularized by De Beers, they have since been made by most jewellers around the world, and there is a huge variety of styles on the market today.
Let's check out a few of the varieties of eternity ring you can find!
Channel Set Eternity Rings
Eternity rings that are channel set have metal settings that go around the ring like train tracks. The diamonds sit within the tracks, being held in place by the setting metal. These eternity rings are great for stacking, because the channel setting stops the diamonds from coming into contact with other pieces of jewellery. Since diamonds are so tough, it's important to ensure that they don't scratch your other jewellery. Channel settings can be your best friend in this instance, making mixing, matching, and stacking with softer jewellery easy as pie.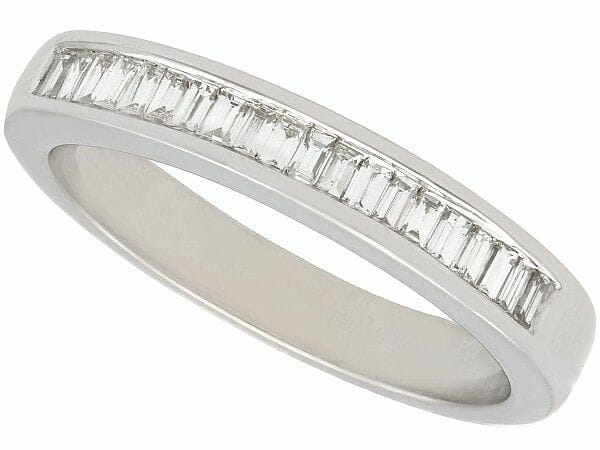 Half Eternity Rings
Half eternity rings are pretty self-explanatory – they have diamonds only half way around the band of the ring. Half eternity rings are a great way to sneakily save some money because they feature half the diamonds of a typical eternity ring. When you're wearing a half eternity ring, it's barely visible to others that it's a half eternity and not a full eternity. Furthermore, half eternity rings can be resized easily, so if you buy vintage or inherit one, you can customise it to fit you. As well as that, you can get it resized as you age and your ring size inevitably changes.
Full Eternity Rings
The full eternity is obviously a beautiful piece of jewellery. Full eternity rings are the perfect thing for bling lovers – diamonds wrapping all around your finger is a feeling unlike anything else. Some people like to have full eternity rings in place of wedding bands – which is not only boujie but also a great way to make you feel like the queen of the world. Full eternity rings come in channel settings and also popular settings like the claw setting. Claw set eternity rings have a great shape to them, allowing the cut of the diamonds to define what shape the ring takes.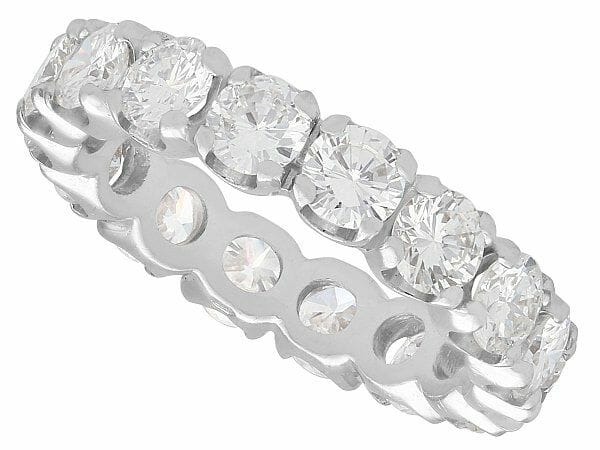 Coloured Gemstone Eternity Rings
Although diamonds are the tradition, eternity rings have been made with every gemstone you can think of in the last 70 years. Colourful eternity rings are a lush idea for anyone wanting an eternity ring for non-bridal reasons. Whether it's using a birthstone, or someone's favourite colour, gemstone eternity rings are wonderful pops of colour that can complete a look. As well as that, there are even eternity rings that have a pattern of gemstones on them, like diamonds and rubies in an alternative pattern. These rings can be incorporated into the bridal jewellery section of jewels, matching a ruby engagement ring or something similar.
All in all, there is every sort of eternity ring you could ever want out there in the world today. From humble origins of jewellers wanting to move stock, it's clear that eternity rings have a long life ahead of them, since their popularity is only second to engagement rings themselves.
Are you interested in eternity rings? If so, which style do you think you would most want? It's hard to choose between a diamond full eternity extravaganza, and something more muted and simple, like a delicate vintage eternity ring. Tell us what stones you'd like to see on your own eternity ring – we can't wait to hear it!