It might not be Valentine's Day, but there's never a bad time to establish a romantic atmosphere in your home when you want to show that special someone how you feel. What are the best antiques for setting that romantic mood? Find out with us today as we explore a few options for bringing romance into your home through the beauty of silver antiques.
Candlesticks
Nothing is more romantic than candlelight. Step up your lighting ambiance by using silver candle holders to keep your candlesticks aloft. Candlesticks are a great choice because they are extremely versatile. They can establish a romantic atmosphere, but they can also be used as simple décor around your home when you're not trying to celebrate an intimate occasion.
Whether you're interested in a taperstick style candle or a candelabra, there is a vast range of candlestick options available to you no matter what your preferred decorative style. Art Deco and Art Nouveau silverware are always popular options, and it's easy to see why when you examine our Art Nouveau candelabra.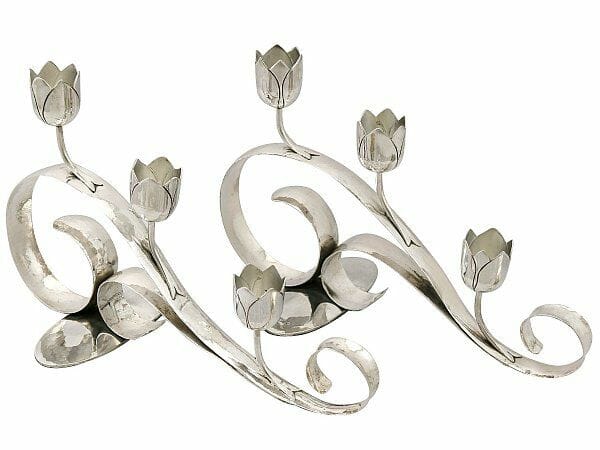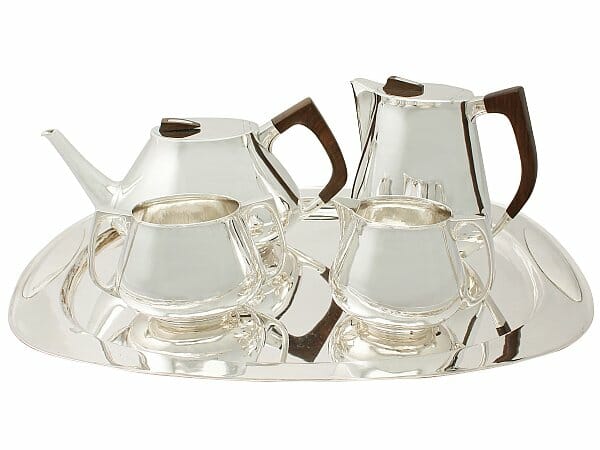 Tea Sets
Tea is ubiquitous; a cup of tea in the morning is excellent, that first cup of tea when you get home from work or a day out is magical, and a nice warm cuppa before bed will end your day right. A silver tea set is an interesting choice for creating a romantic atmosphere, as they are not typically associated with romance. Silver tea sets are the perfect romantic antique for the morning.
Spend some time cuddled up, enjoying breakfast in bed and a morning cup of tea from the luxury of a silver teapot and you'll both know the romance is real. There are also antique silver coffee pots and chocolate pots if you're more interested in caffeine and cocoa!
Photograph Frames
Keeping pictures of your loved one close is sure to generate a romantic atmosphere, and there's nowhere better to keep them than in an antique silver photo frame. Among our selection of photograph frames, we have many examples with multiple slots for pictures, allowing you to show off some of your favourite shots of your significant other.
Similar to our candlestick holders, our selection of photograph frames is very varied, with each example being completely unique. A double photograph frame is the perfect way of having your favourite pictures on display, allowing you to look at them whenever the romantic mood strikes.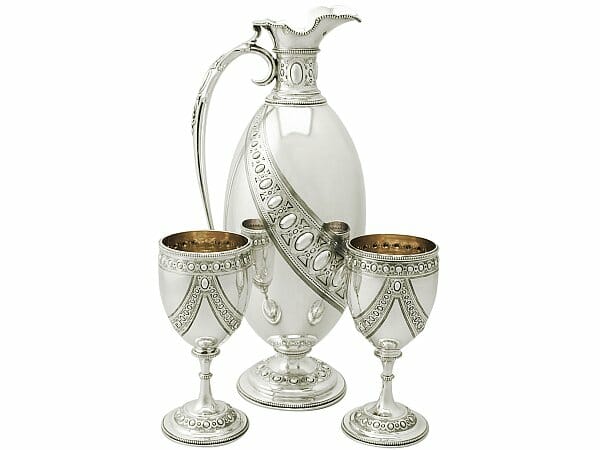 Decanters
Fancy a drink? Silver claret jugs and decanters are perfect for bringing antiques into your space and keeping things romantic. Whether you like whisky or wine more, you can keep whatever you want in our selection of decanters and claret jugs. Nothing is more romantic than sharing a drink with your loved one, ideally poured from a silver and glass container that screams elegance and luxury.
Some of our claret jugs are even sets featuring matching goblets, making the high-class elements of the set-up intensified. Treat yourself and your significant other to a romantic night of a beautiful homecooked meal, served with the appropriate alcoholic beverage, fresh from a decanter.
A combination of all of these antiques would make for the ultimate romantic night for your loved one and yourself. Candlelight immediately sets the mood, beautiful photograph frames show some of your favourite snapshots from previous romantic dates, an alcoholic drink finishes the evening off, while the silver tea set is there for the morning recovery. What could be more romantic?