Learning how to decorate with antiques in a modern style can be daunting – but it doesn't have to be. There is such a large variety of styles when it comes to antiques – especially antique silverware (spot the bias) – that it's easier than you think to find something that suits modern design.
Art Deco
The Art Deco period, spanning the early decades of the 20th century, was defined by clean, angular lines, symmetry, and architectural beauty. Some consider it an aesthetic attempt to bring order to chaos in a post-war world. Art Deco silverware, therefore, is the perfect match-up for anyone with an eye for modern design.
At the moment, it seems as though mid-century design and Art Deco flairs are at the peak of modern design, and so elements like silver photograph frames and silver bowls can be used alongside other modern pieces to have a cohesive, stylish appearance. A mid-century style side board decorated with some Art Deco silver like vases or trays is a great way to incorporate antiques and contemporary designs together to create an ultimately modern aesthetic.
This is especially effective if your interior already has an angular, modern feature such as a staircase or fireplace; placing the old and new in direct contrast with one another keeps your interiors visually appealing and exciting.
Antiques to Contrast
A big part of popular design is that is has contrast; you don't want your entire room to be a single colour, shape, size, or theme when it comes to the furniture you use. Pieces should contrast one another in a way that appeals to you, since it's your space. With this in mind, consider something more lavish and ornate to create a contrast with your more streamlined, modern furnishings.
Typical examples of Art Nouveau and Victorian design are highly detailed, often floral designs. Usually inspired by nature, these types of designs would look beautiful placed beside your own plants or flowers. Equally, a statement piece of silver, such as this Victorian wine ewer, would be an excellent stand-out piece in an otherwise modern and understated setting.
Practicality
Whether you already own several antiques that you want to incorporate into a modern design, or you have recently inherited something but you're not sure how best to utilise it within your home, we've got some tips and ideas for you.
Some antiques might seem as though they have no 'useful' purpose in contemporary society, vesta cases and snuff boxes come to mind. Most of these pieces, however, would look excellent displayed in a shadow box frame. These frames are deep enough to display the bits and pieces of antiques that might otherwise sit in a box and be forgotten. Not only can this allow you to enjoy your antiques, but it also makes them look right at home in a modern setting as pieces of art.
Another way to be practical about setting up your antiques is to remember their original purpose. Candlesticks, for example, will always look beautiful with candles in them, whether they are sleek and modern or 150 years old.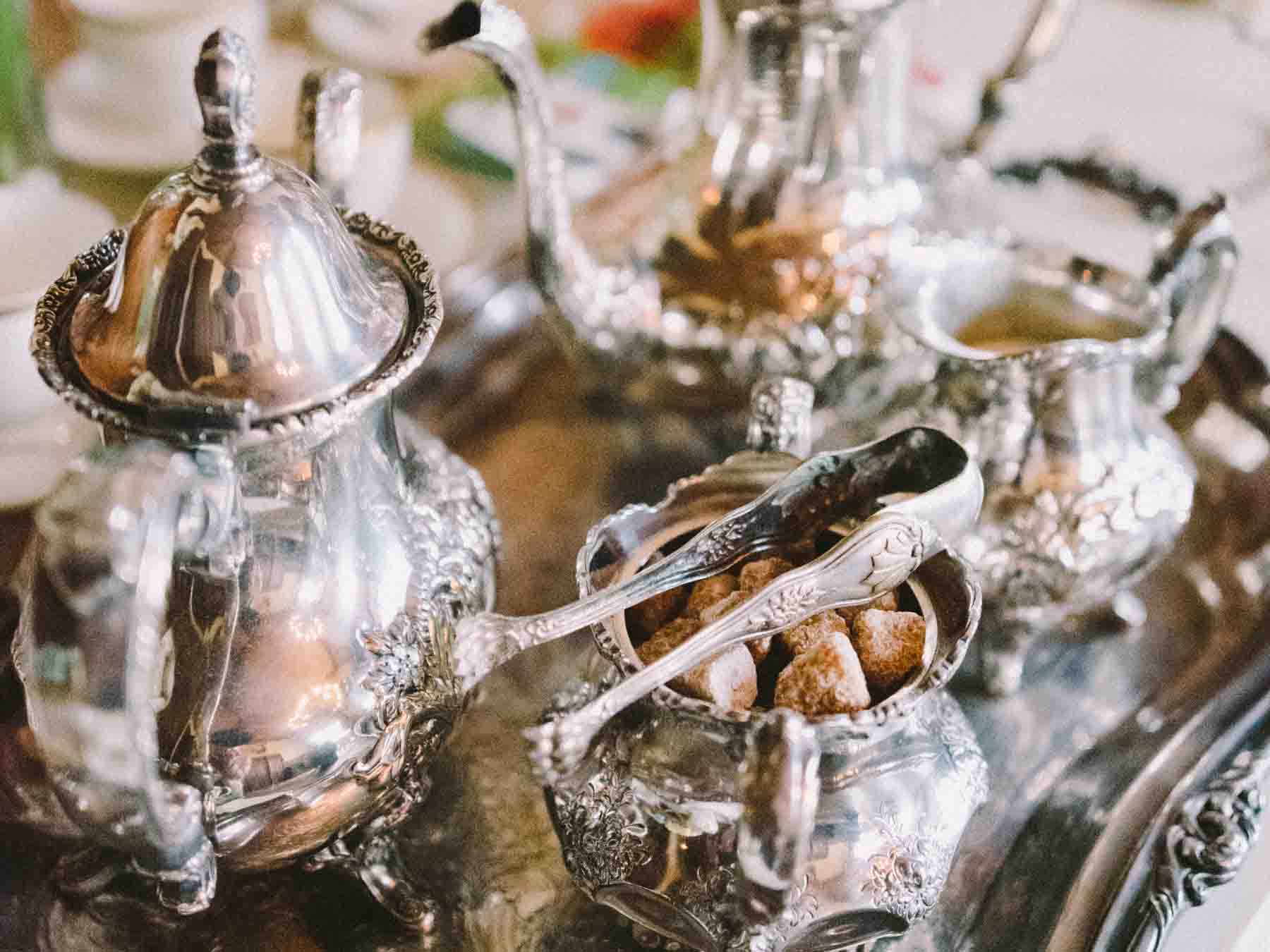 Image courtesy of Olya Kobruseva on pexels through the pexels license
Is Antique Furniture Out of Style?
At the mention of antiques, some begin to imagine Rococo style furniture, with richly-coloured woods and extravagant decoration. Although this is certainly the case for some antiques, it doesn't have to be the aesthetic you commit to when exploring antique décor. The over-the-top style of pieces from the Rococo era is not exactly the peak of fashionable interior design at the moment. It might please you to know then that there is so much variety in the world of antiques, that you're near enough guaranteed to find something that not only adheres to what is in style now, but also what suits your own personal tastes.
Antique furniture, whether it's Art Deco or Rococo, never truly goes 'out of style' really. Once it is antique, it takes on a new level of style and reverence that is not subject to the whims of interior designers. Antique furniture and its beauty is much more subject to individual tastes than it is to what designers dictate is currently 'in'.
The most practical antiques, the ones whose purpose has not changed, are the easiest to incorporate into modern design.
Something like an antique silver tea set, for example, can add a sense of almost industrial style to your modern interiors whilst still serving a valuable purpose. The reflective silver of the teapot sits well alongside the other popular colours and textiles of modern design: wood, metal, and cool neutral tones.
These are just a few tips and ideas fighting for the right of antiques to look every bit as beautiful and stylish as modern design. Although we are biased, we think antiques belong in the home, and we're certain you'd agree if you gave it a go and put something old and something new together. What do you think?