Among the oldest known body modifications, ear piercings have been a common practise around the globe for millennia. There are elaborate earrings made from gold, brass, and gemstones like lapis lazuli that date back to a variety of ancient civilisations such as Persia, Minoa, and Ancient Greece.
It seems that earrings have been around as long as anyone can remember, but what about statement earrings? What does it take for an earring to become a statement in the first place?
What Are Statement Earrings?
Image courtesy of Simona Sergi on
unsplash
through the
CC0 1.0 License
Jewellery that gets sorted into the 'statement' subcategory of accessories is usually large in size. Often, size is the key factor when it comes to what makes jewellery a statement piece. Possibly the earliest example of statement earrings comes in the form of girandole earrings. These seem to have first emerged in the mid-17th century, but didn't become widely popular until the Georgian period. Girandole earrings often consist of a bow shape at the centre, with three elaborate strands hanging down. These earrings were frequently coated in gemstones like diamonds and rubies, hence the title of 'statement' earrings.
Gemstones don't have to be what makes a piece of jewellery a statement, however; whether they're earrings, a ring, or a pendant. Sometimes, just the inclusion of bright colours is enough to have a piece become a statement. Neon colouring or wonderfully complimentary and contrasting colours can help an earring come out of the everyday and become extraordinary.
Considering the age of the 'first' statement earrings, it's not out of the question to want to know if statement earrings are still in style today. Let's discuss.
Are Statement Earrings in Style?
Owning statement jewellery is never a bad idea overall. Although the trend of the statement can change, it's never bad to have them on the back burner. Chandelier earrings, for example, were a huge fashion statement in the Victorian era, being adored by women with the latest updos that left plenty of space to show off intricate designs and gemstones. At the turn of the 20th century, they fell out of fashion, only to return once more in the 1990s and early 2000s.
The statement style of the moment when it comes to earrings is mismatching. Wearing a single, oversized, statement earring on one side and a smaller, more subdued stud in the other ear is a look that's really turning heads at the minute. You'll see it on the runways of the world, which means it's well on its way to the high-street fashion that's more accessible to the majority of us. So, all in all, yes statement earrings are currently in style.
But, how do you approach this fashion style?
How to Wear Statement Earrings
The first thing to address when it comes to wearing statement earrings is your confidence. Trying new styles can feel intimidating, especially when you've already settled into familiar aesthetics. However, always remember that you can pull off any style you approach when you believe that you can; it's cheesy to hear but it is in fact the truth. There are practicalities to consider that we'll get onto, but the psychological aspect of wearing statements with confidence is where it all starts.
Something that you can bear in mind when considering statement earrings is your hair. If you have short hair that leaves your ears exposed, statement earrings are the perfect accessory for you. Having them on full display is a great way to dress up your look for a special occasion, and you don't have to worry about looking overcrowded. If you have long hair, this is where you can debate how to style it.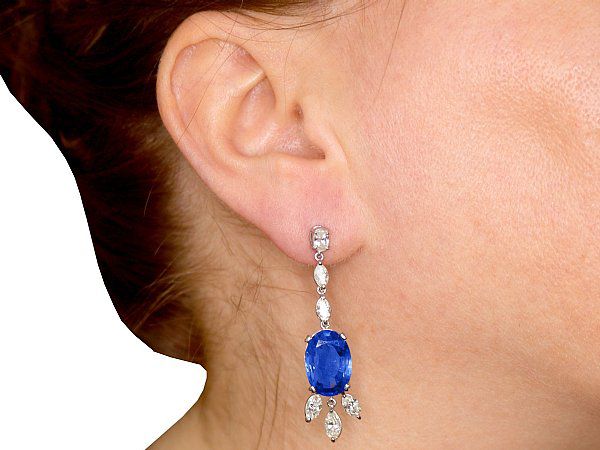 Very long hair, well past the shoulder, looks good when left down with statement earrings. Have a look at Beyoncé's style to see how to pull off having long hair down whilst sporting a pair of stunningly oversized earrings. Alternatively, if your statement earrings truly need to be seen, there are lots of up-dos that can be of use to you.
The swept-up bun is a brilliant choice for looking fashionable, graceful, and timeless. It's also achievable with most hair types and textures. Something of an in-between can be found in a half-up-half-down hairstyle. This is a more transitional look that can be worn casual or formal depending on how you choose to style it. Ultimately, statement earrings are a lot more workable than you might imagine, and they are certainly worth your consideration.
Outfits to Pair with Your Statement Earrings
With hair out of the way as a problem, the next question inevitably becomes 'what outfits can you pair with statement earrings'. This is a twofold situation, where the road forks in both formal and casual directions. For those looking to branch out by bringing the statement piece into the casual world, consider wearing your statement earrings with a relaxed outfit for a casual day out in the city. This looks especially 'cool' if you are someone with short hair, but if not, feel free to leave your hair down in order to emphasise the relaxed nature of your style.
A simple white shirt with some straight-leg jeans and comfortable-but-cool trainers looks great with a pair of statement earrings on display. Pair them with one or two large rings and bracelets and you've got a balanced look that is both laid-back and effortlessly chic.
For something more dressed up and formal, statement earrings can make you feel ready for any occasion. It truly doesn't matter if you prefer the traditional floor-length gown approach to formality or if you're more comfortable wearing a well-fitted suit – statement earrings are your friend. Another great approach for people with short hair is to have their statement earrings on display and wear a suit, full tie and waistcoat accessories are up to you to decide. This look is both glamorous and assertive, letting everyone around you know that you are indeed the boss.
Feminine aesthetics more suited to dresses are the perfect excuse to go full-formal if that's something that interests you. If you use the prominent colours from your statement earrings to establish a palette, then you can wear a dress featuring these colours to keep a consistent style. Wear your hair up and out of the way, and consider adding a suitably dramatic accessory like a pair of silk or velvet gloves to top off the aesthetic perfectly.
How Do You Pair Statement Earrings with Necklaces?
A general rule of thumb when styling statement jewellery – or even when styling at all – is to listen to the experts. The designer icon, Coco Chanel once said 'When putting on accessories, take off the last thing you've put on'. Although Chanel is something of a problematic historical figure, with questionable links to the Nazi party, it cannot be denied that she knew what she was talking about when it came to fashion.
A statement piece of jewellery is exactly that: a statement. Wearing too much can leave you looking cluttered and messy, rather than going for a maximalist style that involves more being more. It's not impossible to wear a necklace with statement earrings, but it's all very style dependent.
If you're wearing the full formal outfit – be it a suit or a dress – and you've opted for statement earrings, leave the necklaces in the jewellery box. A necklace combined with statement earrings and the neckline of a formal dress is far too messy, and you're less likely to strike people as the star of the show than you are to appear as a cluttered stylist.
Casual styles can look great with statement earrings and necklaces, but the necklaces need to be more subdued. Several slimmer, chain style necklaces in a range of lengths can look very chic with statement earrings and a casual t-shirt and jeans combo. Wear your hair up in a casual hairstyle like a bun or a ponytail to further the casual aspect of the style.
Whether or not you should wear a necklace with your statement earrings is largely up to, but if you're unsure about taking the leap, you might be best off leaving the necklace. It's far less likely that you'll look 'incomplete' without the necklace than it is likely that you might look overdone with a necklace as well as statement earrings.
Statement earrings can seem intimidating, since they are usually oversized and bold. You have the tools and the confidence at your disposal to make statement earrings your best friends, rather than something that makes you feel self-conscious when you're out and about in the world.