If you're looking for a way to add something special to your jewellery collection this summer, look no further than the iconic cameo brooch. This historic yet versatile jewellery style is super popular right now and can be styled in so many different ways to suit every fashion taste.
Read on to learn a bit more about cameo jewellery and find out the best ways to style a cameo brooch.
What is Cameo Jewellery?
First up, let's talk about what we actually mean by cameo jewellery. This stunning jewellery type dates back to 300 BC and has, remarkably, maintained serious popularity. The word 'cameo' refers to a method of carving that can be used on brooches, necklaces, rings, and others types of jewellery. The most classic type of carved cameo jewellery is that which depicts a face, usually in profile.
The face, or alternative subject of the cameo, is carved in relief and is often set against a coloured background that creates a contrast. Many different materials can be used to make cameo brooches including carnelian shell, mother of pearl, agate, seashells, sardonyx, and hardstone. Carved pearl cameos against a back hardstone background are particularly popular, and this monochrome style is easily paired with modern styles.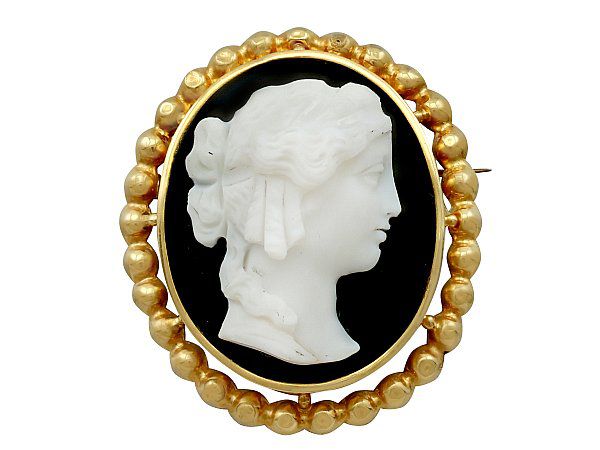 Here are some of the top ways to style cameo brooches…
On the collar
You can't go wrong with the classic collar placement, and it is guaranteed to create a put-together and smart look. If you're wearing a blazer for a work event, attach your cameo brooch to the lapel to add an interesting statement piece to your look. Or, if you're trying to pair your cameo brooch with a more casual outfit, pin it to the collar of your jacket. You could even pair it with a couple of smaller pins to create a curated asymmetric look.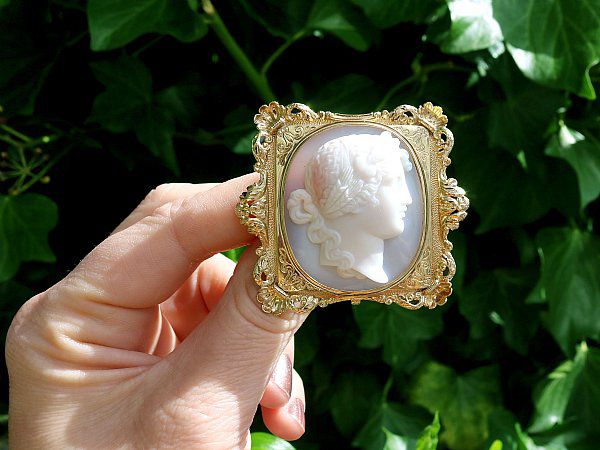 Attached to a necklace
Cameo brooches are extremely versatile and many of them can be easily repurposed into other jewellery types. For example, you can create a stunning statement necklace by attaching your cameo brooch to a string of pearls or use it in the place of a clasp. Alternatively, attaching a cameo brooch to a chunky yellow gold necklace can also create an eye-catching vintage-inspired look.
Fastened to a hat
Thinking of accessorising your accessories? Cameo brooches have you covered. A simple beret or bobble hat can become so much more special when you clip on a brooch, and cameos are the perfect style for this. As they are unusual, but still refined (as they often only consist of two colours), they are the perfect jewellery piece to create a statement when pinned to a hat without becoming too much.
As a hairpiece
There are so many ways to repurpose cameo brooches. One way to do something a bit unusual with this jewellery style is to wear it as a hairpiece. Cameos work wonderfully as the central feature of an updo and can add some vintage charm to your hairstyle. This style works particularly well if the rest of your outfit is simple yet elegant and there aren't too many jewellery pieces competing for attention. Just remember to take extra care when you're attaching it to make sure that it's securely in place.
In the centre of the neckline
Another classic placement for your cameo brooch is positioned neatly in the centre of your neckline. This look is perfect for a neat and put-together style, perhaps even paired with a string of pearls if you want to go all out. This is the quintessential vintage chic way to wear a cameo brooch and will suit pretty much any occasion.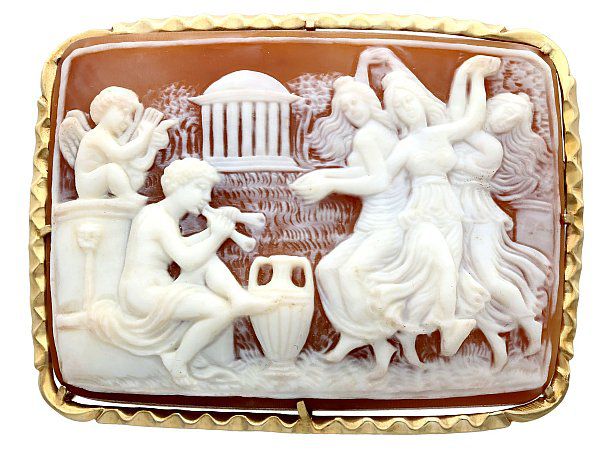 There are so many different ways to style this fabulous piece of jewellery, and if you're a big fan of the cameo brooch, there are so many more pieces you'll love. Be sure to browse our ranges of cameo bracelets and cameo necklaces to find the perfect antique jewellery look for you!