With so many tones and hues to choose from, there's a perfect green dress out there for everyone! Whether you're trying to create a springtime bohemian look, or you're picking out an outfit for a festive winter party, a bold green dress is an excellent choice. If you're unsure of the tone of green that will suit you best, you need to take your skin tone and hair colour into account. For those with light hair and cool colourings, a light, citrus toned green dress would be the most complementary option. If you have dark hair, opt for a deep, jungle green tone (this style will look fabulous paired with emerald jewellery!) and finally, if you have auburn, ginger, or red hair, an earthy-toned green dress will be your best bet.
Now that you've got a better idea of the type of green dress you're looking for, it's time to move onto the accessories! When it comes to pairing earrings with a green dress there are many considerations to think about. First of all, what occasion are you dressing up for? If it's a more casual affair or a business-related event, it's wise to stick to the "less is more" rule when it comes to accessorising – simple stud earrings or small, flattering hoops would be ideal. A bold green dress will often speak for itself, so a minimalist approach to accessories (no more than three pieces) will work nicely. If it's a more extravagant party you're planning, then a green dress is a great excuse to go all-out and choose some breath-taking jewellery pieces!
Looking for more inspiration? Here are some styling options to find the perfect earrings to match your green dress.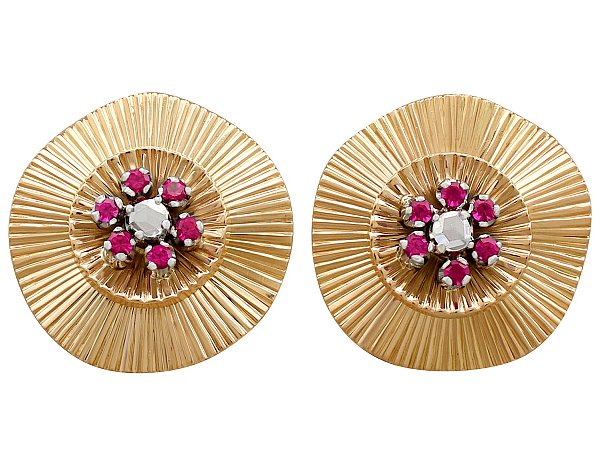 Colourful Contrasts
For a bold and fearless look, earrings featuring gemstones that beautifully contrast your green dress are an excellent option.
Blood red ruby jewellery will work a treat – especially if you're going for a festive look!
Pink gemstones such as hot pink spinel or frosty pink sapphire would also work well for a contrasting look.
When picking out your contrasting earrings, remember to take the tone of your green dress into consideration. Remember to pair cool tones together and pair warm tones together – try not to mix the two up!
Retro Monochrome
Another, more refined option that will work wonderfully at a formal event or a work gathering, is opting for monochrome accessories.
This will look sophisticated and tasteful, and you could even give a nod to vintage jewellery in the '60s style.
Look for bold, but not to complex monochrome earrings in materials such as onyx or pearl – chunky hoops will also look great if you're going for a retro look.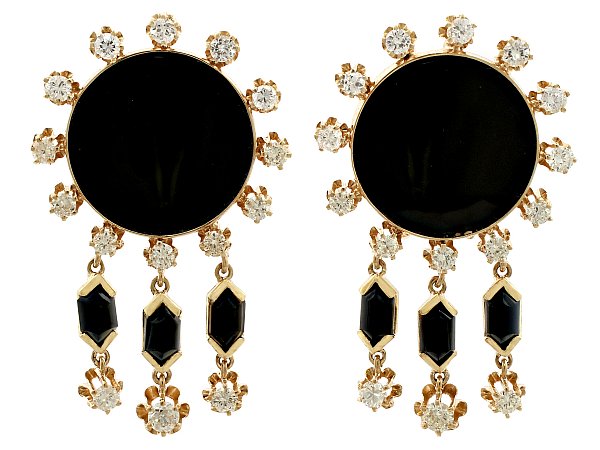 Elegant Metallics
For a simple and sophisticated look, which radiates effortless glamour, elegant silver or gold earrings would look fabulous with a green dress.
Again, consider the tone of the dress in question – cool tones will marry wonderfully with sophisticated silver earrings, whereas yellow gold will bring out the beautiful warm tones in your dress.
Looking for a bit of extra sparkle? Add a transparent gemstone to this look, such as a diamond – a colourless gem won't detract too much attention from your gorgeous green dress, but it will add that something special to your complete outfit.
Go for Green
Finally, if you're a real green enthusiast, why not show it to the world?
When done right, colour matching your earrings to your green dress can work to fabulous effect.
The key is not to go too heavy on other accessories – think, bold emerald earrings, paired with a simple bangle or bracelet, and that's your lot!
This look is excellent if you're really wanting to stand out on a special occasion. Emerald, chrysoberyl, tourmaline and jade are all excellent choices for earrings, depending on the tone of your dress.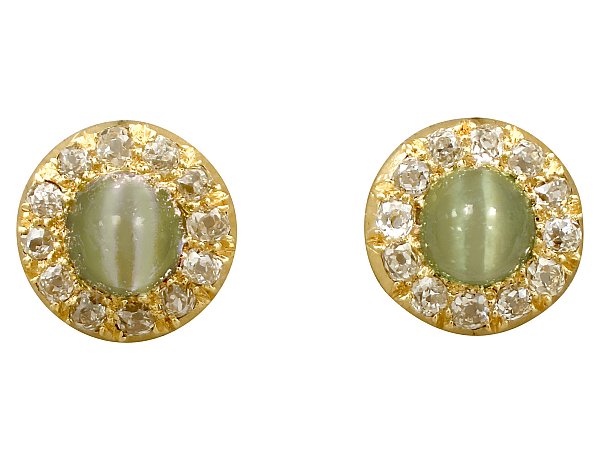 Whichever look you choose; we've got a wide variety of antique and vintage earrings here at AC Silver to suit your needs!