Bridal jewellery is a great way of making very sentimental memories with your jewellery, turning it from a simple accessory to a family heirloom ready to be passed down for generations.
Let's explore some beautiful options for sapphire bridal jewellery.
Rings
A lot of people decide they don't want to wear rings on their wedding day, wanting their engagement ring and they wedding band to be the focus of the day. If you're not interested in that kind of restraint, however, then there are lots of ways of getting stunning sapphire bridal jewellery into your ensemble.
A minimalist, streamlined sapphire ring would be a great way of getting the blue colouring into your wedding outfit without overwhelming your hands with too much bulk. Vintage sapphire rings always look lovely in a bridal outfit, whether they're the engagement ring, a gemstone wedding band, or just an antique ring to accent the overall look.
Necklaces & Pendants
Image courtesy of TranStudios Photography & Video on pexels through the pexels license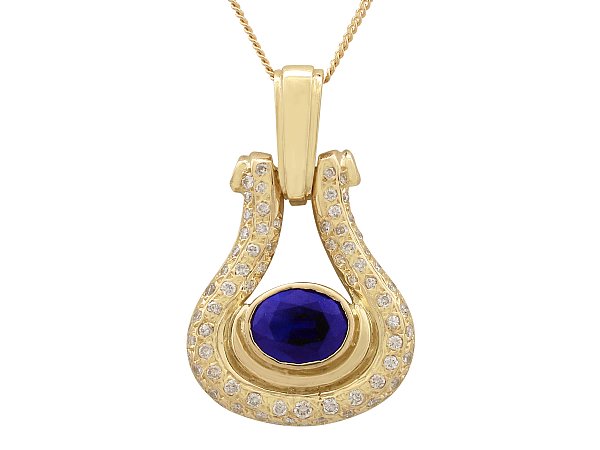 Depending on the shape of your dress, you'll want a necklace or a pendant to compliment your outfit. Dresses with V-necks, Bardot necks, Sweetheart necks or Halter necklines, for example, should all be accented with necklaces.
Pearl necklaces are always classic for wedding outfits, whether it's a pendant with sapphire and pearl accents or a strand of pearls. Pearls can be both modern and smooth or traditional and classic, making them a great choice for a wedding necklace. For something different, go for a single sapphire drop, bringing a touch of colour to your ensemble. Bolder looks can be achieved with sapphire chokers or necklaces with larger-sized sapphires involved.
Earrings
If you choose to wear your hair up for your wedding, you can go for dangling earrings or stud earrings, whichever you prefer. If you're opting to wear your hair down, however, it's best if you stick with studs, as dangling earrings can end up interfering with your hairdo.
Sapphire stud earrings are a great way to incorporate unique shapes into your outfit, or get a matching cut to any other gemstones you're wearing like your engagement ring. Pear cut or marquise cut sapphire studs are a stunning choice – and studs of any kind can be used after your wedding too, bringing back memories of one of the best days of your life.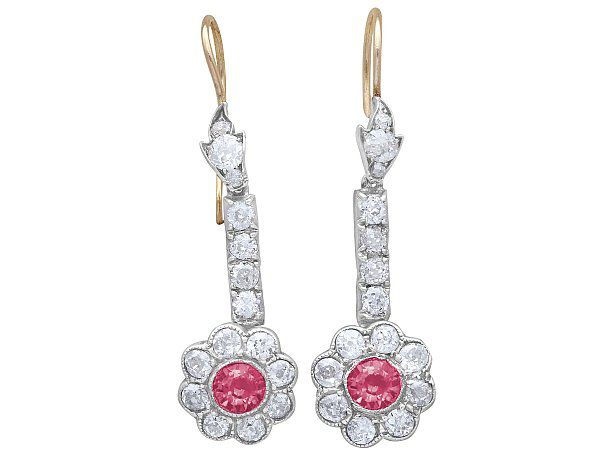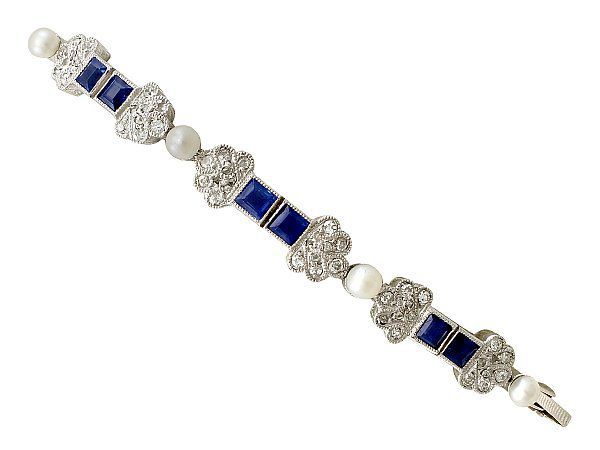 Bracelets
Most wedding dresses are short sleeved or sleeveless, leaving plenty of space for bracelets. Make sure the metal in your bracelet matches your other jewellery. If you want something classic, a simple row of sapphires and diamonds looks stunning and elevates your entire outfit.
A different style altogether can be achieved by wearing a bangle or arm cuff. Bangles are generally more modern in their aesthetic, while arm cuffs are reminiscent of something grand and Ancient Greek or Roman in style. Arm cuffs would look especially stunning with a Grecian style wedding dress with a high waist and lots of flowing fabric.
Watches
It's become a common gift for grooms to be gifting diamond watches to their wives on the day of their wedding, and it's no surprise that they're very well received. Cocktail watches in particular are popular, typically dating from the 1920s-1940s.
These watches are mostly ornamental now, being fairly difficult to maintain and manually wind. Despite this, the diamonds and other gemstones – often sapphires or rubies – used in cocktail watches make them stunning antiques that will make your wedding day feel like the social event of the season. Cocktail watches may be antiques, but they are surprisingly timeless in their design and style, perhaps because they are mostly Art Deco pieces that reflect current popular styles.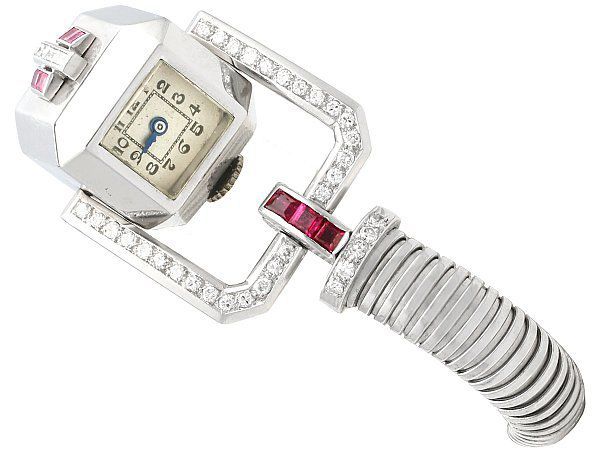 If blue is your favourite colour, your birthstone, or just a prominent feature of your wedding, consider sapphire bridal jewellery. A regal stone with a far-reaching history of symbolising truth, integrity, and wisdom; it's the perfect complement to any wedding.