One regular question we get asked when it comes to aquamarine rings is 'Are aquamarines good engagement rings?' A lot of customers are searching for that perfect engagement ring, and while many want a diamond, there are a many looking for something a little different.
Are Aquamarines Tough Enough?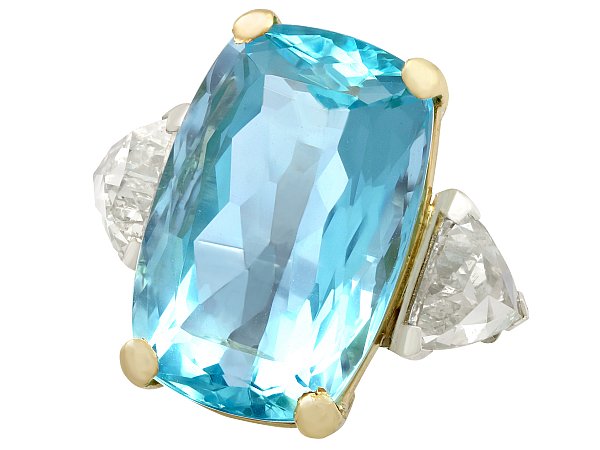 Aquamarines are technically a sub-type of the mineral beryl, other well-known sub-types being emerald and morganite. This puts the aquamarine at around a 7.5 or 8 on the Mohs scale, a scale which measures the toughness of gemstones. Diamonds sit comfortably as the number 10 spot, being one of the most hard-wearing gemstones. This makes aquamarines fairly tough compared to other gemstones like opals which typically sit at 5.5 or 6.
What does this mean? Basically, it means that aquamarines are more resistant to scratching or damage than some gemstones, but they still aren't as tough as others. One of the reasons that diamond engagement rings are so popular is because they are so durable, meaning they can be worn every day without much need to fear damaging the stone itself. So, aquamarines are certainly strong enough to withstand being worn regularly, but perhaps be mindful of the tasks you do if wearing daily.
The amount of contact your hand has with numerous potentially damaging things in an average day could surprise you. Some stones are affected by chemicals in things like moisturiser or perfume. Others, meanwhile, can easily be scratched by things like zips and keys. Beyond that, you could catch the metal claws of many rings on clothing fibres and distort their shape, making any gemstones come loose and potentially fall out.
Most jewellery is inherently going to be in harm's way on occasions. As long as you check it occasionally for any damage, you should be fine to wear gemstones like aquamarines and opals on most days, not just for special events.
Are Aquamarines Appropriate?
There are people who believe there are rules that should be followed when it comes to getting engaged. The man should propose to the woman, presenting a diamond ring that he spent a certain amount buying. However, we are not living in the 1920s, this is the 2020s now. While social change can sometimes feel glacial, things have changed even recent decades.
Firstly, not all engaged couples consist of a man and a woman since the 2014 ruling legalising same-sex marriage. It is rather strange in this modern day to think that same-sex marriage has only been legal for 6 years, but as we've said, sometimes change is glacial. So, not only are the couples changing, but the other 'traditional' elements of proposals are also evolving.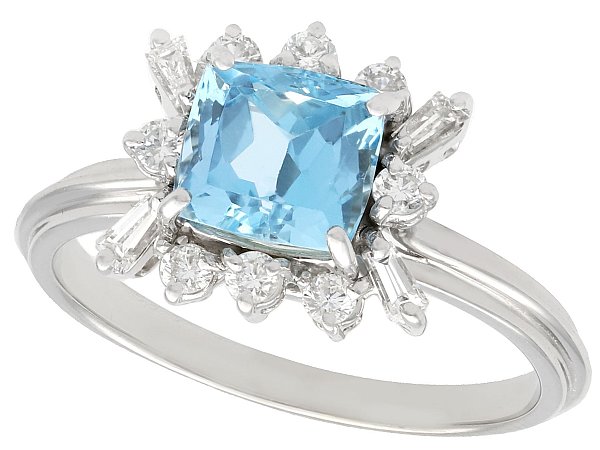 Women are proposing to their male partner – which we're sure the gentlemen are finding very enjoyable. Our main interest today, however, is that the ring is no longer a diamond of a certain cost. At least, it doesn't have to be. More and more, people are branching out to different gemstones; sapphires, moissanite, and rubies have all had a surge in popularity in recent years. Aquamarines are certainly tough enough to be worn with the same frequency that sapphires, moissanite or ruby could be worn, so they fit the bill there.
Speaking of the bill, another aspect that has changed dramatically is the cost of the ring. In this day and age, two months' salary is often an absurd and unrealistic amount to spend on an engagement ring. The benefit of aquamarines here is that they are a very cost-effective stone. You can certainly get more aquamarine for your money than you can of diamond, which is important to bear in mind when you're planning your life with someone.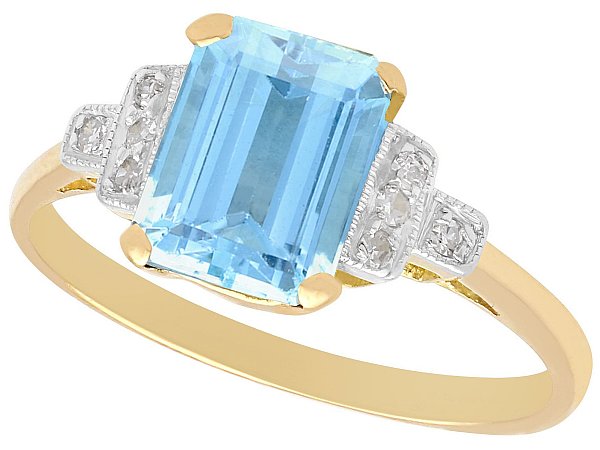 The Final Results
So, aquamarines are a good engagement ring choice, but like most choices, they do have certain caveats to them. They are tough enough to be worn most days, but not every single day. So, they would be fitting for someone who does not enjoy wearing jewellery all the time, as well as someone who enjoys the stone for its beauty and would be willing to leave it at home for a couple of days a week.
They are certainly beautiful enough to be anyone's engagement ring. Their colouring is a delicate and subtle one that suits most skin tones and comes in many styles. They can lose some of their colouring if they are exposed to too much intense direct sunlight, so bear that in mind also. If you are California-based, for example, perhaps an aquamarine engagement ring isn't the best idea.
Aquamarines are also very friendly to your purse-strings, not pulling too tight like many other options. A large, statement piece will not set you back as far as you might expect, and smaller, more understated stones are a real steal!
Learn more about the history of the aquamarine gemstone and you'll have even more reasons to love this beautiful gemstone!
If you look at the pros and cons and decide that aquamarines are worth it for you, you won't regret it. They are versatile and unique in their beauty, and anyone would be a fool to deny a proposal when faced with the glittering gleam of an aquamarine.