Sapphire rings have always been popular, with the blue stone having a long-recorded history of symbolic significance within many ancient human cultures. In more recent history, sapphire engagement rings have become a much-loved choice. In particular, the vintage sapphire ring is often used, with the unique styles of the last century being predominantly in style.
Today, we're going to check out some of the top sapphire ring designs that feature yellow gold, very popular at the moment as well as in vintage sapphire jewellery.
Cluster
The cluster ring is not to be confused with the halo ring. A cluster design can go one of two ways. Either, there is a central – or focal – stone, set among a variety of smaller stones, or all stones are similar in size and more of a mosaic style is established.
The cluster design looks great in yellow gold with sapphires, whether the design is all sapphires or a focal sapphire with other gemstones like diamonds. In some of these designs that feature a lot of gemstones, the setting metal is different. Sometimes, platinum is used for its strength to hold the gemstones in place, while other times metal like white gold is used to create contrast between the metal and the gemstones, making diamonds look brighter and whiter.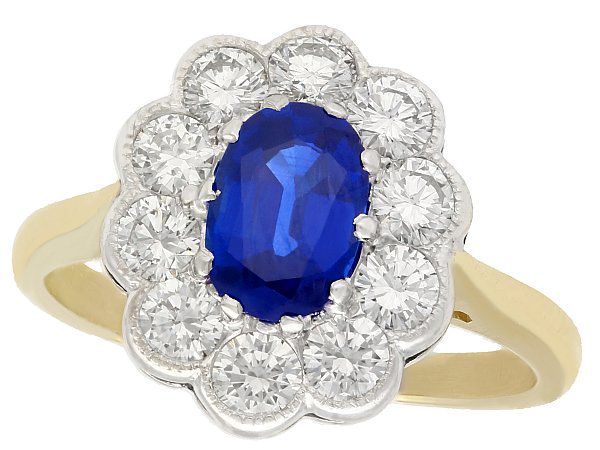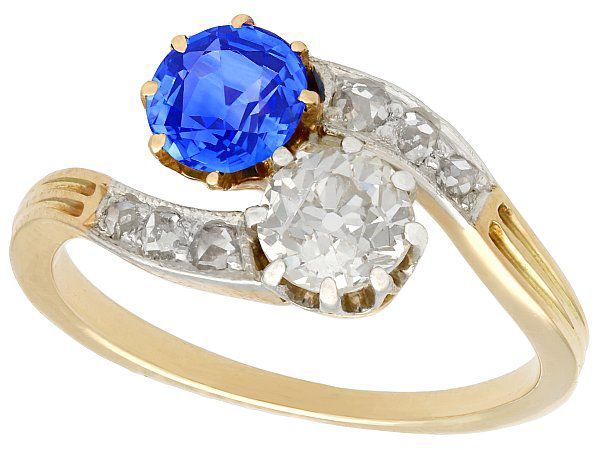 Twist
A very popular choice for engagement rings, the twist design has the gemstones – usually one or two – set in a way that makes it look like the metal of the ring is twisting around the stones, pulling and pushing from different directions. This is a particular favourite for engagement rings because it creates a very romantic aesthetic in the ring.
The twist setting style is almost reminiscent of a gentle ocean wave climbing softly up the sandy shore, which is always a great look for something as significant as an engagement ring. Two stone twist rings are particularly popular for engagement rings, as each of the stones is said to represent each member of the couple, the twisting shape representing their intimacy and love for one another.
Five Stone Band
Five stone rings are typically reserved for anniversaries, being a significant purchase that should be celebrating a special occasion. As you could probably guess, a five stone band is a ring design that has five gemstones in a row.
Usually, these gemstones are the same size, but sometimes they are designed in a gradient, with a larger central stone and accenting stones that are either all a uniform smaller size or a variety of sizes that get smaller towards the ends of the setting. Sapphire five stone bands are often made in an antique-looking style, giving them the full feeling of something you've found in a treasure chest buried on a tropical island. A great choice for any romantic soul.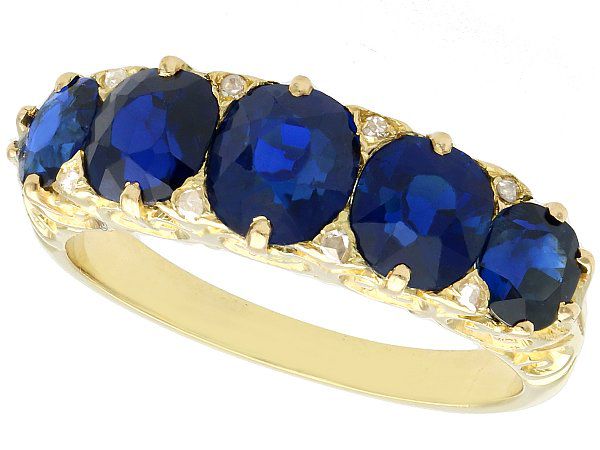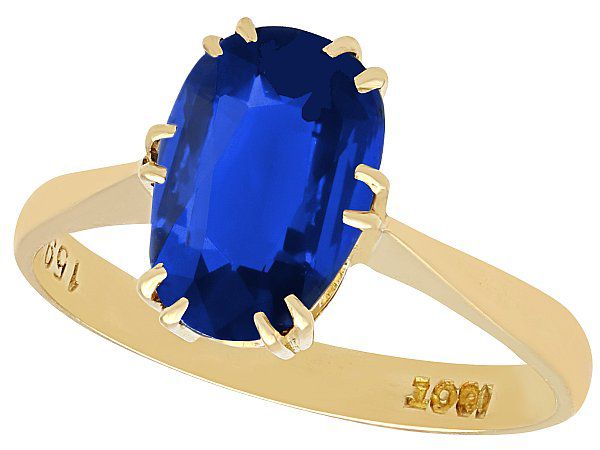 Solitaire
No ring design is more classic than the solitaire; a single stone being shown off and letting its beauty shine through. Sapphire solitaire rings are particularly stunning because the blue colouring is allowed to be the centre of attention in the yellow gold setting.
A great idea for sapphire solitaires is to have more obscure cuts for the sapphire as this adds a unique dimension to the ring. Oval cut, marquise cut, or pear cut sapphires would look especially nice in the solitaire design style, and would make great engagement rings for those of you who like a little something different. Yellow gold solitaire style rings have a timelessness to them that makes them a great choice for any occasion – birthdays, anniversaries, and anything else you like.
Feature Stone
The featured stone design style for rings is very similar to the solitaire, but the key feature difference is that there is not just one gemstone in a featured stone ring. A feature stone has one gemstone that is the focal point – like a large sapphire, for example. Alongside the central stone, much smaller stones are used to accent the stone. A lot of jewellers list these types of rings as solitaires still, since the overwhelming focus goes to the main stone.
The smaller, accent stones are most-often diamonds, which lends a significant sparkle and beauty to the overall piece of jewellery. Yellow gold feature stone rings are very popular in the vintage period, decades like the '80s and '90s show us a lot of examples of these stunning stones.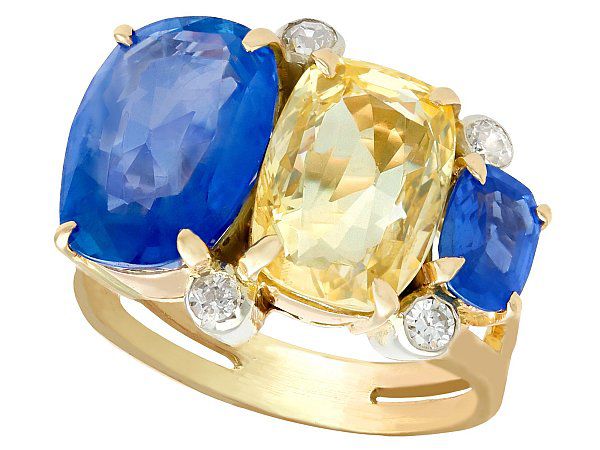 And there we have it, just a few of the stunning options for the top sapphire ring designs with yellow gold. What do you think of these styles? Which is your favourite?