There are enthusiasts of almost every subject and item, but it's safe to say that coffee enthusiasts are among the most tenacious of all. Those of us who like our coffee aren't afraid to tell people why our coffee is the best coffee and why they should seriously upgrade their caffeine intake. For those who are the die-hard coffee fans, here's a look at some different styles of coffee pots you should definitely look in to.
1. Café au Lait Set
Most of you probably already know where this is going, but for anyone who doesn't, a café au lait set is a duo of a coffee jug and a milk jug. There are plenty of gorgeous examples of café au lait sets originating from all over the coffee-drinking world, so there's sure to be something that catches your eye.
Something wonderful about a café au lait set is that you don't have to limit yourself to a single coffee, and it's a much easier way to serve multiple guests without having to hope that there's enough water in the kettle or wait for a coffee machine to pump out multiple drinks.
Beyond the actual beverage, the designs of café au lait sets are so stunning that they make excellent décor as well.
Whether you're a collector of coffee-related memorabilia or maybe you're looking to furnish your own business like a coffee shop or a café, consider the café au lait set. They're matching pairs that elevate a space. Not only that, but they also seamlessly take people to the origins on coffee as an exciting new import. Coffee is something that should be enjoyed by many, and café au lait sets allow that to happen effortlessly.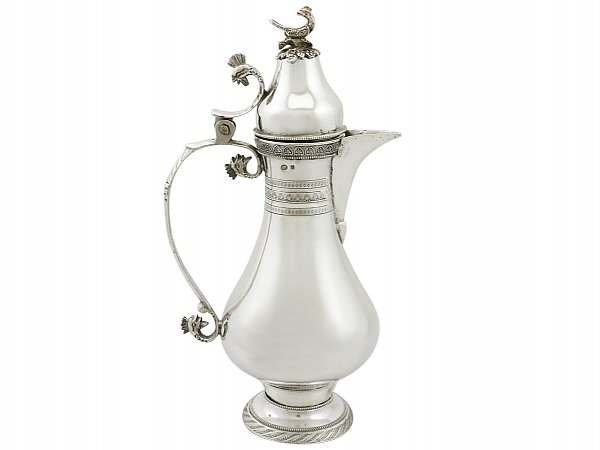 2. Turkish Coffee Jug
Real coffee pros already know the secret magic to Turkish coffee, but for those who are tilting their heads like puppies hearing the word 'walkies' for the first time, here we go. Across the Middle East, coffee is often enjoyed and made in a very specific fashion that puts the steamer at your local coffee shop to shame.
A special long-handled pot called a cezve is used to create the beverage. Coffee ground so fine it's almost powder is poured into the cezve along with some water, and the pot is placed in heated sand. The sand is pushed up against the walls of the pot, heating it from all angles.
As the water boils and the coffee brews, you'll be certain that your coffee is about to overflow, and that's when the artisan lifts the pot away from the sand and pours out the perfect portion of hot, strong coffee. Turkish coffee jugs are a beautiful piece of decoration, and using the hob you can make your own Turkish coffee using real Turkish silver. Like all Middle Eastern delights, they have a beautiful, mysterious appearance to the Western eye. Coffee jugs from this area have a very specific shape, making them easy to spot and easy to love.
3. Victorian Coffee Jugs
Although coffee first reached Britain in the 1650s, the Victorians certainly took the practise of roasting beans and made it their own. When Queen Victoria's reign began in 1867, coffee-drinking was a well-established daily practise of most of her subjects.
As such, the variety of styles, shapes, and designs in antique silver coffee pots from this period is staggering. Much of any middle class/upper class household's utensils and small appliances were made with silver, and those still in good condition today could be worth a small fortune. Check out what might be lying around in your own home – you never know what you could have at your fingertips!
Collectors of coffee-related items, be it the pots themselves or smaller pieces such as grinders and vintage coffee cans can all appreciate the beauty and effort that went into a handmade, one-of-a-kind piece of antique silver. Silver coffee pots that are well-maintained are also likely to appreciate in value as they get older, making them a potential investment piece for anyone interested in establishing a shining, silver nest egg. Victorian culture is still revered around the world today as it was in its prime – partially because much of the world was dominated by Victorian culture and colonialism. But that doesn't mean that something good and beautiful can't come out of the Victorian era as a result.
Coffee is a special thing. It truly brings people together. At business meetings, first dates, or even just the first thing in the morning, coffee is a peacekeeper, and it deserves respect. If you're a fanatic, or someone you know has coffee-coloured veins, thinks about the next piece of their collection.