The best emerald cut engagement rings straddle the line between Art Deco jewellery and the cutting edge of modern styles. Recently, I've been focussing on our supply of engagement rings, and the emerald cuts have grabbed me tightly by the heart. Join me as we explore some of the best emerald cut engagement rings we have and see if they don't grab your heart as well.
Emerald Cut Accents
This vintage ring features an impressive 1.55ct diamond at its centre that's an Old European cut, but today we're not talking about that centre stone. The four emeralds that highlight this ring are – believe it or not – emerald cut emeralds! Could anything be better than emerald cut emeralds?
Coming out of the 1950s, this French piece is lucky enough to also have 8 other accent diamonds. If you're interested in an engagement ring that brings something different to the title of 'engagement ring', then this is definitely one to consider. The cluster setting amounts to a lot of brightness and sparkle that would make this a very unique engagement ring ready to turn a lot of heads!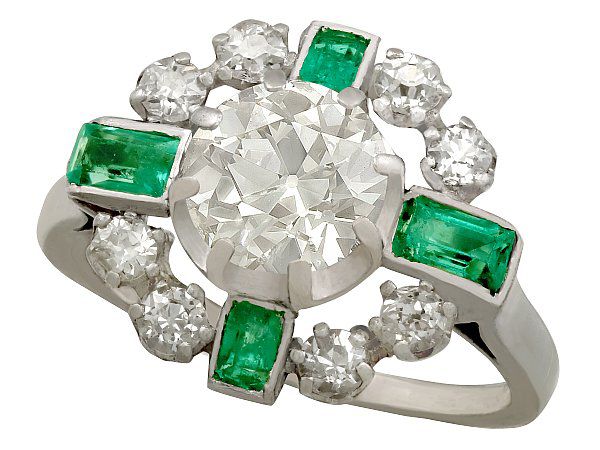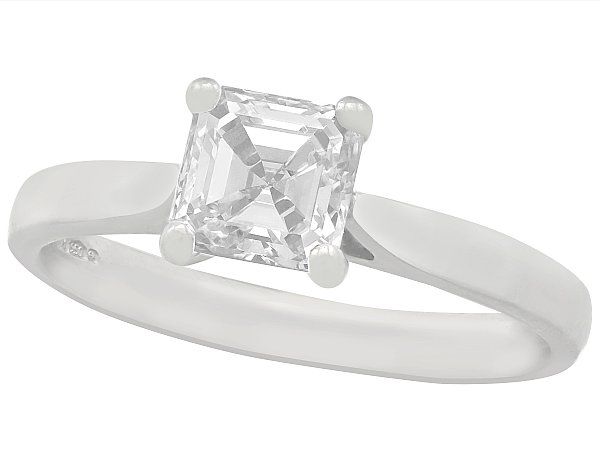 Classic Solitaire
A diamond solitaire ring is the epitome of engagement rings. This example is one of our more contemporary pieces featuring a 2008 hallmark. This is understandable, since true emerald cuts were something of a rarity in the Art Deco period. The vast majority of diamonds in the 1920s were cut by hand, making the emerald cut difficult to achieve.
The diamond in this solitaire is an emerald square cut sitting just under a carat in weight, settling it perfectly alongside other timeless engagement rings. Its clean lines are unique, created as a result of the internal step cuts of its pavilion and its large, open table. This solitaire knows how to sparkle, and would be the perfect complement to a unique wedding band like an eternity ring. The stylish four-corner claw setting of this piece makes us think surely claw-set is among the best settings for emerald cut diamonds.
Something Totally Different
This marquise-shaped ring is the kind of engagement ring that's a real statement. If you're the person who wants their engagement ring to be something they wear on special occasions, consider a big piece like this one. Three emeralds down the centre of the ring are all emerald cut – maybe it's an in-joke of jewellers to make so many emerald-cut emeralds?.
A marquise-formed halo of sixteen diamonds brings the sparkle to this antique engagement ring and it really doesn't have a bad angle. Extending from the base of the finger to just below the knuckle, this ring's generous size has the look of a true antique, whilst being so sparkly that you could be tricked into thinking it's brand new.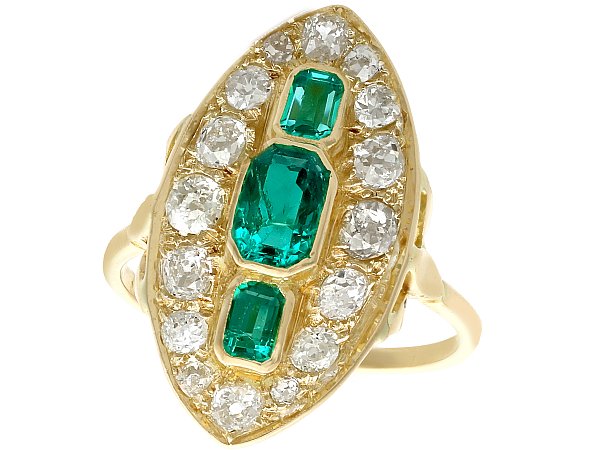 Rounding up the best emerald cut engagement rings isn't easy, as there's a lot of avenues to explore. The examples I've brought up here are just three of our finest rings that fit the bill of an engagement ring. Emerald cuts are simultaneously timeless and brand-new in their style, so they're perfect for anyone who wants an engagement ring that will never age! What do you think?