The best vintage gemstones are usually found hidden away in a forgotten jewellery box, or inherited from a dearly loved relative, or gifted by a long-time friend. However you come across them, the best gemstones stick around in your heart and on your body. Join us as we go over three of our favourite vintage gemstones.
Let's go.
Pearls
Perhaps the quintessential element of vintage and antique jewellery, pearls aren't technically gemstones, but they are largely grouped together with gemstones, and so we have to add them to this list. The glow and lustre of a pearl is unlike any other gemstone, and they have such a classic and timeless beauty that it's difficult not to love them. Popular for centuries, and especially as pieces of 1950s jewellery, pearls only really seemed to fall out of vogue in the 1990s, but now they are having a resurgence. What was once viewed as 'old' or 'dated' is now a vintage classic that people are eager to try their hand at wearing.
Our own pearls are some of our proudest pieces, each one seeming to hold some kind of secret promise one might learn if only you could get close enough! Just check out the gorgeous south sea pearls on these earrings. No matter what the piece, pearls make it complete!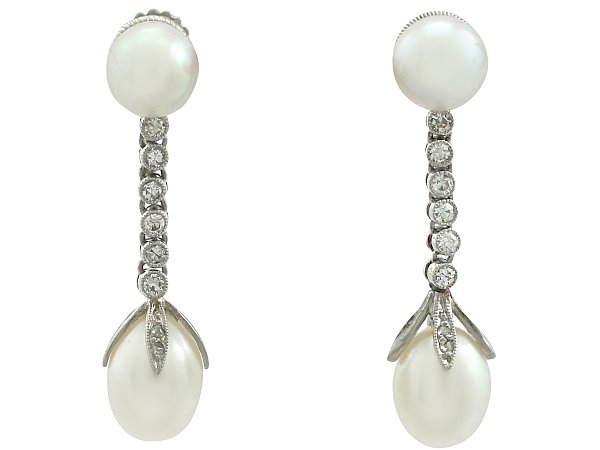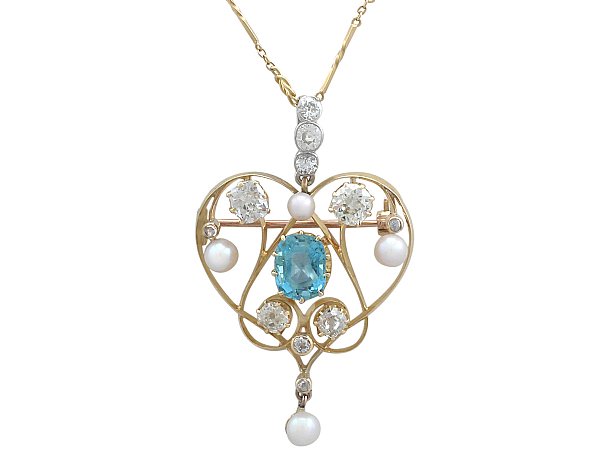 Aquamarines
Anyone who knows gemstones knows that aquamarines are always a sound investment.Vintage aquamarine jewellery seems to always be in fashion – and it's no surprise! Aquamarines are a classic blue hue that complements everyone and every occasion. From Art Deco period pieces with diamonds and solid architectural structures to vintage beauties like cocktail rings with enormous feature stones, aquamarines have been a part of luxury jewellery for a long time, and they aren't going anywhere! The finest cut aquamarines have facets that catch the light amazingly and create such a dazzling shine, we couldn't leave them out of this blog.
Choosing just two of our aquamarine pieces for this is nearly impossible! We've got a stunning antique Victorian pendant, featuring pearls, diamonds, and a central oval cut aquamarine, formed in the shape of a heart. What could be more romantic?
Diamonds
Diamonds are of course forever. We couldn't leave them out here for the obvious reason that they're stunning and timeless. We have diamond jewellery spanning from the Victorian period right up to 2018 – so there's no shortage of beauty here for you to explore. From classics like the diamond solitaire, to vintage styles like diamond tennis bracelets, and right up to the hottest styles like diamond halo rings. You couldn't be in better company if you're on the lookout for vintage engagement rings. Diamond trilogy rings, solitaires, and diamond eternity rings are all available to check out. Vintage gemstones are all complemented by having diamonds feature alongside them in various jewellery pieces.
For a sample of the kinds of delights we have in store when it comes to diamonds, it really was a struggle. Vintage gemstones are excellent because they have unique styles, they have a history to them which adds something really special, and so we've selected a vintage diamond ring and a vintage diamond brooch to show some of the sparkle of our diamond range.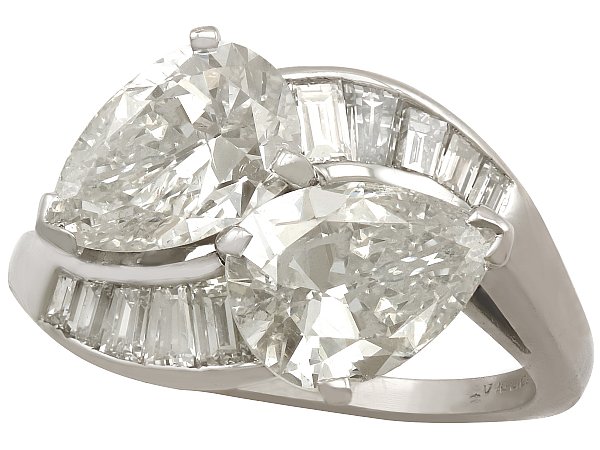 When it comes to which gemstones are the best vintage gemstones, it really isn't easy to narrow down the list. This could have gone on and on in all honestly, but these three gemstones stand out to us as the best and brightest of vintage styles. Which gemstones do you think are the best?