In a world of fashion often fuelled by throwaway culture and quick, cheap purchases, it's refreshing to see antique items making a comeback — whether that be in their original form or a unique version of their old selves. When we re-purpose old jewellery, we are not only giving a new lease of life to a beautiful and historic piece, but we are also recycling, and repurposing materials that were built to last.
If you're interested in sustainable jewellery that is built to be totally unique, you'll love how some designers and fashionistas are getting creative with Victorian jewellery. Victorian pieces are seeing a particular resurgence, and their intricate designs and elaborate nature make them a jewellery upcycler's best friend.
What is Victorian jewellery?
First things first, what is Victorian jewellery and why are Victorian pieces so popular when it comes to upcycling and repurposing? As this historic era spanned from 1837 to 1901, there is a lot to go at in terms of jewellery and antiques! There is also a nice variety of styles at play within the realms of Victorian antique jewellery, ranging from romantic Early Victorian styles—which consisted of playful motifs such as hands, hearts, and crosses, to the aesthetic Late Victorian designs which were intricate, delicate, and detailed.
Any antiques enthusiast would be happy to get their hands on a perfectly preserved Victorian piece, be it pearl necklaces or antique emerald engagement rings but many modern jewellery designers are taking their appreciation of Victorian jewellery one step further.
From repurposing pieces to completely deconstructing them, let's take a look at how designers are innovating classic jewellery from this era to give it a modern twist. Who knows, you might be inspired to dust off your own Victorian pieces and discover how well they work with a contemporary wardrobe!
Repurposing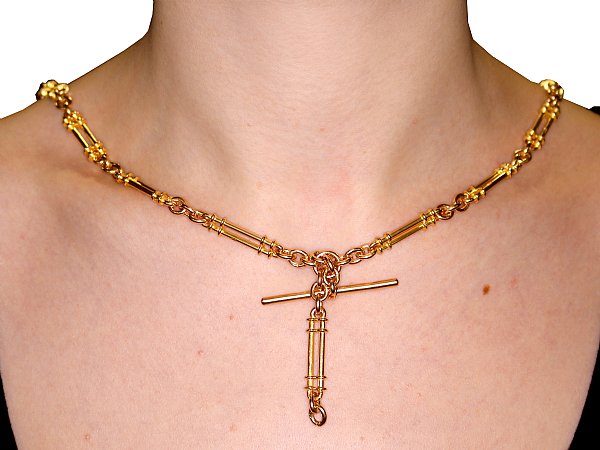 The most straightforward way to incorporate Victorian Jewellery into a modern wardrobe is to repurpose it. This saves the risk of taking a piece apart—which should not be attempted unless you are a professional jeweller! Many fashion designers have thought of new and innovative ways to wear antique jewellery pieces or how best to complement these antiques with contemporary clothing.
Perhaps the most prominent example of this is the repurposing of the Albert watch chain as a necklace. Named after Prince Albert, this style of chain originated in the Victorian era and was an essential piece of men's jewellery. Since then, it has been reimagined for the world of women's clothing, to be worn as a sleek, modern, and elegant necklace.
Deconstructing
Repurposing Victorian jewellery is one thing, but many experimental jewellery designers have decided to take it to the next level. Designers such as Colette Neyrey and Sarah Ho, are always on the hunt for unique pieces of jewellery that they can take apart and reinvent into unusual and striking designs.
Neyrey takes her inspiration from the acrostic jewels that were used in Georgian and Victorian jewellery designs to spell out a secret, romantic message within the piece. This style already involves creating a piece with a variety of stones and elements, so it lends itself well to the art of deconstructing and reconstructing.
As beautiful as reconstructed Victorian pieces can be, it's a risky business! Not all jewels retain their value over the years, and if a piece has been taken apart (especially if not done in a careful, professional manner) the value can plummet. Despite this, there are certain examples of pieces that have been added to and altered over the years only to see an increase of value. For example, the British royal family's Hanover Pearls, which were passed down through the ages (since 1533) before finding their home in Queen Elizabeth II's Imperial Crown.
Mix-and-match-ing
Finally, many modern designers are partial to a bit of mixing and matching when it comes to repurposing antique and vintage jewellery. American Jeweller, Castro, for example, works with mixed media, combining Victorian jewels with parts from antique porcelain dolls. The resultant jewellery pieces are creative, unusual, and certainly showstopping.
Even without fully deconstructing Victorian pieces, anyone can have a go at mixing and matching their jewellery to bring it up to date with the latest fashions. Layering aesthetic Victorian necklaces, for example, creates a nostalgic look. Or adding unique Victorian charms to a bracelet or necklace from a different era is great if you want to create something totally original.
However you style (or re-style) your Victorian jewellery, you're sure to find a unique way of wearing stunning pieces from this era, even if your style is much more modern! If you're looking for more inspiration, view our full Victorian jewellery collection today.