Call me old-fashioned, but I am a firm believer that tea in its truest form has to be served in a teapot. And what could be more beautiful than a silver teapot? That's right: nothing. Antique or not, silver teapots have something about them that adds to the tea itself, and it's not just the theory that food and beverages taste better when served with silver.
Teapots are one of those brilliant silver antiques that retains significant practical use today, and doesn't need to be confined to serve as décor only – although that is a route you can go down if you don't want to use your teapot, or perhaps you don't like tea, and instead enjoy teapots as pieces of art. Because that it what they are: pieces of art. The craftsmanship that went into each item – all individually handmade – is truly admirable.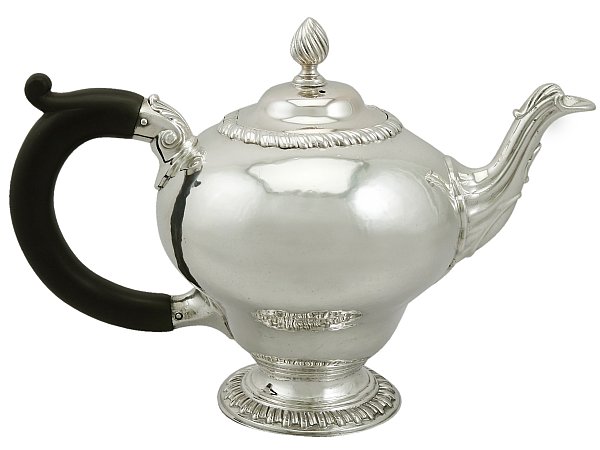 Whether your preferred style is a romantic, soft design that you can find in rounded teapots of the Victorian era, or a more architectural, structured design found later in the Art Deco period, there are certainly enough teapots that everyone can find something that speaks to them. Sterling silver teapots are brilliant in part because of their durability. Whilst it's to be expected that there may be some mild wear and tear present on any antique, teapots are one thing that can be found in relatively pristine condition going back centuries. Here at AC Silver for example, we have this fine specimen from 1766 – older even than the United States! And this stunning Georgian teapot is in excellent condition, with such sharp decoration and hallmarks, you could be convinced that it was made today.
More Reasons to Love Teapots
An antique silver teapot is not only a practical item with a pertinent use in contemporary society, but silver teapots even retain their value. Making regular use of them can keep them in good condition, rather than acting as a detriment to their condition, and their retained value means you could begin your own collection and have it as a beautiful and practical nest egg for yourself or a loved one later in life. You don't need a collection to have a teapot be an investment, but I certainly think it seems better than having just one lonely teapot.
Whether it's one or many, a silver teapot is something that can be passed down from generation to generation. If you have inherited a silver teapot then you understand the beauty of them, as well as the specialness of antiques in general. Each antique has been owned by multiple owners, spanning generations and often multiple centuries. With this in mind, when you use an antique like a silver teapot, you can feel that history. It is easy to feel that each item has a story to tell, and sometimes just imagining the lives and times of an objects previous owners is enough fun without even knowing an item's history.
If you regularly use your teapot, wash it in hot water, and occasionally polish it with a soft cloth, it will repay your efforts tenfold with its beauty and elegance. Many antiques truly look antique, and it's hard to imagine them anywhere other than a dusty shop among a million other pieces, or in a quaint cottage nestled in the hills of nowhere in particular. Something wonderful about silver teapots, however, is their versatility. A silver teapot doesn't look out of place in a cottage – naturally – but it also fits in just as well in a modern kitchen, sat alongside a brand-new coffee machine, on the counter of a high-rise apartment. You simply need to ensure you find your style among the selections – because believe me, whatever your style is, you can find a teapot to match.
Some of Our Beautiful Silver Teapots
So, we all know why teapots are so beautiful, now it's time to check out some examples of their different designs and really appreciate the work that has gone into each and every one of them.
Let's dive right in.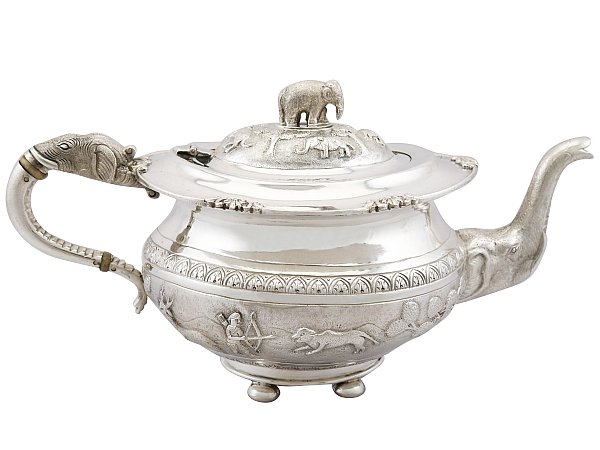 Indian Silver Teapot – Circa 1920
This stunning piece is such a celebration of Indian silver design. Our selection of Asian silver shows in more depth the beauty of Indian silver. Busy designs often heavily featuring elephants and other native plants and animals are a staple feature of Indian silver, and this beauty is no exception. An elephant finial, an elephant handle, and an elephant spout – as well as an elephant or two etched into the lid and the body of the piece. What could be better?
Antique Victorian Teapot – 1885
A short, stout, and very regal piece – fitting that it's of the Victorian era. Every element of this beautiful teapot curves in such pleasing ways, yet it maintains a delicacy through the slimness of its legs. Its spherical body has a beaten finish, adding a little bit of extra interest to its general shape. The beautiful, organic appearance of the lid really sets this piece off, making it a very interesting and unique antique that could be the finishing touch to any room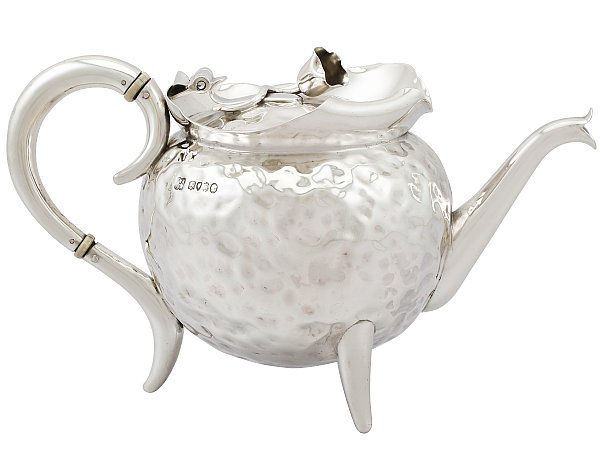 Miniature Iraqi Teapot – Circa 1920
There's just something special about this piece. There's silver, and then there's miniatures, and then there's silver miniatures. Now, this isn't a miniature in the truest sense, in fact it stands at 5.7" from its base to the tip of its handle. But within it, this beautiful piece can hold about enough tea to fill one mug – hence the 'miniature' title. The designs along body are a testament to craftsmanship, holding more detail than you could believe for such a small space.
If you needed any more reason to want to start (or add to) your own teapot collection, then you should keep exploring the gorgeous examples we have on our site.