Men's jewellery trends for 2020 are simple: more! It's time for men to wear more jewellery, and 2020 is the perfect opportunity for accessorising.
No man need feel shy about wearing jewellery. For many years males have adorned themselves in precious metals and gemstones. From the Egyptians incorporating not just gold and gems but also getting creative with things like beetles, right up to stylish jewellery-clad celebrities like Harry Styles and Ryan Gosling.
Yellow Gold
Yellow gold has been on the rise in the last year, and 2020 is set to be more golden still. Yellow gold chains, bracelets, and plain rings are likely to feature heavily. To some people, yellow gold is reminiscent of times past, and now looks almost gaudy. After the late '90s and 2000s fashion inspired by technology, with everything being silver, white gold, platinum, anything that best expresses the feeling of hi-tech, ultra-modern futurism, yellow gold is a warm retreat. In jewellery, fashion, and homeware, the last several years has seen more warm colours and textures rise in popularity. Wooden furniture, woollen clothes, and yellow gold jewellery have been used to create more authentic-feeling fashions. Come back down to Earth with yellow gold.
Signet Rings
For some people, antique signet rings are exclusively worn by the Corleones and the Kray twins, and that's fine. Don't be surprised, however, if you start noticing signet rings becoming more and more prominent in the upcoming year. From plain yellow gold, to gemstones-galore, signet rings are on the rise. Those who are less adventurous can explore signet rings in their more plain, slim-line form, and those wanting to splash out are free to go as far as they wish. Worn on the little finger, signet rings are cool and stylish, and sophisticated. If you want to replicate that classic '60s gangster, or you're bringing your own style to a new level, signet rings are guaranteed to be a big player in the next year.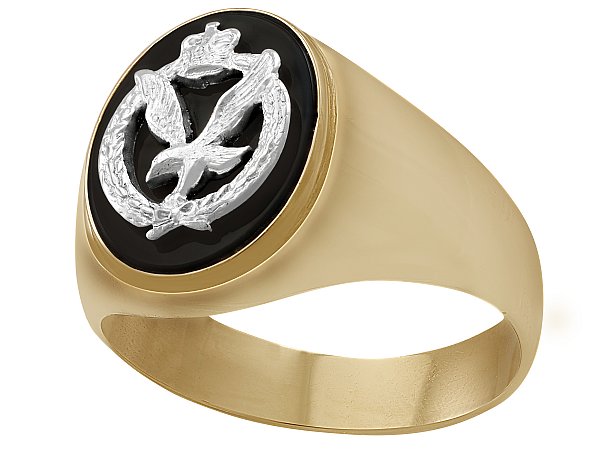 Gage Skidmore
/
CC BY-SA
Necklaces
Other than a plain chain perhaps, men have not typically worn necklaces, particularly not long or overly elaborate necklaces. However, this next year might see a change in this absence of neckwear. Necklaces – particularly long necklaces – are a unisex trend that's likely to be seen worn by both men and women in 2020. Natural themes are popular, with many featuring shells and floral designs. A plain chain, however, is still welcome if the idea of a long chain of pearls or something similar is too intimidating. If you need reassurance that you can pull off a statement necklace, however, look no further than this picture of Jason Mamoa, sporting a stunning piece. Large pieces of turquoise adorn this tribal piece, and it looks effortless and natural. You can definitely achieve the same look if you just have the confidence to experiment with it.
Colourful Jewellery
Another trend for anyone, male or female, lots of bright colours will be at the forefront of jewellery fashion in 2020. Any man looking for more than plain metals will be pleased to see this trend filter into men's jewellery items. Turquoise in particular has been predicted to be quite prevalent next year. The more earthy tones like greens and browns are the ones to look out for, as many shades of these colours will be noticeably present in a lot of new jewellery pieces. Whether the colour comes in the form of gemstones, or the material used to create the jewellery itself, such as leathers, threads and acrylics, many bright and light hues are ready to be sported in the new decade that's on the horizon.
A new year, a new decade, and a new opportunity to explore different fashions, different styles, and different items altogether, 2020 is set to be exciting. Maybe you've never worn jewellery, or maybe you've always worn jewellery and you want something new. No matter where you fall on the spectrum of experience with jewellery and accessorising, the new year is your time to shine. Still have more questions? Check out our blog that answers the question: can men wear eternity rings?