An emerald ring is a beautiful thing. Of course, there are antique sapphire rings and antique ruby rings, but sometimes green is what you need. The green is reminiscent of spring grass, fresh with dew; or a single leaf on an enormous and strong tree; think of a gorgeously green piece and you'll find a beautiful emerald ring that fits the colour. The bold, statement pop of colour is mesmerising and entirely appealing. No wonder it is one of the most popular gemstone rings!
Perhaps you already own emerald rings, antique emerald engagement rings, for example, and are interested in delving into ways you can wear it. Or you are thinking of buying an emerald ring, and want to know if it is the right choice for you, given the different options for wearing it. So today I'm going to explore when to wear an emerald ring.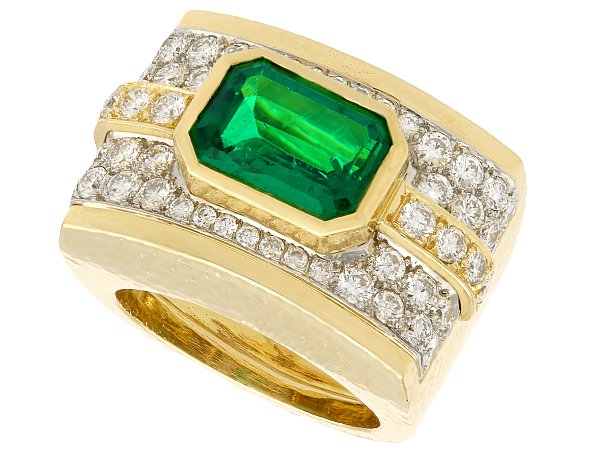 The Emerald
First, it is worth delving into the emerald itself, we should walk before we can run. As I've already mentioned, the emerald is a green gemstone. It has been mined for over 3,500 years, and has been of interest for an even longer length of time – approximately 6,000 years.
It has been suggested that the name emerald originated from the Sanskrit 'marakata' meaning the 'green of growing things', no wonder the stunning emerald stone is reminiscent of greenery in nature – it is quite literally in the name!
The emerald is the birthstone for the month of May. One of the earliest references to the emerald was from the famous philosopher Aristotle. He claimed that wearing and owning an emerald increased the wearer's importance and presence. As well as helping with any eyesight problems. It is also said that the emerald is symbolic for fertility and healing, and that it encourages peace, balance, reflection, and growth. It has long been regarded as a superior jewel, partly because of its traits.
It isn't an especially strong stone; it rates as 7.5 to 8 on the Mohs hardness scale, giving it a fair to good hardness rating. That puts it below ruby rings, sapphire rings and diamond rings for hardness. The emerald ring is still relatively durable, however it isn't recommended to wear it every day.
Engagement Ring
An emerald engagement ring is a great way to wear an emerald ring, as well as being perfect for vintage engagement rings. Due to its symbolic meaning involving fertility and growth, it is a great ring to propose with. Moreover, the emerald is an extremely rare stone. The presence of such a symbolic ring can only have a positive effect on the marriage.
Of course, due to its hardness rating it is the perfect engagement ring for those who like to wear their engagement ring on special occasions but not necessarily all the time, due to its slightly fragile nature.
It is also a great choice for that special someone who leans towards the more statement, unique style, rather than the traditional. It is another way of displaying and showcasing their bolder aesthetic; that a diamond ring just doesn't quite manage.
Cocktail Ring
Another way of wearing an emerald ring is as a cocktail ring. There are so many different types of styles of emerald cocktail rings. The twist ring typically involves another gemstone, typically a diamond paired with another emerald. An emerald three-stone ring will often have a central feature emerald teamed on either side with a diamond. An emerald cluster ring is another gorgeous type of emerald ring: it typically features an emerald surrounded by smaller diamonds. So you've got many different types to choose from, to match your style and personality.
Typically an emerald cocktail ring will be worn at a special occasion or a nice event. In the same way that emerald engagements ring will be worn. So let's delve into the specifics.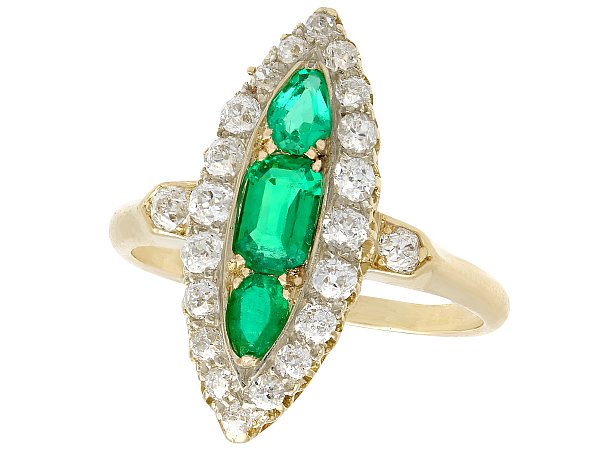 Consider Your Outfit
A cocktail ring is typically worn at an event or special occasion, and can be used to enhance an outfit or to showcase the stunning emerald ring itself. An emerald cocktail ring can look great paired with a little black dress, or paired with another bold statement colour.
So you've got two options really – simple and elegant, or bold and statement. The overriding theme is sleek. You want to keep in clean and sharp; try to avoid a fussy over-complicated aesthetic to pair with your emerald ring.
Accessorise
Sometimes an emerald ring can be quite an overwhelming sight; one bold piece on the hand can be too distracting at times, in order to avoid imbalance don't be afraid to accessorise. You can certainly add other items of jewellery to your ensemble, as long as you remember to keep it sleek and not too overwhelming.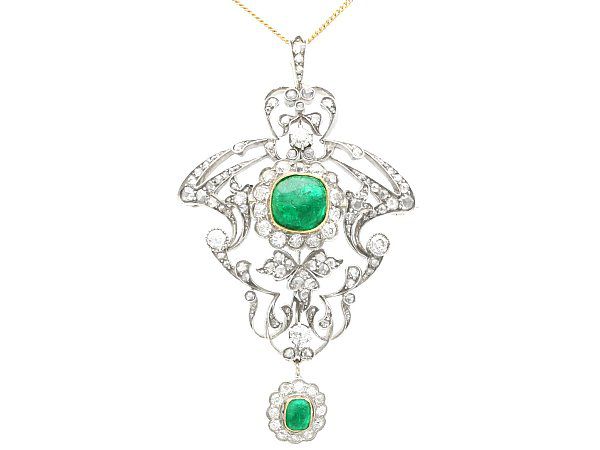 The emerald ring is worn on the lower part of the body, so a great addition is a pair of simple earrings or a beautiful drop pendant. I would recommend pairing emeralds with diamonds, as the emerald is quite a bold stand-alone stone, so another gemstone piece might be a bit much.
Of course, you can also pair emeralds with emeralds. Again, remember the theme of sleek and sharp – you don't want to go over-the-top with too many emeralds!
Emerald Jewellery for Everyday Wear
Whether it's a ring, a pendant, or a bracelet, there are plenty of emerald pieces that can be worn every day as part of your outfit. Emeralds are obviously very sophisticated gemstones, but that's no reason to leave them relegated to special occasions; they can shine in any condition and brighten up every day.
The most common way of wearing emerald jewellery every day is to have an emerald feature in your engagement ring. Emeralds make for stunning engagement ring stones, so if you see a proposal on your horizon, don't write off this glittering green delight. Another way of incorporating emeralds into your outfit is to wear something like a brooch.
Brooches are perfect for winter weather especially, as they can be worn on the outside of your coat, keeping you visibly accessorised and stylish even when you have to wrap up warm.
Alongside brooches, earrings are key to keeping that rich green on show. Some simple stud earrings or even clip-on earrings that feature emeralds elevate your overall look to something very elegant and special – plus they're still visible even if you're under two cardigans, a coat, and a thick scarf!
Emerald jewellery for everyday wear doesn't get better than emerald rings, however. They're so varied and beautiful, which is why I decided to focus on them today. If you're interested in something understated, there are plenty of minimalistic designs for emerald rings out there. Consider eternity rings that features emeralds in some capacity, for example. Another way to keep emeralds suitable for everyday wear is to think about the cut of the stone. Baguette and calibre cuts are good because they ensure that the stone lays flat, keeping it out of the way while it accessorises you. The setting of the stone is also important; collet settings for example keep the gemstones low and secure!
I hope this little guide has helped you when consider when to wear an emerald ring. Have you got any extra tips you would like to share? Let us know in the comments below.