There are certain accessories that are enduringly popular, and the antique pocket watch is undoubtedly one of them. Pocket watches are as practical as they are stylish, which has cemented their status as a classic accessory for every man. The history of the pocket watch dates back to the 16th century. It is unsurprising, then, that throughout history innovators have found numerous ways to style them. Whether you're looking to invest in your very first pocket watch, or are hoping to restyle an antique jewellery heirloom piece, there's a look out there for you. Here's just 5 ways to wear a pocket watch.
History of the Pocket Watch
Before we dive into how to wear a pocket watch, let's take a look at their history.
The earliest record of the pocket watch was the Nuremburg Egg in the 16th century. This was a spherical watch, which only featured one hand. It had a long chain, and so was commonly worn around the neck as a pendant. The Nuremburg Egg was notoriously inaccurate, and was worn mainly as a fashion statement than as a matter of practicality.
The accuracy of the pocket watch increased with German watch-maker Peter Henlein's spring loaded design in the 17th century. This led to an increase in the popularity of the pocket watch.
The pocket watch became especially popular within working class roles such as railroad working, where accurate timekeeping was an essential part of the job.
As with most fashions, the way the pocket watch was worn was very much dependent on the needs and demands of society at the time. For example, when tailored clothing became fashionable it was common practice for men to wear their pocket watches in the front pockets of their waistcoats.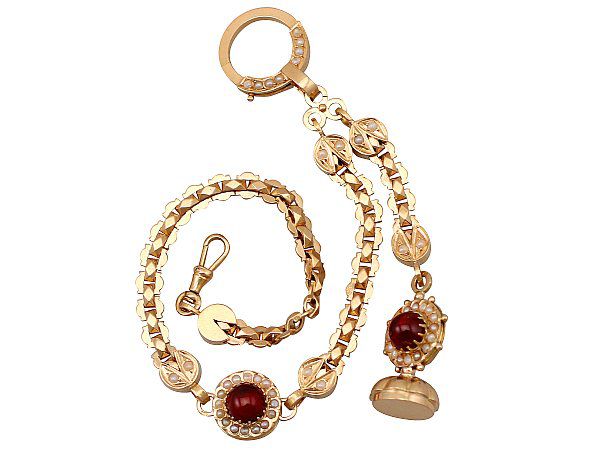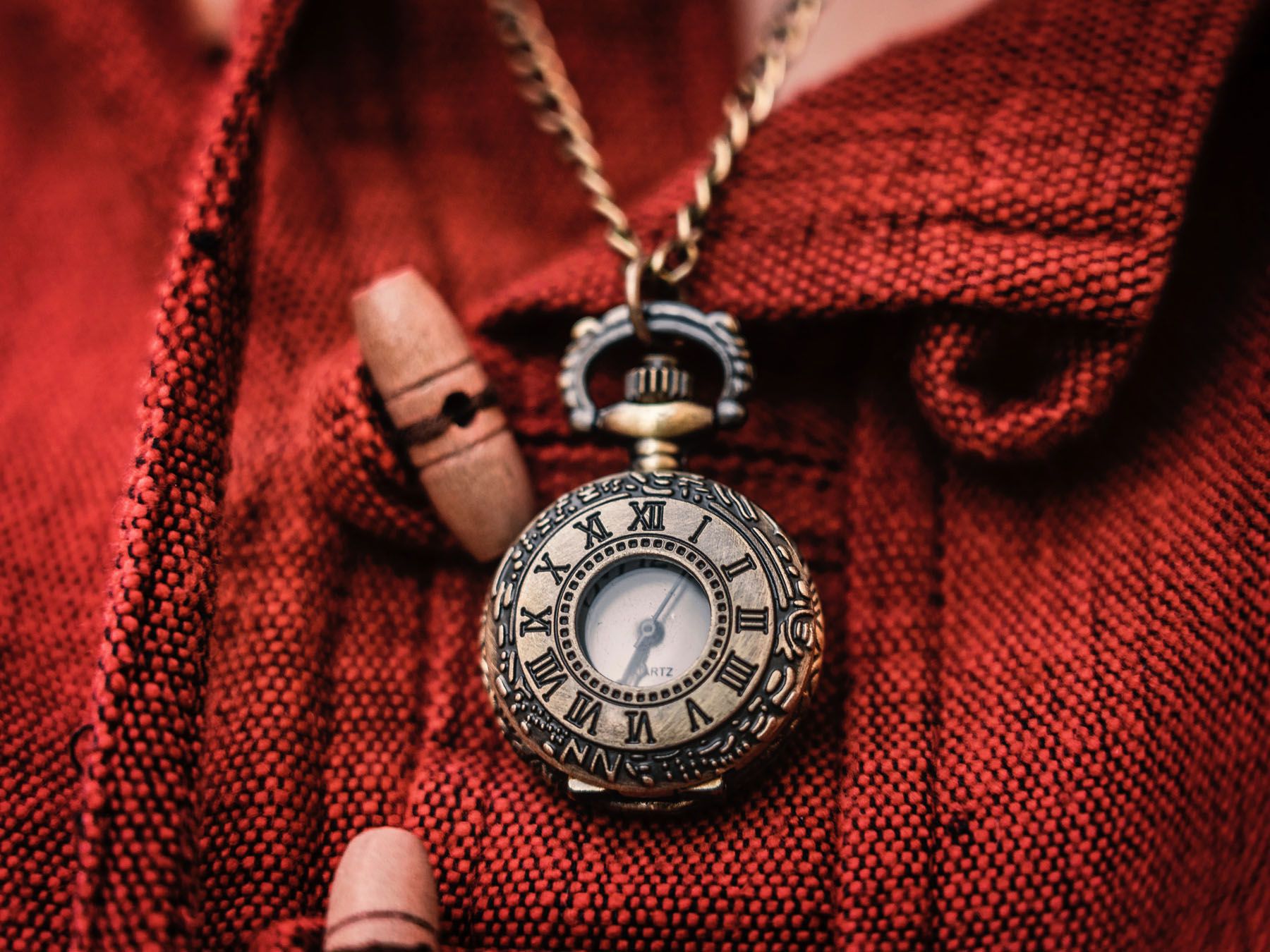 Photo by Lukas Hartmann from Pexels under free license
How to Attach a Pocket Watch
You will find with most watch chains – such as the examples we have here at AC Silver – have some form of connector at the end to attach the chain to the pocket watch. The most common catches on watch chains are hook, spring-loaded, and claw catches.
The claw catch is possibly the most omnipresent of the catches, found on a huge variety of chains. At the top of the pocket watch, a metal loop sits – usually close to the winding mechanism for the watch. Attach the catch of the watch chain to this section of the pocket watch to ensure that it is held securely.
How to Wear a Pocket Watch
Now you know the origins of the pocket watch, let's consider how to wear one. Pocket watches are incredibly versatile and can be styled in numerous ways- it is simply a matter of choosing the right look for you. Here are a few suggestions on how to wear a pocket watch:
1) Round the Neck
Throw your style back to the origins of the pocket watch by wearing yours on a chain around your neck. This is the perfect way to display an heirloom watch, or a particularly intricate piece. Since this is such a bold look, ensure that the metal of the chain corresponds with the material of your pocket watch. This creates a cohesive look that won't detract from the beauty of your timepiece.
2) With a Waistcoat
Recent fashions have seen the waistcoat surge in popularity. This is perhaps one of the most iconic ways of wearing a pocket watch. To pull off this look, all you'll need is a watch chain (Albert or T bar styles work nicely) and a watch that is small enough to fit in your pocket. Simply thread your chain through a button hole and check that it is secure, then pop the watch into your pocket. This is a timeless way to wear a pocket watch that simply exudes sophistication.
3) Keep it Casual
Pocket watches are not just restricted to formalwear. If you're looking to add some personality to an everyday outfit, then a pocket watch is essential. Pocket watches look equally as charming on a button down shirt as they do a suit and tie. They are a fantastic way of achieving that smart/ casual balance that we all struggle to define, and having a little fun while doing so.
4) Accessories
If wearing your pocket watch as a necklace or donning a three piece suit isn't to your taste, then never fear. Simply accessorise your accessories! Attach a pocket watch to your briefcase or rucksack using a short chain. This is an easy way to elevate your usual look whilst remaining on trend. Plus, it remains practical as these pieces will always be in easy reach.
5) Belt Loop
Put a twist on tradition by wearing your pocket watch on your belt loop. From dress trousers to jeans, this is a style that can work whatever your personal taste. You can really experiment with this look. Since the chain will be so visible, use it to express your style, whether this means opting for a chunky gold chain and watch or a more modern platinum style.
Whatever your preference, there is a pocket watch out there for you. Pocket watches make exceptionally versatile accessories, which makes them the perfect investment. These timepieces have charmed us for centuries, and we are sure that they will continue to do so for years to come.