There has been a trend in recent years to go a little out of the box when it comes to engagement rings. When I say out of the box, I mean that there has been a shift in interest from diamonds to gemstones: rubies, emeralds, opals, sapphires etc. In fact, if you can think of a gemstone I'm sure it has been the centrepiece of someone's engagement ring. One of the prevailing questions surrounding the gemstone engagement ring is…'Is it a good choice over a diamond engagement ring?' In this article I hope to open up the eyes of the sceptics. Today, I'm going to focus on the beauty that is the sapphire engagement ring; delve into the history of it; and present the positives of such an engagement ring.
Some History Surrounding the Sapphire Engagement Ring
The sapphire has always had symbolic connotations; and for a long time has been a popular choice for an engagement ring stone, especially amongst the nobility.
According to many different sources, the International Gem Society for one, sapphires have long been associated with positive attributes. The Ancient Greeks wore sapphires in order to show respect to the Sun God Apollo, and also has a symbol of wisdom. The deep blue hues in the sapphires were also thought to call up to the planet Venus. Moreover, the Greeks also believed that the gemstones could influence spirits with the help of the gems. Both the Greeks and the Romans thought that the sapphire had protective qualities: bringing good luck, and protecting the wearer from any misfortune. From this description the sapphire could easily be an ancient rabbit's foot. I'm quite glad that it's the sapphire that became popular in jewellery, rather than a rabbit's foot!
When he was still a lowly soldier Napoleon Bonaparte went all-out on a sapphire engagement ring for Josephine. The ring itself is an example of a toi et moi ring, with an inverted pear cut sapphire and an upright pear cut diamond on either side. Both stones were around 1 Carat in size. The ring must have been extremely expensive. In 2013 this particular sapphire engagement ring sold for $949,000 at an auction. I know, if only we had known about the auction!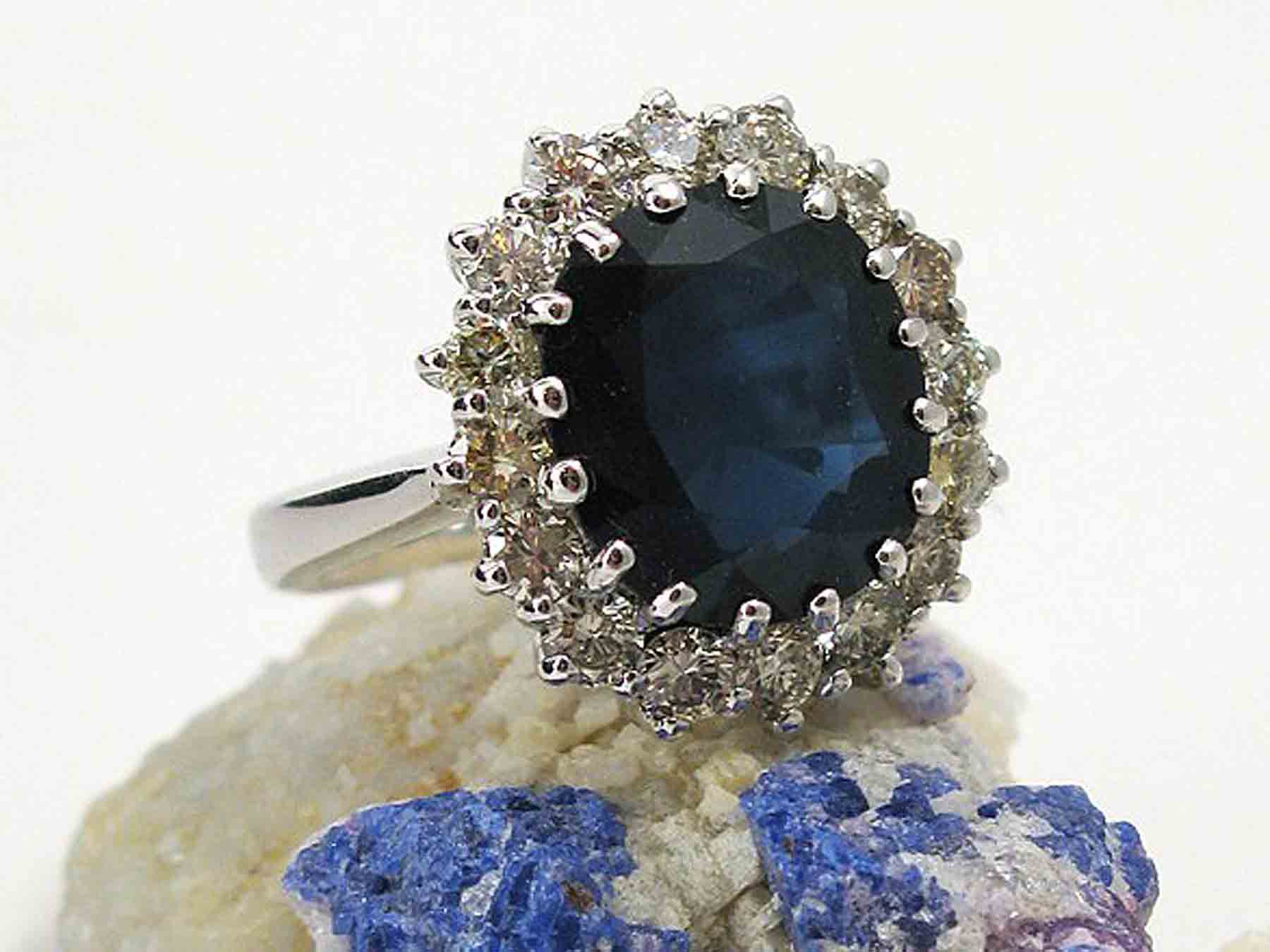 Ann Porteus from Tasmania, Australia [CC BY 2.0], via Wikimedia Commons
Perhaps one of the most famous sapphire engagement rings is the one currently on Kate Middleton's finger. Her sapphire cluster consists of a 12 Carat Ceylon sapphire, surrounded by diamonds. It was originally Princess Diana's engagement ring from Prince Charles. In the 1980s they picked the sapphire themselves, then had it set in a ring. It was in 2010 when Prince Charles proposed to Kate, and passed on this beautiful piece of heirloom jewellery. Learn about different aspects of royal jewellery, such as the most iconic earrings worn by the royals at AC Silver.
Today, the symbolism of the sapphire continues. Some pick the gemstone as it's their birthstone (September, in case you were wondering). Perhaps people pick it to emulate the royals (nod to Kate's ring). Or it might just be the unique style of the sapphire engagement ring. Diamonds are still the popular choice for an engagement ring, and especially nowadays, people don't always want to go with the 'normal' choice.
Is it a Sturdy Choice?
Often, people think that a sapphire ring won't be as durable as a diamond. Diamonds are a 10 on the Mohs scale, but sapphires come in a close second. They are a 9 on the Mohs Scale; meaning that it can resist scratching better than most gemstones. So, actually the sapphire is an excellent choice for an engagement ring.
Cost of a Sapphire Ring
As with many rings, the cost of it depends on its quality and size. For example, roughly speaking, a diamond ring of 0.25 ct or less costs around £900; a 0.50 ct diamond can cost around £2,200; up to 1 Carat and over can cost around £5000. For many, whether it should be the case or not, bigger is better.
So, what about sapphire rings? A sapphire typically costs less than a diamond. On the whole then, a sapphire engagement ring is less expensive than a diamond engagement ring. You can, roughly speaking, get a sapphire engagement ring with 2.40 Carats of sapphire, and diamond accents for around £4500. So a much bigger ring for less money than a smaller diamond ring.
Sapphire Ring Styles
As with many rings, sapphire engagement rings come in many different styles. Pictures paint a thousand words, so let's take a look at some fine and impressive examples, some of which are easily among the top sapphire ring designs with yellow gold.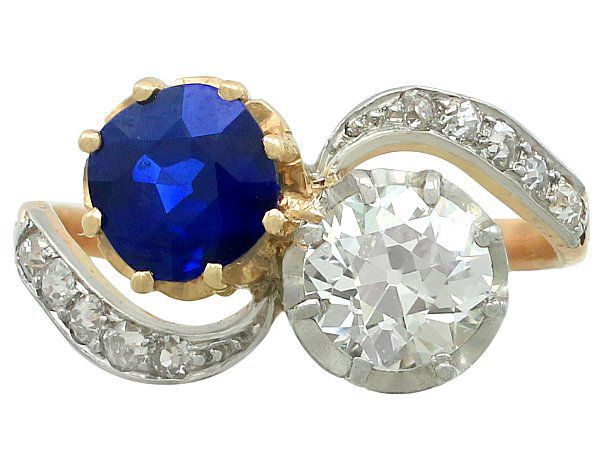 Toi et moi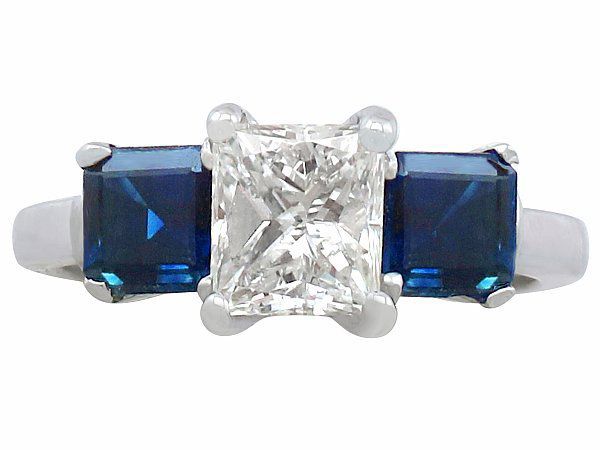 Three-Stone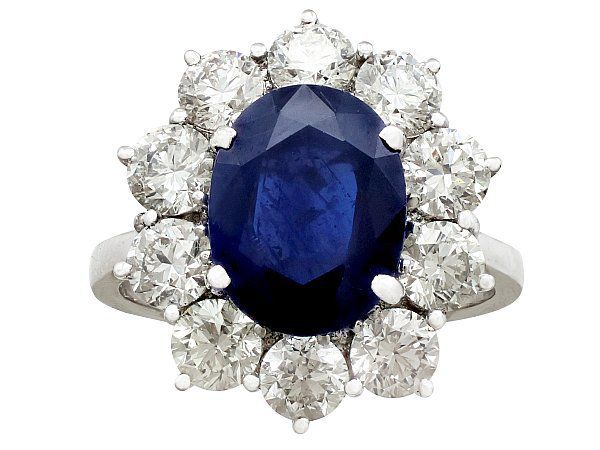 Cluster
Is a Sapphire Engagement Ring the Choice for Me?
A sapphire engagement ring is the choice for you if: you want something a little different to a diamond engagement ring; blue is your colour; you want a stone that reflects your birthstone; you enjoy the symbolism behind the sapphire; you want to spend less money on an engagement ring. Some may be true for you, and some might not.
Ultimately, sapphire engagement rings are definitely for some people, and aren't for others. I hope I've opened your eyes to the potential that a sapphire engagement ring has.