It's coming up to your anniversary. You're excited to celebrate this fabulous achievement with your special someone. However, typically this kind of occasion calls for an exchange of cards and gifts – this is part of the celebration that you might be less excited for… Don't fret we are here to provide some guidance and suggestions.
Gift Theme Depending on the Year
1st = Paper
2nd = Cotton
3rd = Leather
4th = Linen
5th = Wooden
6th = Iron
7th = Wool
8th = Bronze
9th = Pottery
10th = Tin
11th = Steel
12th = Silk
13th = Lace
14th = Ivory
15th = Crystal
20th = China
25th = Silver
30th = Pearl
35th = Coral
40th = Ruby
45th = Sapphire
50th = Gold
55th = Emerald
60th = Diamond
Hopefully this helps get some inspiration flowing. Perhaps you can have a bit of a cross reference with the list above, to at least narrow down the search! I've chosen a few of the 'themes' to go through in more detail.
Paper
There are some obvious choices here: a journal, a list of possible adventures for the next year, a list of what you've loved about your first year of marriage, a list of more or less anything would work for your 'paper' gift. I've decided to think a little outside the box with the theme paper. How about an impressive inkstand or inkwell that can be used to write on paper? Or how about a paperweight to weigh down the paper?
Steel
Steel represents strength in the relationship. If you're married to someone who is very handy, then perhaps a practical steel pocketknife is the way forward. Or, maybe this vintage Danish sterling silver cocktail accessory set tempts you. The corkscrew and bottle opener are fitted with steel blades.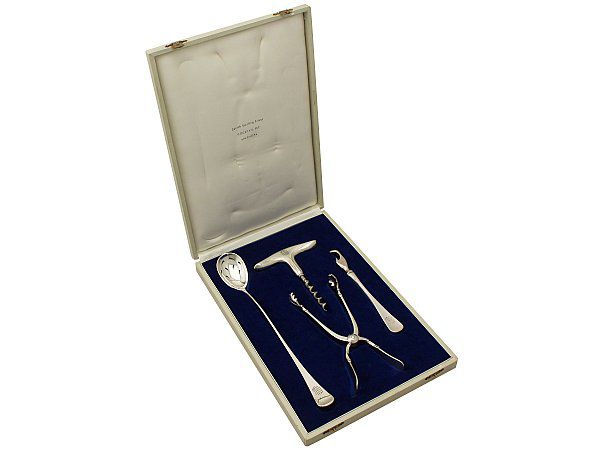 Silver
Again, similar to steel, silver represents strength in the relationship. But also represents the radiance and brilliance involved in your 25 year marriage. There are a few different options here. For the traditional man in your life, an impressive canteen of cutlery might be just the gift. Or even a truly indulgent gift just for him: a silver quart tankard.
Ruby
Rubies represent an eternal flame that will never die. There are many gifts that could incorporate the theme 'ruby'. Whether it is the colour red that transfers into the gift: I'm thinking a bottle or case of their favourite red wine, or even a trip to Wine Country if you're feeling fancy. Or it might be a more literal ruby inspired gift of an item of jewellery with rubies. I've selected a couple of items to showcase the ultimate ruby gift for your main man.
Sapphire
Sapphires are supposed to be the gemstone that make wishes comes true, protect the wearer, and are also a symbol of wisdom. Going off the colour of the gemstone, how about a trip to the beach, wherever in the world that might be. It isn't possible to give someone the ocean, however a little dip in it is certainly possible. Other options could include incorporating the colour blue into your present: perhaps it is a blue shirt, suit, or book. Here, at AC Silver, a go-to is a piece of sapphire jewellery. I can imagine that this particular antique sapphire ring would go down a treat!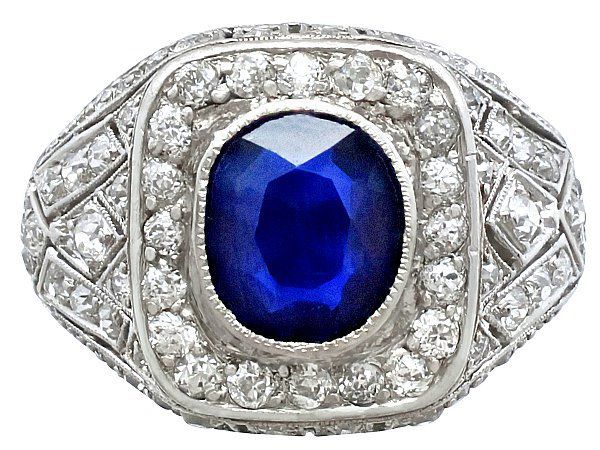 Now this is the big one, and probably seems quite intimidating for those who have recently become hitched. An initial idea for 'diamond', especially if you want to get something a little less obvious than a diamond, is perhaps a trip to Iceland or somewhere cold, for you both to enjoy the snow and ice – similar to the motif of a diamond. At this point, it might be necessary to actually buy a diamond for your husband. After all, you've both made it together, for so long! Having a diamond to mark the occasion would make it even more special.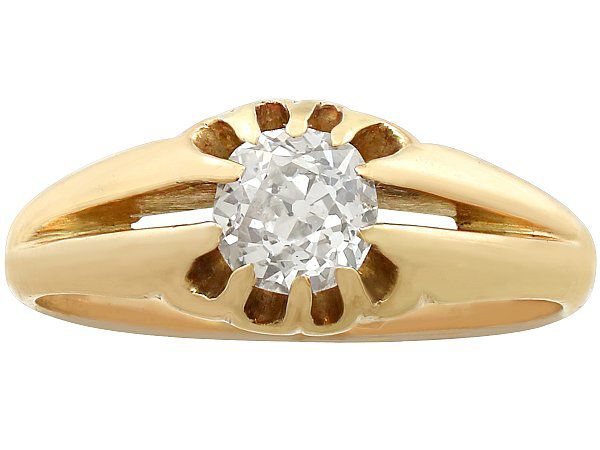 I hope this mini guide has and will continue to help you, at the very least, brainstorm ideas for your anniversary gifts for your loved one. No matter what you get him, he will be sure to love it, it is from his love after all. Before I go, a massive congratulations to you and yours on your special occasion!