Christmas Christmas Christmas! Our top 10 Christmas jewellery gift ideas are ready and waiting for you! We want you to have a great Christmas this year, and nothing makes Christmas better than a bit of sparkle. Have a look at some of our newest (antique and vintage) jewellery and get your Christmas list in order.
Rings
The first stop on our tour of the top 10 Christmas jewellery gift ideas is rings. If you're not 'putting a ring on it' this Christmas, that's fine. That doesn't mean, however, that you can't splash out on a ring for your loved one – or yourself, we don't judge. Whether you're popping the question or just wanting to show off, we've got rings for you.
Vintage Sapphire Cocktail Ring
Cocktail rings make for an excellent Christmas gift. The range of styles available ensures that there's something for everyone. This specific example is a wonderfully unique piece. If your loved one is the type of person who likes to stand out and sees value in having something that nobody else has, this is the Christmas gift for them.
Baguette cut sapphires adorn the focal curl of the ring. This cut allows a lot of light to get to the stones, creating a beautiful movement of colour as the hand moves around. Marquise cut diamonds are set along one side of the curl, adding significantly to the sparkle of the piece.
SKU: C2812 (Click to view item)
Price: GBP £3,950.00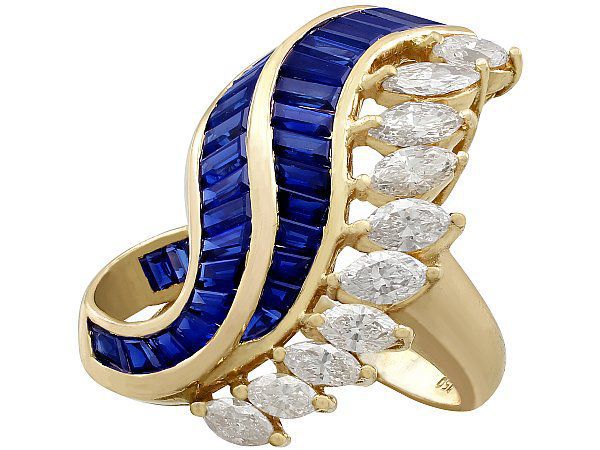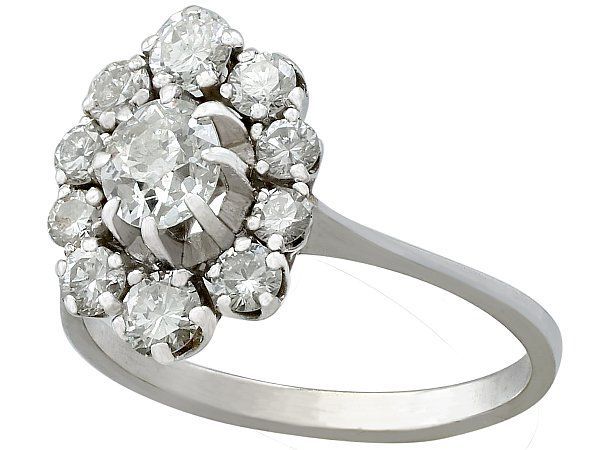 French Diamond Cluster Ring
If the lavish unique stylings of cocktail rings are not your style, a cluster ring is a great way to go. Classic cluster rings feature a centre diamond surrounded by a selection of smaller diamonds. If you're interested in a pop of colour, however, a lot of our cluster rings feature coloured gemstones both at the centre and around the setting.
This specific piece of vintage diamond jewellery is a great example of the classic cluster. The diamonds total at 1ct. When spread across 11 stones, this amounts to an understated item that would suit anybody. The plain, slim band is composed of 18ct white gold, and the ring has a healthy weight of 2.55 grams. Planning a sophisticated Christmas? We've got your back.
SKU: C2275
Price: GBP £1,895.00
Necklaces
Nothing makes a lady's neck complete like a necklace. The sparkly collarette or the luxurious pendant, necklaces of all shapes and sizes are welcome here. You can go the antique route and present a gorgeous pearl choker, or you could opt for something with a more contemporary feel, the choice is yours.
Sapphire, Emerald, and Diamond Cross Pendant
Taking the number 3 spot on our top 10 Christmas jewellery gift ideas list While cross pendants are typically understated and fairly plain, there are exceptions. This pendant packs a punch with more than 3 carats of gemstone. When you choose an item of this grandeur, you want some weightiness to it. The pendant weighs 20.80 grams, and the chain is 14.27 grams, totalling a delightful 35.07 grams. When you wear this necklace, you can really feel its presence around your neck.
The square cuts of the sapphires and emeralds in this piece paint a very pretty picture when the light hits them. A total of 16 princess cut diamonds accent the outer edges of the cross, bringing sparkle to an already show-stopping piece of jewellery. The cross is closely linked to Christmas in a lot of homes, maybe this cross is what your home needs.
SKU: C2848
Price: GBP £4,750.00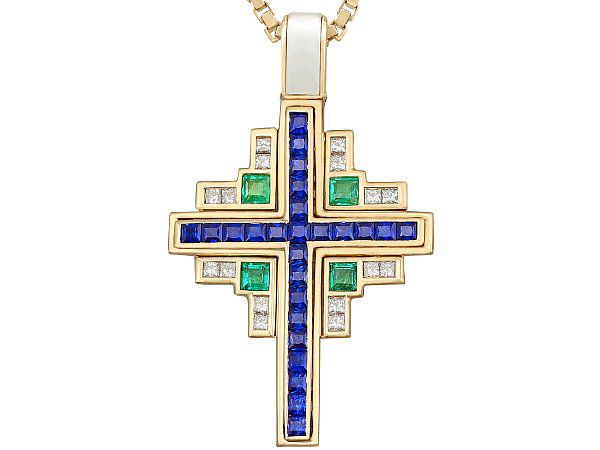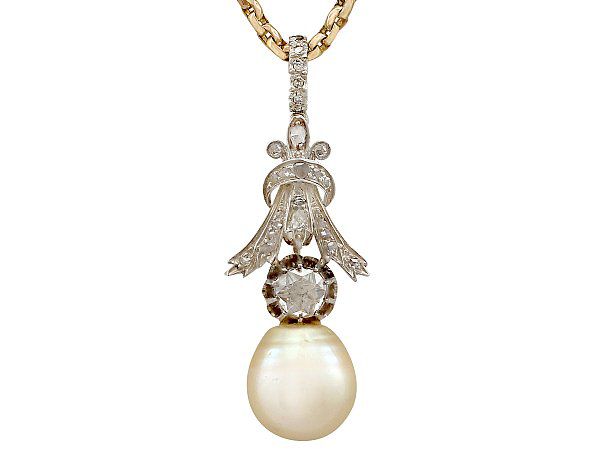 Antique Diamond and South Sea Pearl Pendant
For a more traditional piece of jewellery for this Christmas, diamonds and pearls are the way to go. Over-the-top pendants can be overwhelming for some people, and finer, lighter pendants are the perfect solution for them. This piece may be smaller and more delicate than our previous example, but it still manages to bring an excellent 1.23 carats of diamond to the party.
Typical of the antique style, the chain on this necklace is 32 inches long. Because of this, the necklace can be worn at a multitude of different lengths. If you are hoping to achieve the flapper look typical of the early 20th century, let the chain sit at its full length, or if you want to highlight your décolletage, keep the pendant higher on the chest and restrict the chain.
SKU: C1793 (Click to view item)
Price: GBP £2,950.00
Bracelets
Simple, delicate bracelets are perfect for bringing some sophistication to an outfit. Simultaneously, thicker statement bracelets and bangles bring a lot of attitude that isn't for the faint of heart. Are you up for it? See what you think of these two examples, and then check out our full collection of bracelets.
Vintage Diamond and Platinum Bracelet
Generally speaking, any item covered in diamonds is a good thing. Bracelets, however, are an especially good choice. Being around the wrist, they catch a lot of light. The sparkle that can be achieved through wearing a bracelet like this one is perfectly paired with Christmas lights and champagne.
The feature diamond is nearly a whole carat in itself, boasting a 0.77 Transitional Modern Brilliant Round Cut diamond. The diamonds are all highly colour and clarity graded, and come supported by an independent diamond grading certificate and an independent diamond grading report card for the supporting stones.
SKU: C2842
Price: GBP £14,950.00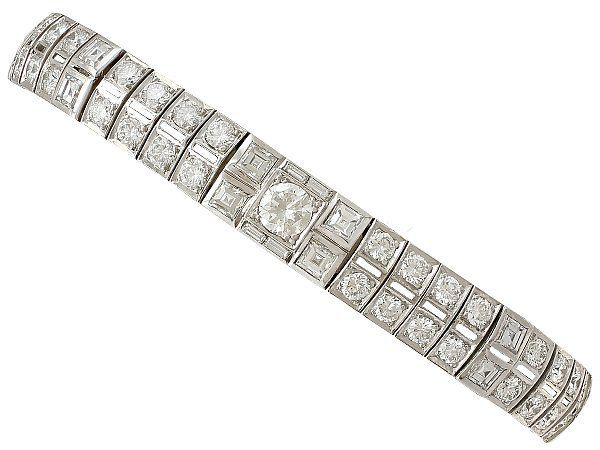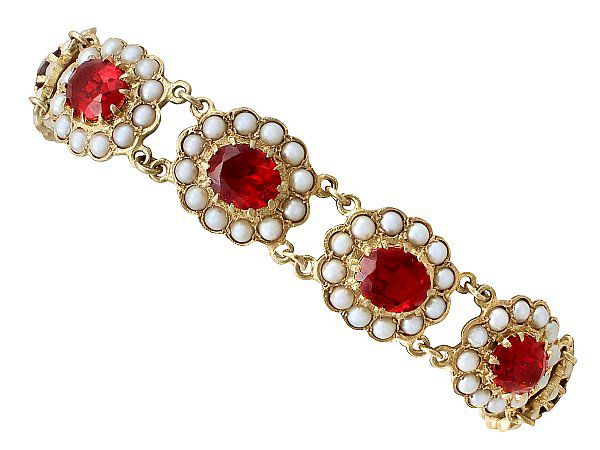 Vintage Garnet and Pearl Bracelet
Sometimes antique pieces are a dangerous choice, being too delicate for significant use. Vintage items like this one are the ideal solution to this problem. Because they take on the appearance of an older item, imitating popular Victorian styles, you can wear them without fear of damaging something that's lasted more than 100 years.
This bracelet features 13.95 carats spread across 9 garnets. Each garnet has a halo of 12 pearls, totalling a stunning 108 seed pearls across the bracelet. Yellow gold sets each gem and stone as well as linking each section together. The rich colouring of the rubies is very romantic; this is definitely a perfect Christmas gift for someone special.
SKU: C2777 (Click to view item)
Price: GBP £1,595.00
Brooches
Something of an all-time classic, brooches are truly the only choice where you cannot possibly go wrong. For the ladies who love them as the perfect adornment to a nice coat or jumper, to the women that prefer to have theirs at the close of their shirts, giving their collar some edge – tell them you understand them with a brooch.
Art Deco Diamond Brooch
The Art Deco style will always be a popular choice for Christmas gifts. When you look at this brooch, it's pretty easy to see why. Swirling and sparkling, this piece comes out of the mid-1930s, and walks the line between Deco and Nouveau with grace. A selection of 90 diamonds comes together to make this well-sized brooch complete.
Brooches are on the rise in popularity, as more vintage and antique fashion trends are circulating around again. This brooch manages to have an antique style that looks somehow timeless, making it a gift that will give year after year. Perhaps it's the dazzling effect of all those diamonds…
SKU: C2843 (Click to view item)
Price: GBP £3,950.00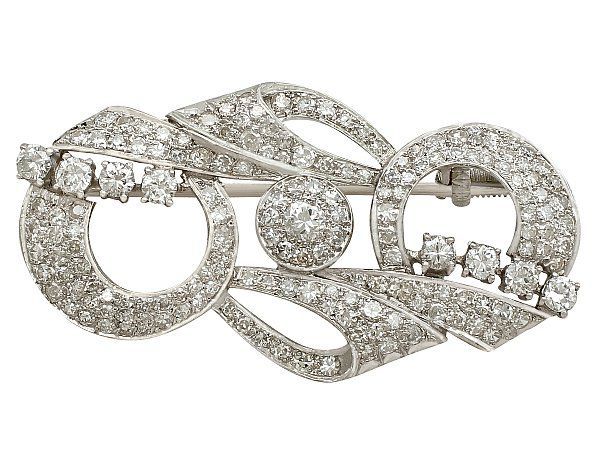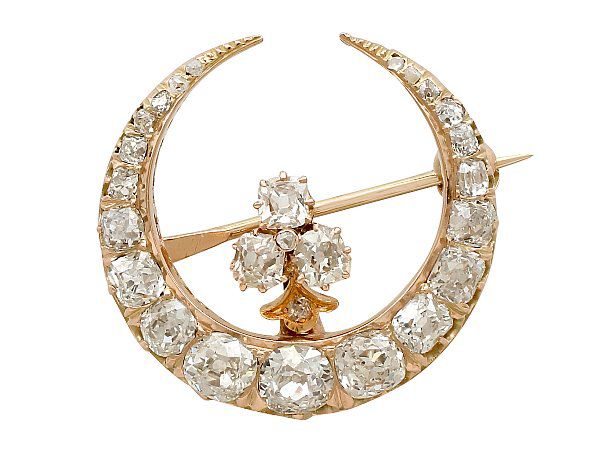 Diamond Crescent Moon Brooch
The classic crescent moon shape has recently become very popular in all areas of fashion and style, not just jewellery. Because of this popularity, our selections of items that feature crescent moons have seen a new-found love by both us and our customers. So, naturally, we've popped it on our top 10 Christmas jewellery gift ideas list.
This brooch is antique, attributed to the 1890s, and features a wonderfully bright selection of 24 diamonds. A lot of brooches splash out with heaps of colour, but this refined palette is perfect for its design. If you know someone who might like to harness the power of the moon, maybe this should complete their stocking this year?
SKU: C2664 (Click to view item)
Price: GBP £2,950.00
Earrings
Our final stop in our top 10 Christmas jewellery gift ideas is earrings. It doesn't matter how many piercings you may or may not have in your ears, we have earrings for you. From antique clip-ons to vintage drop earrings, there's something in this selection for everyone. Diamond studs say 'Merry Christmas' better than any card ever could. Just saying.
Natural Pearl and Diamond Earrings
The screw back of these antique earrings makes them a good gift for people who don't have their ears pierced – though they can still be worn by someone with piercings. The lustrous glowing white of the four pearls featured in this pair are stunning. As if the pearls weren't eye-catching enough, the drop of each earring features six diamonds.
If you look closely, you'll notice the inconsistency between the lower pearls on each earring. Their difference in shape has forced them to be set differently. It's the little touches like this that remind us that this is an antique item, crafted individually by hand and with real care. Features like this always add something special to a gift.
SKU: A9043 (Click to view item)
Price: GBP £6,950.00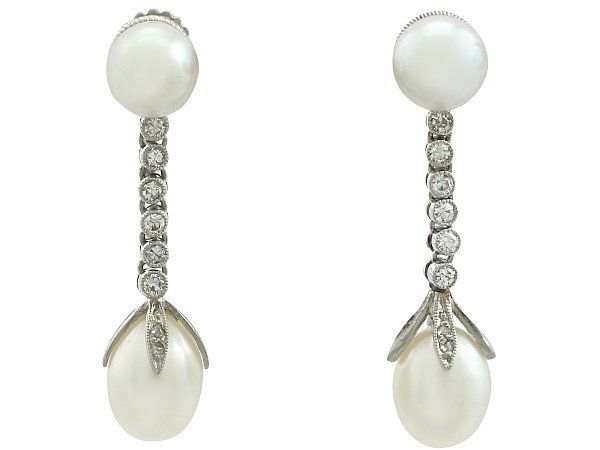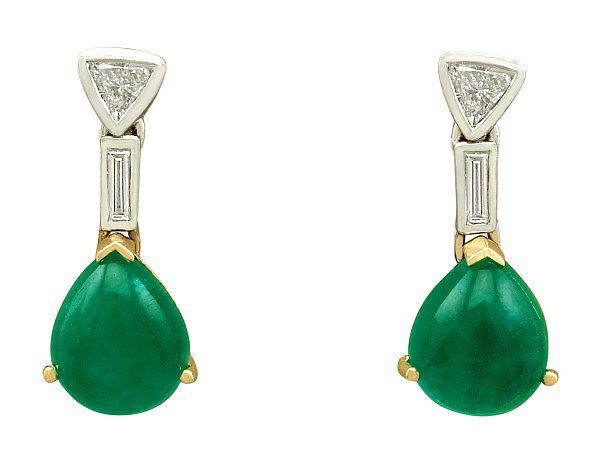 Vintage Emerald and Diamond Earrings
Bringing back some '90s fashion – another very prominent trend at the moment – this wonderful pair of earrings are at once elegant and casual. Very versatile, these earrings will be dressed up or down as desired. Because of this element of their style, they would be an excellent gift for someone who's regularly on the go.
The emeralds are cut in the pear cabochon shape, allowing a lot of their rich green to be seen. Baguette cut diamonds connect the emerald drops to the trillion cut diamond stud element of the earrings. The combination of stones and the mix of yellow gold and white gold give this set a very modern feel. Definitely something to treasure.
SKU: C2137 (Click to view item)
Price: GBP £2,250.00
If you like what you have seen then do explore the site, as two examples from each of these categories is truly not enough to showcase the stunning variety that can be found in our vast libraries of antique and vintage jewellery. Christmas jewellery gift ideas are sometimes hard to come by, but not today. Happy browsing!