The most popular animals in jewellery may surprise you. Although humans have always used animals in their jewellery – whether taking inspiration from their forms or genuinely using their bodies and by-products – the animals popular in antique jewellery might not be quite what you'd expect.
1. Birds
Bird-related jewellery has been popular throughout time. Representing freedom and grace, birds of all shapes and sizes can make for excellent jewellery. Here at AC Silver, we're lucky enough to have jewellery from a wide time range, featuring a large variety of bird types.
Antique Victorian Hen Brooch
One of our older items, this Victorian brooch is new to our stock, and it is an absolute delight. Four natural pearls of varying size sit on a linear bar portraying a mother hen and her three accompanying chicks, creating an utterly charming piece of jewellery.
This piece features diamonds bringing sparkle to the mother hen's tail, as well as the ground the avian family stands on. Furthermore, five rubies feature as delightful eyes to each member of the family, and the mother hen's wattle also.
SKU: C2753 (Click to view item)
Price: GBP£ 2,650.00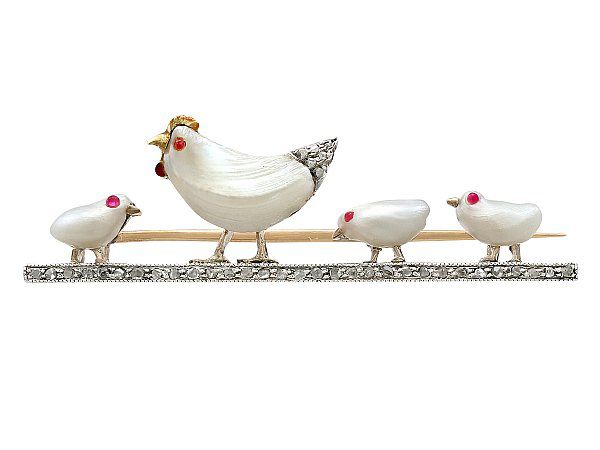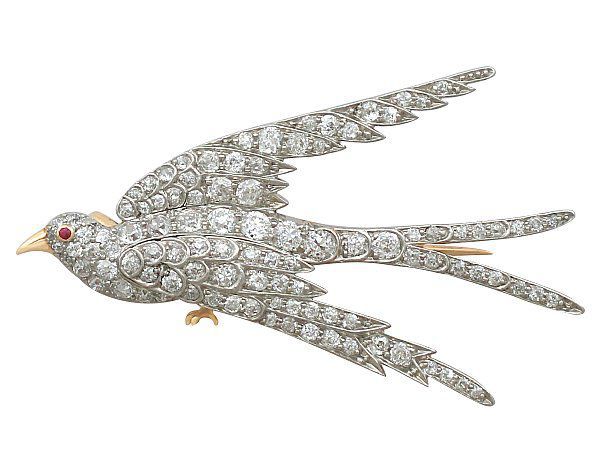 3.34ct Diamond Swallow Brooch
Moving forward in time slightly, we have this stunning diamond bird brooch taking the form of a swallow. Crafted in the 1910s, this piece is larger than your average brooch, finding space for 104 Old European round cut diamonds across its entirety.
The form of this item gives an insight into the styles of its time; its sloping form is vaguely reminiscent of the highly popular Art Nouveau trends from the start of the 20th century. This brooch truly dazzles the eyes, the way only 104 diamonds can.
SKU: W8175 (Click to view item)
Price: GBP£ 5,650.00
1950s Boucheron Parrot Brooch
Stepping into the vintage – sometimes delightfully gaudy – world of the 1950s, this emerald, sapphire, and enamel brooch is incredibly stunning. Although this item comes from France, its style would put it right at home in the world of '50s Americana.
Some people might turn their nose up at this breed of jewellery, but at AC Silver, we welcome the variety with open arms. This parrot brooch is an excellent representation of the technicolour life the western world had widely become by the 1950s.
SKU: C2772 (Click to view item)
Price: GBP£ 4,950.00
2. Bugs
The most popular animals in jewellery are not always what we expect. Proof of this is the prominence of bugs in jewellery throughout time. While creepy crawlies are not typically anyone's favourite animal – certainly not mine in any case – they undoubtedly make for some uniquely beautiful items.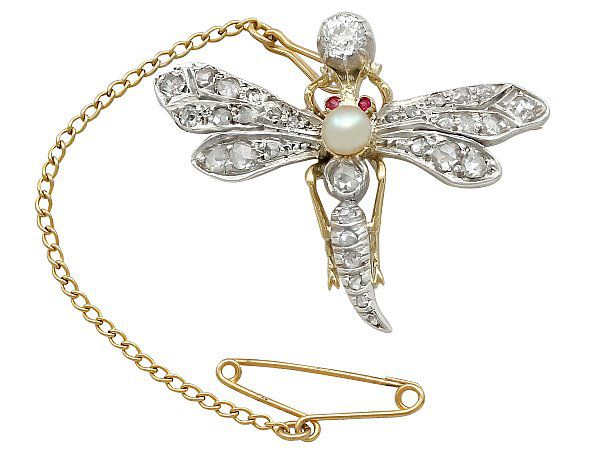 Antique Victorian Dragonfly Brooch
Dragonflies are arguably one of the more enjoyable insects. Their size may be intimidating (to some), but they are certainly beautiful. The safety chain featured on this Victorian piece adds security as well as creating an illusion of the direction the bug flies.
The iridescence of the dragonfly's wings is recaptured in this piece of jewellery through the use of diamonds. Each wing alone of this somewhat delicate brooch features 12 diamonds. Overall, a lot of sparkle is generated from this antique piece.
SKU: A7809 (Click to view item)
Price: GBP£ 2,450.00
3.5ct Diamond Butterfly Brooch
A vision in white gold, this vintage butterfly brooch floats straight out of the 1940s and into your open hand. Its body is formed with an opal, its head a sapphire, and its wings accented by a ruby, replicating the delicate beauty of a butterfly exquisitely.
Furthermore, 3.5 carats of diamond is spread across 62 stones, placed to accent the form of the butterfly. The edges of the wings are bordered with diamonds, alluding to the gentle flutter of a butterfly's wings as the light catches the stones.
SKU: W8776 (Click to view item)
Price: GBP£ 4,750.00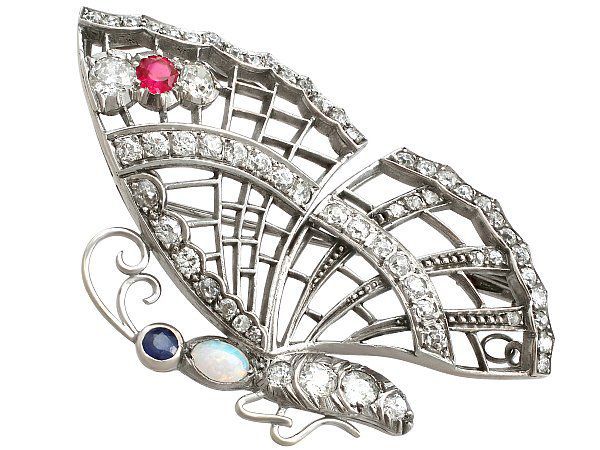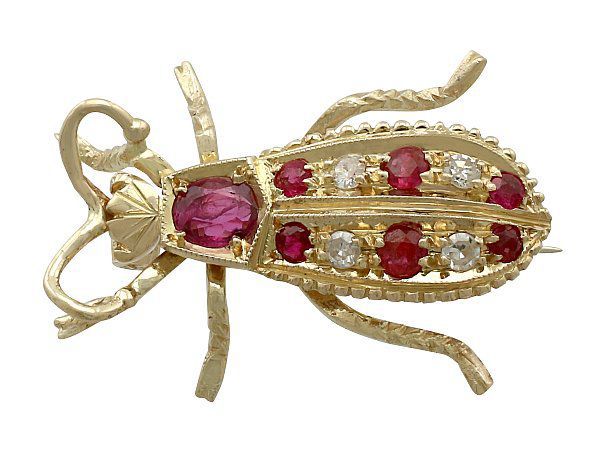 Ruby and Diamond Insect Brooch
This non-specific insect has crept and crawled out from the 1990s, making it one of the more modern pieces in our collections. The popularity of insect jewellery is shown to stand the test of time, ranging from the Victorian period up to the '90s and beyond.
This specific six-legged critter features a total of 7 rubies and 4 diamonds, giving it a wonderful shine and shimmer. Formed to create the suggestion of a bug crawling up your sleeve, you might find a new friend in this piece (of you can stop squirming).
SKU: A7540 (Click to view item)
Price: GBP£ 1,395.00
3. Dogs
Man's best friend, dogs aren't such a surprise as a popular choice for animals in jewellery. Their longevity as our companions outlasts any other animal, and so it makes sense that their likeness has featured on our jewellery for a long, long time. Below are just three examples of our extensive selection of dog-related items.
Antique Victorian 'Westie' Dress Ring
Everyone that knows dogs is familiar with the cheeky expression this canine candid expresses. Whether it's doing his business in the new carpet or torn up your slippers, we have a feeling this westie's about to be forgiven for his crimes. Who could stay mad?
Dating back to the 1890s, this antique Victorian ring is a perfect example of the enduring love humans bear for their four-legged companions. Essex crystal is used to form a dome that houses this little pup, making this unique and beautiful item really pop.
SKU: A9163 (Click to view item)
Price: GBP£ 1,695.00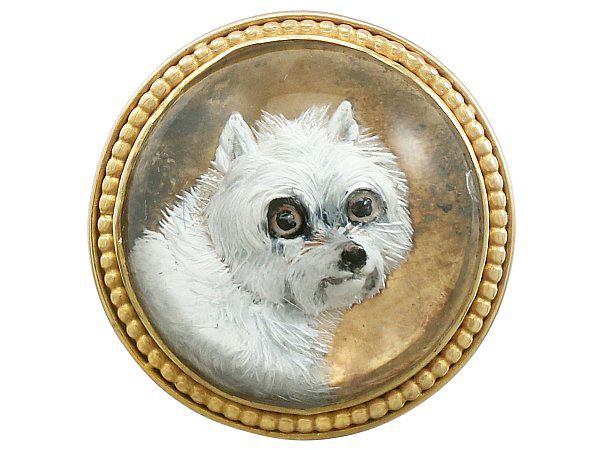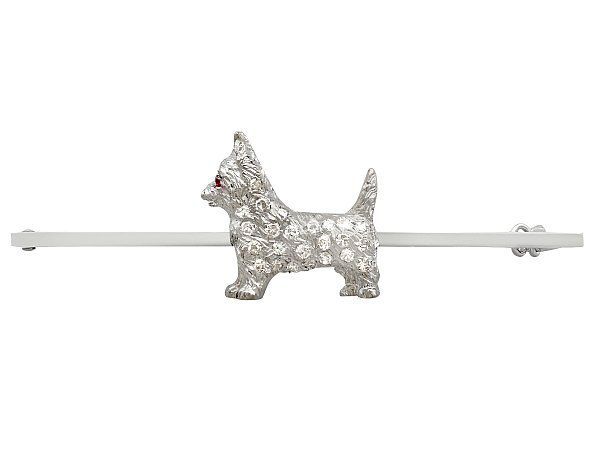 Ruby and Diamond 1930s Dog Brooch
Another westie makes a feature on this piece – perhaps their specific popularity goes far beyond the forty years between this item and the last. Wearing a coat of diamonds, this neat little dog stands proud in a profile position on a bar of white gold.
As well as being a beautiful antique in its own right, this piece and pieces like it also serve as excellent documentation for the gradual changes in popular dog breeds. For doggy super fans (like me), the continued development of dog breeds is a very interesting topic.
SKU: C1032 (Click to view item)
Price: GBP£ 1,495.00
Smoky Quartz Yorkshire Terrier Brooch
Smoky quartz is a stone that's not often in the vast collections at AC Silver, making this a unique piece to be sure. Two 18ct yellow gold and simply precious Yorkshire terriers sit alongside one another, clearly up to no good. Dainty ribbons hold their fur from their eyes as they look for trouble.
Lap dogs and small ratting dogs are (unsurprisingly) some of the most common and popular dogs to feature on jewellery, and these little terriers are no different. A vintage piece from 1973, this brooch is truly a reflection of the unending bond humans and canines share.
SKU: A9589 (Click to view item)
Price: GBP£ 1,895.00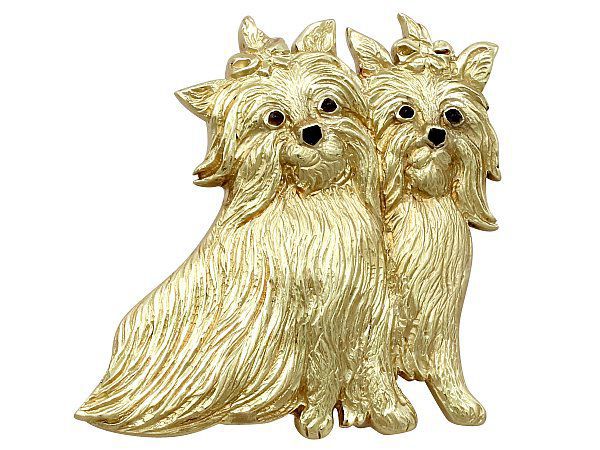 4. Snakes
Today they are sometimes viewed as duplicitous and even a physical embodiment of greed and other sins, but in the Victorian period, snakes were a symbol of eternal love. Their long, linear bodies stretch seemingly for eternity, making them equally pleasant and disturbing, depending on whom you ask. Check out these examples and see what you think.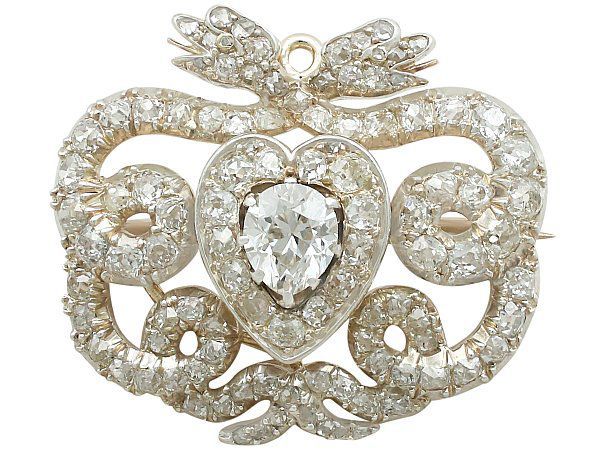 Antique Victorian 3.90ct Diamond Snake Brooch
The feature diamond at the centre of this brooch is a 1.35ct pear cut diamond. Diamonds form a heart around it, and two snakes wind around it. Gothic romantic imagery has never been stronger. This large brooch catches the eyes of all with its sparkle.
Victorians and snakes go hand in hand, in a way, as snake-themed jewellery was so prominent throughout this period. Weighing in at 10.06 grams, this piece has a weight and presence to it that is hard to ignore.
SKU: A7046 (Click to view)
Price: GBP£ 9,950.00
Antique Diamond and Yellow Gold Snake Ring
This example comes out of the end of the Victorian period – though we do have snake rings from earlier – and it's very typical of its time. Winding twice around the finger and crossing its neck over its tail, there's something charming about the motion of this ring.
A 0.25ct Old European round cut diamond sits atop this serpent's head, having a beautiful watery clarity with its VS2 grading. Rings like this one were immensely popular in the Victorian period, as Queen Victoria's engagement ring was a serpent ring.
SKU: C1466 (Click to view item)
Price: GBP£ 1,595.00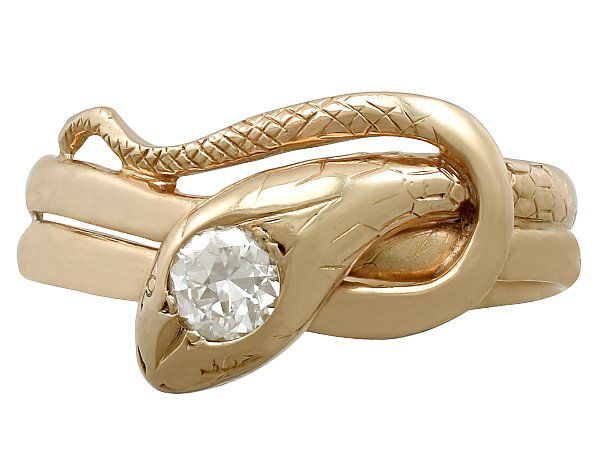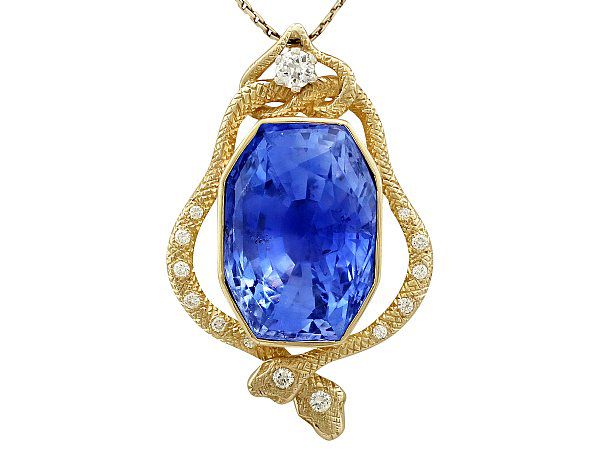 Vintage Ceylon Sapphire Pendant
One of our most stunning pieces, this pendant features a 36.50ct sapphire right at its centre. Around either side of the stone, diamond clad snakes meet and cross over at the base of the gemstone. The gemstones are of excellent quality, making this piece truly outstanding.
The 1950s have never been so glitzy and glam as it is with this pendant. If you seek statements when shopping for antique and vintage jewellery, you can't do better than this stunning 22" 18ct yellow gold chain and pendant. Sin with the snakes.
SKU: A7572 (Click to view item)
Price: GBP£ 28,750.00
Humans and animals have co-existed forever, with some animals finding special places in our hearts. These examples of the most popular animals in jewellery displays the lengths to which some people will go to appreciate their fauna friends.