Oval engagement rings are one of the most popular designs out there. From future Queens to pop princesses, everyone who's anyone is rocking this stunning style. The oval form is incredibly versatile and suits any number of gemstones, from amethyst to zircon. This makes it the perfect choice for an engagement ring that is both personal and flattering. But what exactly is an oval ring, and why is it so popular? Read on to find out- plus see our top 10 oval engagement rings!
What is an Oval Engagement Ring?
An oval engagement ring is a truly timeless piece. The 'oval' moniker can refer to either the cut of the stone used, or the shape of the ring as a whole. Diamonds are an incredibly popular choice for oval engagement rings, particularly the oval cut. Oval cut diamonds resemble an elongated round cut. While round cut diamonds are famous for their brilliance and sparkle, oval diamonds rings do not optimise light quite so effectively. However, they do still have a fantastic sparkle! They also have a large surface area, which makes the diamond look bigger. This is a handy way of getting the look of a larger diamond for what tends to be a lower price.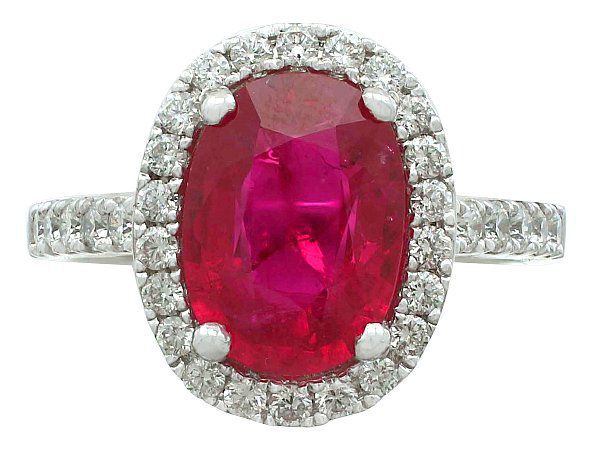 One of the best things about oval engagement rings is how adaptable they are. Many gemstones suit this ring- even those that are not traditionally faceted such as opals. Instead, jewellers use a cabochon cut to incorporate these stones into oval rings. Cabochon means a gem that has been polished but not faceted. This is also a wonderful way of displaying the natural beauty of especially rare stones. The usual choice of setting for oval cabochons is the bezel. This is well suited to oval engagement rings as it is the safest way to set the stone, especially when worn every day. It also adds to the perceived size, as the frame of metal tricks the eye into assuming the stone is larger than it actually is.
History of the Oval Engagement Ring
The history of diamond jewellery is a fascinating one. The oval cut diamond as we know it was created in 1957 by Lazare Kaplan. Kaplan was a diamond cutter, and the cousin of Marcel Tolkowsky. Tolkowsky is famous for establishing the best possible proportions of a modern round brilliant cut diamond. Typically, oval cut diamonds have 58 facets. This allows the stone to display outstanding brilliance and fire. The rise in demand for oval cut diamonds began in the late 1990s. The style was popularised by celebrities looking for a traditional and elegant design, yet one that was more original than a round.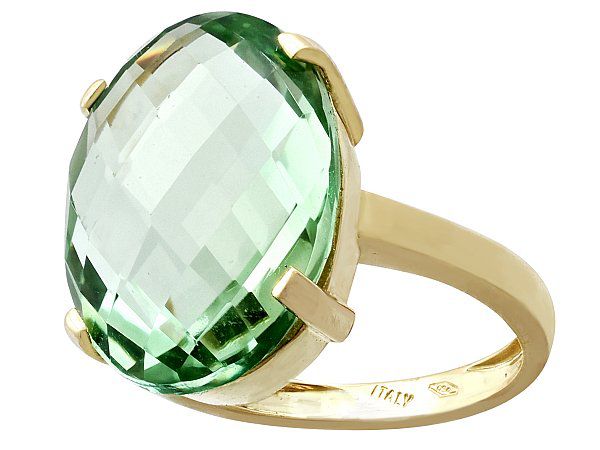 Popularity of the Oval Engagement Ring
It is unsurprising that oval engagement rings consistently reign supreme as a popular engagement ring style. They are the perfect balance of interesting and elegant. Oval engagement rings are also very elongating on the finger, and therefore incredibly flattering. It seems not even celebrities are immune to the charm of the oval engagement ring. Some of the most famous styles out there feature an oval shape or cut. Our first choices for the 'top 10 oval engagement rings' have to be these stunning celebrity pieces.
1) Kate Middleton
The Duchess of Cambridge's engagement ring is perhaps the most famous oval cut in the world. This stunning blue sapphire has inspired many brides to be, both in recent times and when it was worn by the late Princess Diana. We can see why- after all, if it's good enough for a royal it's good enough for us!
2) Blake Lively
Ryan Reynolds proposed to Blake Lively in 2012, and their chosen ring did not disappoint. It was thoroughly unique and very contemporary in style. The central stone was an impressive light pink oval cut diamond, set in a micro pave band for maximum sparkle.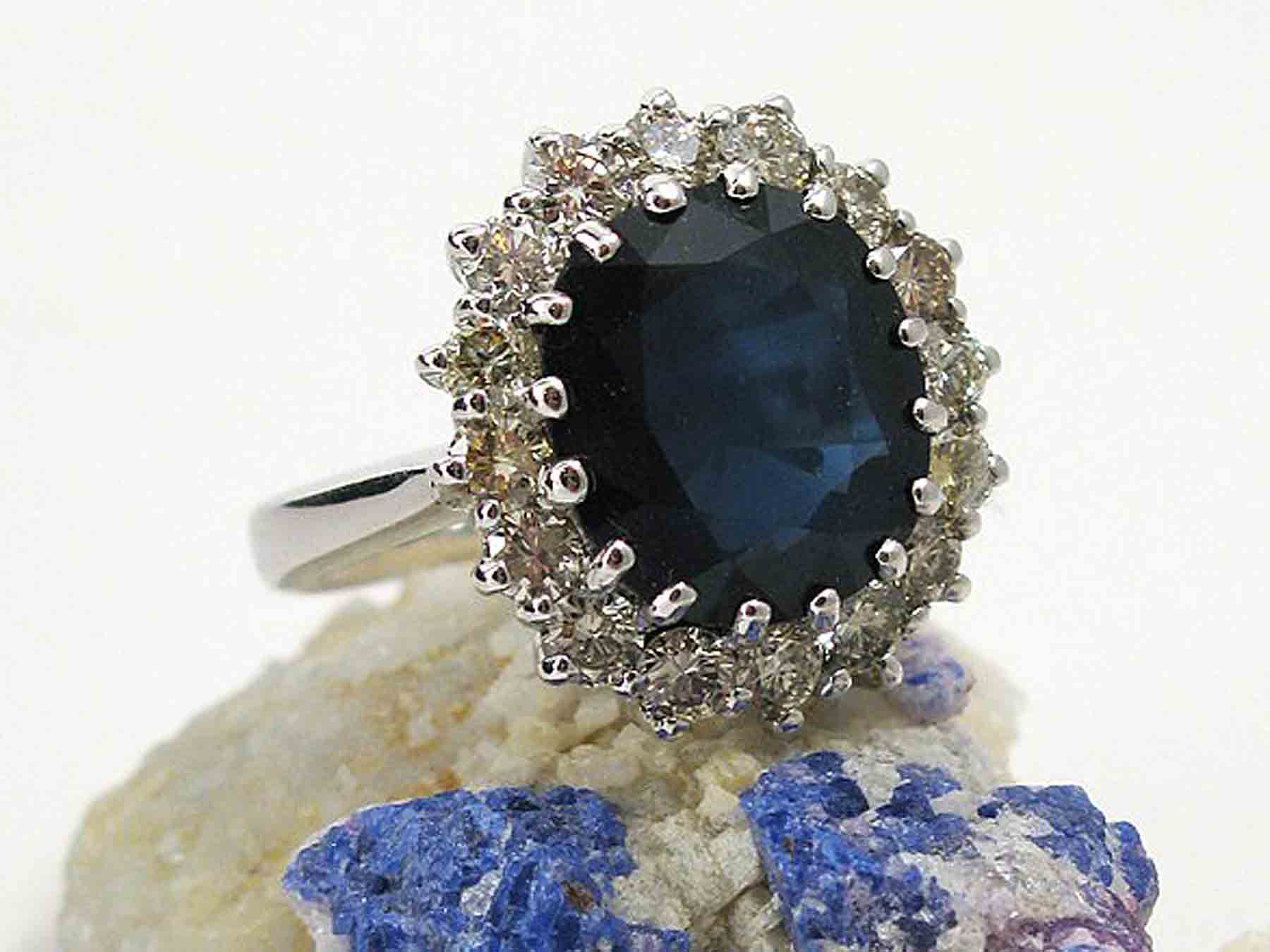 Ann Porteus from Tasmania, Australia [CC BY 2.0], via Wikimedia Commons
3) Katie Holmes
When Tom Cruise proposed to Katie Holmes, he did it in style. This ring is the ideal mix of old and new. It features an Edwardian oval cut diamond with a rose gold split shank pave band. So romantic!
AC Silver's Oval Engagement Rings
At AC Silver we are lucky to be able to offer our customers a stunning range of oval engagement rings. See our remaining top 10 picks below.
4) Vintage circa 1950, a stunning 9.62 carat high zircon and 2.24 carat diamond, platinum cluster style dress ring. This pop of colour would suit a bride-to-be who wants their engagement ring to be as unique as they are.
5) If this pretty opal ring doesn't say bridal, we don't know what does! The heart shaped motif is so romantic, and the vintage charm only adds to this. Dated circa 1950, with 1.42 carat white opal and 0.84 carat diamond.
6) If like us you're still obsessed with the Duchess of Cambridge's stunning engagement ring then this is the piece for you. This vintage French 2.45 carat sapphire and 0.78 carat diamond ring just oozes sophistication- it is truly fit for a Queen.
7) A stunning antique 4.90 carat Burmese sapphire and 1.39 carat diamond engagement ring. The design of this piece is truly exceptional. We would certainly say yes to this oval engagement ring!
8) This vintage diamond ring is a wonderful example of an oval shaped ring. The round cut diamonds bring the sparkle, while the clever design allows them to shine. We also love the engraved scrolling decoration on the ring shoulders, which really make it unique.
9) This antique 1.10 carat amethyst and 1.10 carat diamond engagement ring is a stunning example of an oval engagement ring. Amethyst is the birthstone of those born in February, and to use this stone for a February bride would be a thoughtful touch.
10) We're finishing our top 10 oval engagement rings with something a little unique. This antique 0.29 carat jade and 0.40 carat diamond is both quirky and traditional. The vibrant jade is a unique choice for an engagement ring, yet is perfect when juxtaposed with the class and tradition of the surrounding diamonds.
Which is your favourite oval engagement ring? We adore this stunning style, and hope that it continues to rise in popularity throughout the years.