Is there anything better than a fully-stocked bar? Clinking tumblers, sparkling decanters, and shimmering liquors; pouring wine from a claret jug, hosting sophisticated cocktail parties, or settling into the evening with a glass of something cool and refreshing; antique bar accessories truly bring the vision to life.
Picture the scene: today was long, the work was hard, and you're more than ready to recline into a comfortable armchair with a stiff drink. Anyone who has seen Mad Men has envisioned their own perfect bar, or maybe that's just me. If you're looking to complete your own little drinking corner, nothing is on par with antique and vintage bar accessories – the style, the craftsmanship, and the uniqueness of each item.
Here, we'll have a deep dive into what it takes to become your own Don Draper.
Essential
There are some items that are essential to anyone's selection of antique bar accessories. These are the things you must make sure you have if you hope to amass your own personal bar.
– Beakers & Tumblers
Nothing is better for enjoying a more casual drink – like a nice pale ale, or even a lager – than an ornate and beautiful beaker. These pieces are also a wonderful decorative item, with many of them displaying intricate scrolling, enamel, and gilt designs. These are just three examples of our varied stock of beakers and tumblers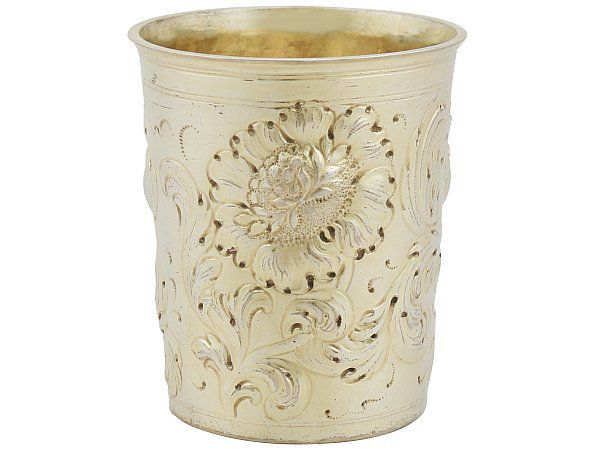 This German silver gilt beaker is one of our oldest examples of these items, which makes its stunning condition all the more impressive. Dated to the early 1700s, this beautiful beaker retains its original gilding, which has worn with time and use to an aesthetically pleasing mellow hue.
SKU: A8284
Price: GBP £2,450.00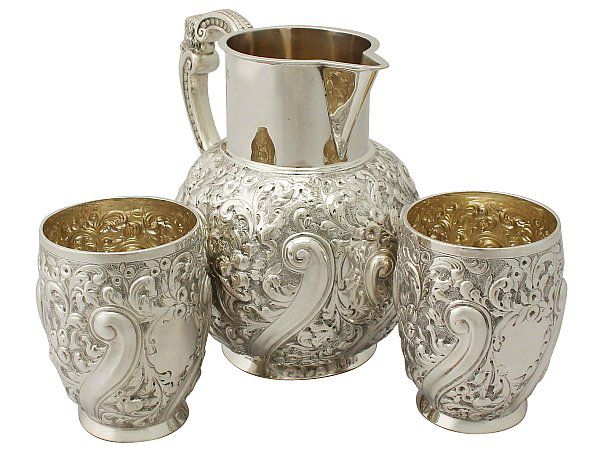 This antique Victorian set consists of a sterling silver jug and two sterling silver beakers. Perfect for everything from wine to soft drinks, this set's versatility cannot be ignored. The swirling designs allude to the satisfaction that's guaranteed to come with pouring out a drink for yourself and someone special.
SKU: A6115
Price: GDP £1,895.00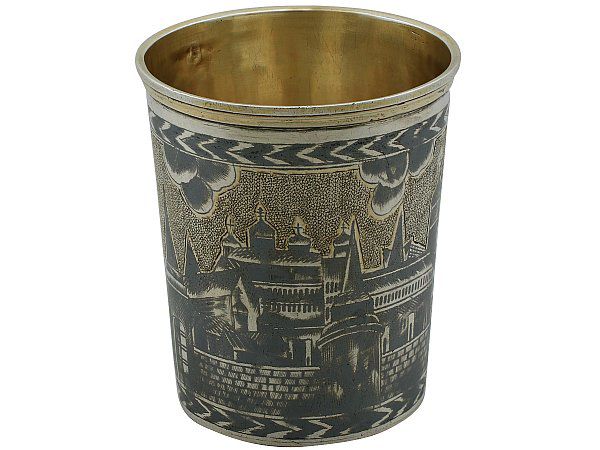 An exquisite example of Russian silver gilt and enamel, this beaker features a haunting scene depicting a structural rooftop skyline behind a towered brick wall. Ideal for a more solitary drink, this moody, gothic beaker originates from Moscow, and is dated to 1827.
SKU: C2120
Price: GDP £1,795.00
– Flutes & Goblets
Every special occasion is made that bit more special with a little bit of bubbly, ideally drank from something lavish and beautiful. Goblets of wine, flutes of champagne, happy faces and a loud 'cheers' are all to be expected with these antique bar accessories around.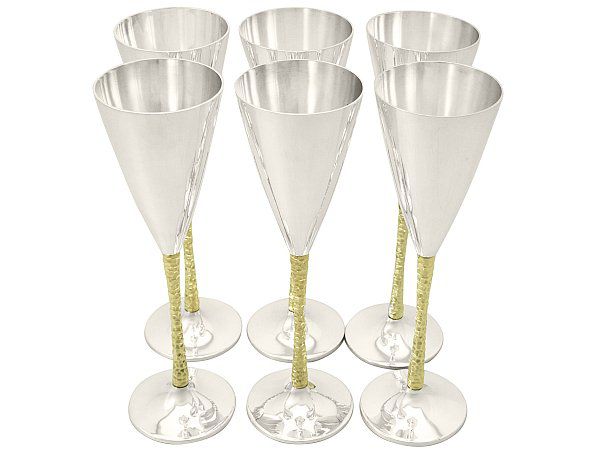 This set of six vintage champagne flutes have been crafted with tapering, texture-finished pedestals which are embellished with parcel gilt decoration. Bringing in the New Year? Celebrating a special birthday? Toasting a newly married couple? These champagne flutes are the perfect accompaniment.
SKU: A1899
Price: GDP £4,950.00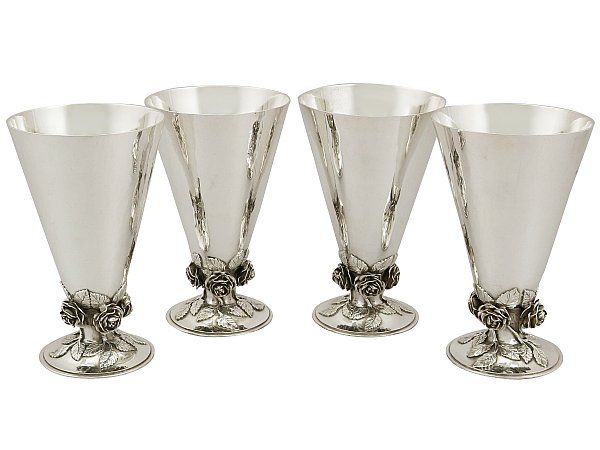 These antique vases are versatile in that their medial size means they can be used as goblets. From the renowned London silversmith, Charles Boyton, these goblets are a perfect example of the antique bar accessories that complete the dream of an at-home bar.
SKU: A8097
Price: GDP £4,750.00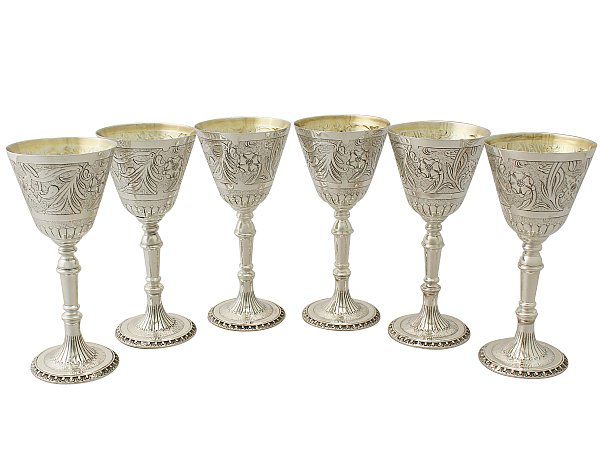 This set of vintage Mappin & Webb sterling silver goblets is waiting for a luxurious dinner party, ready to be used as well as placed proudly on display. The embellishment features chased, decorated, stylised leaf motifs, and the interior of each goblet retains the original gilding. They are a truly exceptional set to behold.
SKU: A6510
Price: GDP £1,995.00
– Drinks Trays
All of these items would be excellent additions to any bar, and they are the perfect antique bar accessories to get your own home bar started. They are, however, missing a vital something: trays. A beautiful cocktail served in an antique vessel can be completely ruined by being presented on a less-than-stellar tray. These antique and vintage drinks trays are the remedy.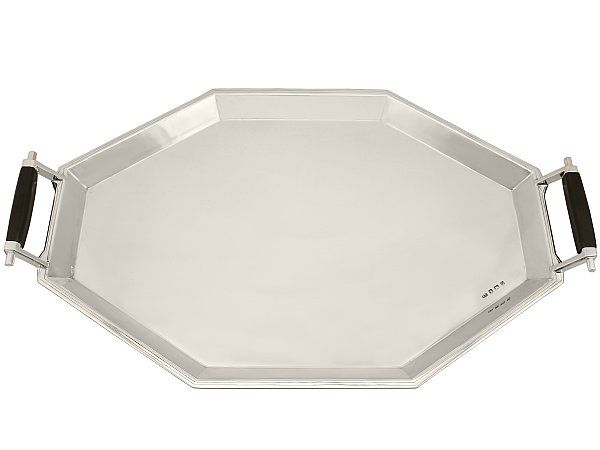 The Art Deco style of this vintage tray is calling out for a cocktail party. Taking on an octagonal form, the sharp angles of this tray make the sterling silver sparkle and sheen like nothing else. The raised wooden handles are the final touches that make this tray timeless.
SKU: C1543
Price: GDP £2,650.00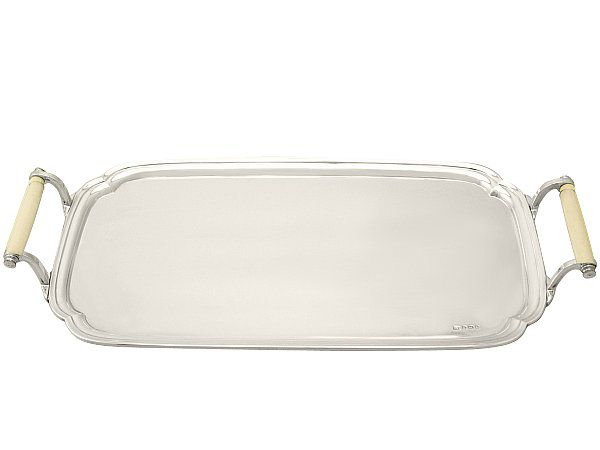 A genuine antique Art Deco sterling silver drinks tray featuring ivory handles, this item is less architectural than other examples, but its simplicity evokes elegance. This is most definitely a tray for carrying summer cocktails out to the garden, perhaps with a side of strawberries and cream.
SKU: A1983
Price: GDP £2,450.00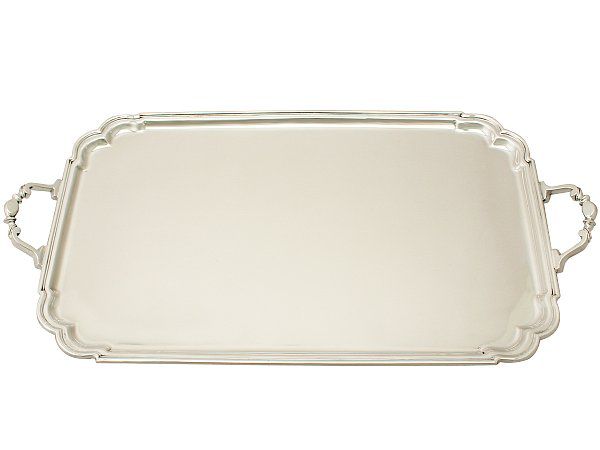 Art Deco strikes again with this tray. Dated to 1972, this vintage item's beauty is most apparent in its accented, knopped handpieces. The raised borders add an interesting touch to this tray also, creating a classic aesthetic – one that may be suited to champagne, or wine with a side of cheese and grapes.
SKU: A6986
Price: GDP £1,995.00
– Decanters & Claret Jugs
While liquor bottles can be a collector's item in themselves, nothing has the same beauty as a row of decanters and claret jugs, each glistening with golden liquids, clear liquids, and deep red elixirs. Combinations of glass, silver, and gilt work together to create some truly unique and stunning antique bar accessories.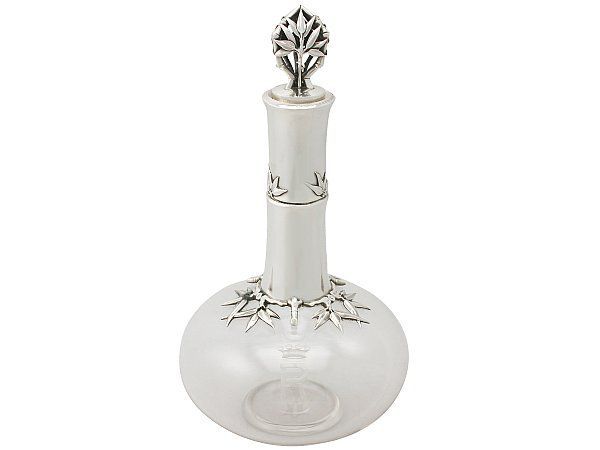 This antique Victorian blown and acid etched glass decanter is in exceptional condition. The stopper is fitted with an impressively detailed, pierced bamboo leaf decoration. The angularity of the stopper beautifully contrasts with the roundness of the decanter itself, with the bamboo leaf motif appearing on its body.
SKU: W8013
Price: GBP £2,250.00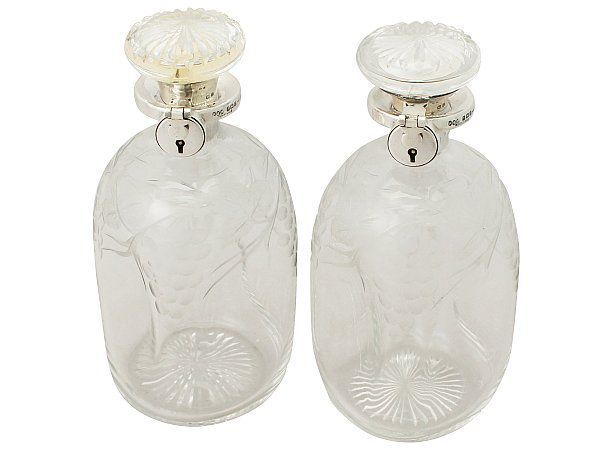 This pair of etched glass and sterling silver decanters stands out from other examples because of their locking function. Perfect for anyone wanting to keep track of how much is drank on any given night, or even just hoping to make sure they can keep the best stuff locked away.
SKU: A4953
Price: GDP £2,450.00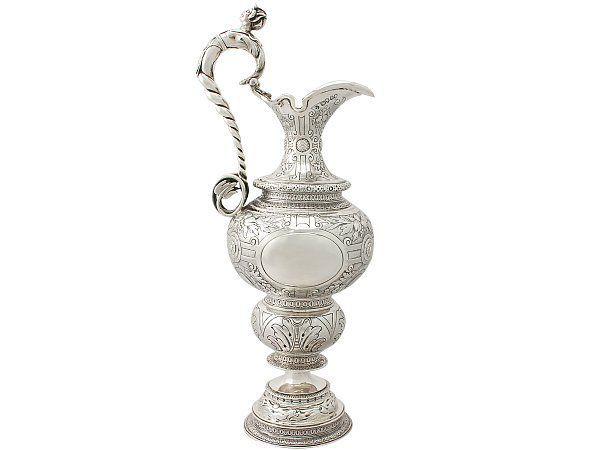 This antique Victorian claret jug is truly an art piece. The swept neck and body of the jug are embellished with chased scrolling strapwork, incorporating fruit and foliate designs which stand out again a matte background. The sheer size and grandeur of this item are perfect for a statement piece.
SKU: A2979
Price: GDP £3,950.00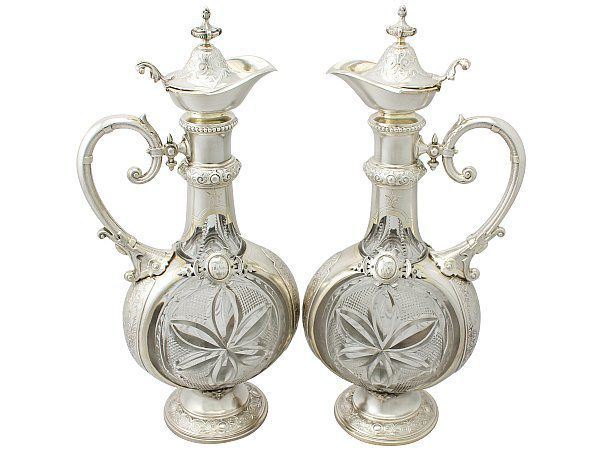 Cut glass creates the unique design of this set of German silver claret jugs. The floral motifs would complement most other antique bar accessories. The magnificent pieces retain their original gilt interiors. Few things would look more sophisticated or stylish than this pair completing a home bar.
SKU: A4886
Price: GDP £5,750.00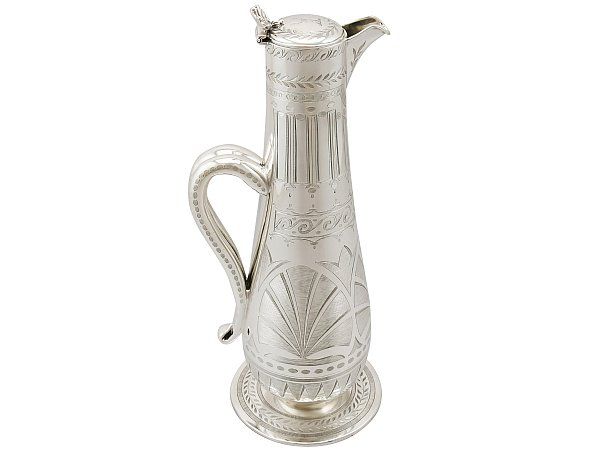 You would be forgiven for thinking that this claret jug is an example of Art Deco or Art Nouveau silverware. In fact, this item is a Victorian piece. Its influence comes from the Aesthetic movement, which explains why it appears to be so far ahead of its time. The engravings that intricately coat the jug also contribute to its effortlessly stylish appearance.
SKU: A9834
Price: GDP £2,450.00
Extras
Besides having drinking vessels, trays, and more sophisticated alternatives to liquor bottles, at-home bars can be taken to the next level with small touches. The right antique bar accessories can complete a collection, making those evening drinks – either in solitude or with company – even more satisfying.
Here's a small sample of the vast variety of antique bar accessories to be found at AC Silver.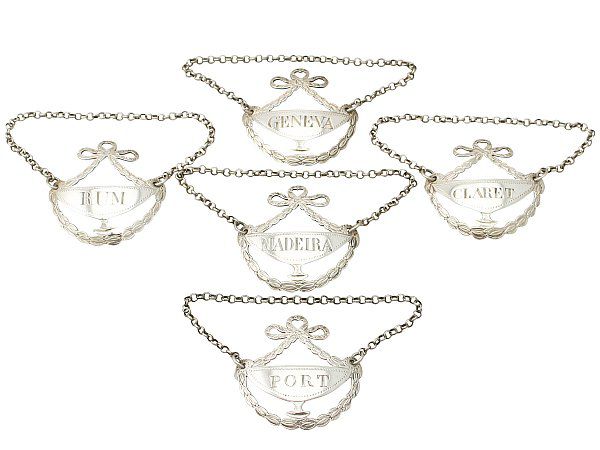 If you prefer to use your bottles as display, antique bottle labels like these – crafted by the famed female silversmith, Hester Bateman – may be precisely what you need to complete your own home bar. Sitting around the neck of a bottle that's beaded with condensation, little else compares.
SKU: W8003
Price: GBP £3,950.00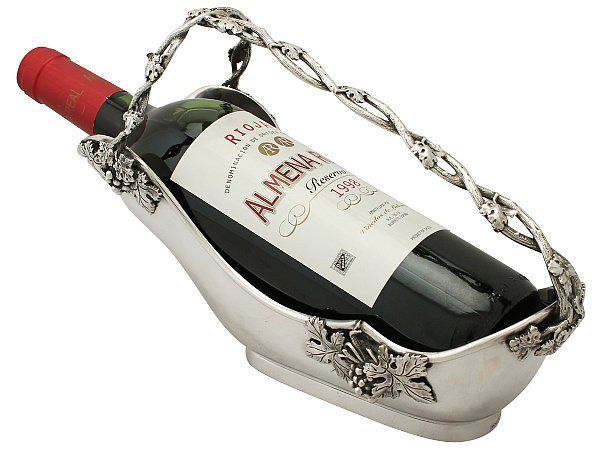 This Italian bottle holder is an excellent way of utilising a bottle as an accent feature to a home bar also. Featuring a large applied grape cluster, vine, and leaf design to either side, it would look perfect as a decorative item on a kitchen counter as well as a functional and fitting centrepiece to any bar.
SKU: A5121
Price: GBP £1,495.00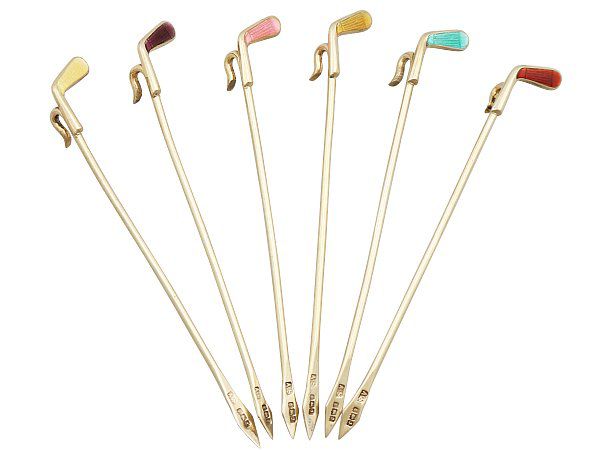 Being a golfer is – thankfully – not a prerequisite to owning these beautiful sterling silver and enamel cocktail sticks (no disrespect intended to those who live by the swing of the club). Their effortless stylishness makes them versatile beyond the grounds of just the country club, and if you enjoy golfing with friends, all the better! Everyone can pick a colour for their cocktail.
SKU: C1080
Price: GBP £995.00
Cultivating a collection worthy of the 'home bar' qualification can seem daunting, but with antique bar accessories of such a vast variety available at AC Silver, even the daunting can be conquered, and everything from celebrating with friends to settling into the evening with a drink can be that bit more special.