A private study, a large oak desk cloaked in an array of antique desk accessories, the smell of books and cigars wafting on the air. This imagery is brought to you by my dreams; I long for a stunning study space, perfect for reading, writing, and being alone. If this sounds like a dream to you as well, please join me for a browse of AC Silver's vast selection of antique desk accessories – every item makes the dream feel a little more real.
Ink Stands
While pens and pencils are obviously the more typical stationery found in studies and offices today, I have always enjoyed the aesthetic of ink bottles and stands. These examples of ink stands are exactly the type of antique desk accessories that I crave, and they are certainly the first thing that comes to mind when I consider how I would decorate my own dream office.
What do you think?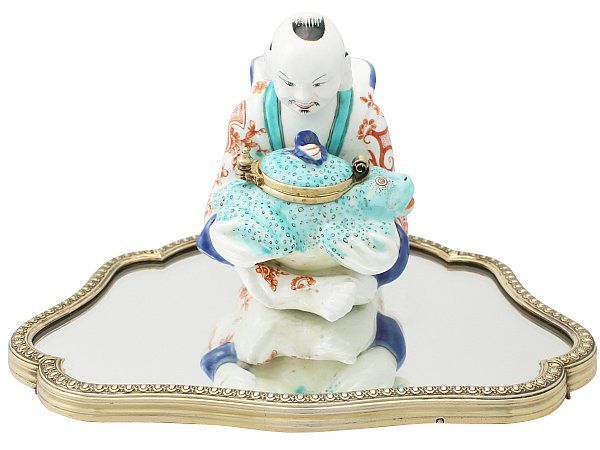 Starting with my favourite [though I'd really rather not commit to just one], this French porcelain, silver, and glass inkwell is formed in the shape of a seated oriental figure holding a frog. I realise this piece is possibly not to everyone's liking, but there's something about the combination of colours, the reflective nature of the glass, and the serene pose of this figure that always draws me to this piece.
SKU: W8802
Price: GBP £2,450.00
One of the most recent additions to AC Silver's stock of inkwells, this stunningly unique piece features no fewer than four mythological creatures, each with scaled bodies and the lower portions of fish, leading to open-jawed dragonesque heads, and clawed legs. These creatures resemble the Ancient Greek 'Skolopendra'. The Skolopendra is the child of Phorcys, the primordial sea god, and Keto, a sea goddess.
SKU: C2246
Price: GBP £4,750.00
This final example of the inkwells available at AC Silver is significantly smaller than the previous two we've explored, perfect for those looking to fill a smaller space. Shaped in the form of a lantern, this antique Victorian inkwell is in exceptional condition. The plain ring loop carrying handle / finial is one of my favourite features about this item, vaguely reminiscent of a grenade pin, it brings to mind the powerful image of the pen – or perhaps even the quill – being mightier than the sword.
SKU: A9463
Price: GBP £1,495.00
Photo Frames
No desk is complete without pictures of loved ones; the smiling faces that keep us motivated when we're working into the late hours, or accompany us on journeys into the depths of great novels, or even just console us when the Sunday crossword is just too darn difficult. The selection of photo frames available at AC Silver is vast and varied, and these are just a few examples of my own personal favourites; please feel free to explore the pages of products yourself to see what grabs your eye.
This yellow gold photograph frame is typically for travelling, ready to fold up and keep in your pocket when you're on the move, but I enjoy how it displays four images within its golden walls. Another compelling element of this item is that is it a hallmarked Tiffany & Co. product. World-renowned – and for good reason – Tiffany's products are always highly sought after. Although this is a small photo frame, I find it perfect for desks that are thoroughly decorated, as the photos do not overpower the other elements on display.
SKU: C1067
Price: GBP £4,750.00
A larger, more desk-appropriate example of antique photograph frames, this sterling silver Victorian frame features four windows – two on the front, two on the back – perfect for displaying those precious moments. The silver frame is fitted with an impressive sliding mechanism to the underside, allowing access to the four internal windows and photographs; this mechanism is rare and indicates the high quality of the piece. Older, more traditional wooden desks would be complemented by this antique item, and newer, sleeker desks would be well suited to having it as a stand-out element of décor.
SKU: A9693
Price: GBP £1,495.00
Although there are plenty of photograph frames available at AC Silver which feature room for just one picture, this is yet another example of a multi-photograph frame – they must just be my personal favourites. This frame features supports on either side in the form of swans, an element of decoration that is very graceful and elegant. This frame has an unusual yet desirable configuration and style; double frames are more difficult to locate than single examples. The beauty of this item is undeniable, and it would be unignorable in any space.
SKU: A3796
Price: GBP £1,195.00
Vases
Décor is essential to completing a room, and vases are often the items that make for perfect finishing touches. Coming in all shapes and sizes, colours, and designs, vases are versatile, and I can't picture a study being complete without one.
Let's dive in and have a look at what vases can do for you and your desk space.
This set of Japanese silver bud vases is gorgeous. They aren't too large, meaning they won't dominate the space they occupy. Coming in a pair of two, they could sit on either end of a desk, creating a pleasing symmetry. Alternatively, you could place them side by side and relish in their beauty together. I have a soft spot for oriental silver, and these vases are exemplary of the very qualities I adore. They are embellished with large stemmed chrysanthemum flowers and foliate decoration; this gorgeous design is what draws me to oriental silver time and time again.
SKU: A8541
Price: GBP £1,695.00
This Edwardian sterling silver and glass vase is unique among our stock for its rich, royal blue glass liner – an original feature of the item. The body of the vase is ornamented with wirework loops, accented with a solid silver flared border, accented with applied moulded decoration to the upper rim. If you're the kind of person who likes to keep fresh flowers around, this vase would be perfect for complementing an office desk, vanity station, or even just a bedside table.
SKU: C1003
Price: GBP £895.00
Returning to the orient for another example, this set of Chinese export vases is every bit as stunning as the other examples we've explored. The surface of each vase is embellished with fine and impressive applied cherry blossom branched, accented with perched birds in addition to birds in flight. Chinese export silver is known for featuring themes of nature, such as birds, branches, and flowers. If your professional space needs a touch of elegance, look no further than this stunning set.
SKU: A4794
Price: GBP £2,450.00
Boxes
Obviously, boxes and other storage solutions are an essential to any halfway decent study. Antique desk accessories like boxes are always a pleasure to explore, the variety and unique appearance of each item is certainly more inspiring than the latest offerings from IKEA (although it must be known that this is not intended to disrespect IKEA – I love IKEA). But before I get off topic, let's peruse some of what AC Silver has to offer in the form of boxes and containers.
When I picture the perfect office, surrounded by books and blankets, there is definitely a biscuit box. This Victorian biscuit box fits the bill wonderfully, with its oval shaped, rounded form and hinged cover. The silver itself is relatively plain, but that doesn't detract from the beauty of this item in the slightest. Even without scrolling decoration, this box draws the eye, its smooth lines inviting, suggestive of the luxuriousness that is a fully stocked biscuit box. Any study would be lucky to have this antique desk accessory within its walls.
SKU: A9499
Price: GBP £1,595.00
Jewellery is not necessarily an office essential, but that doesn't mean that jewellery boxes aren't welcome in the study. This specific example is stunning, embellished with impressive embossed scroll and leaf decoration, accented with simplified stemmed rose designs. This item is a decent size, and would be perfect for holding a selection of precious knickknacks, or perhaps smaller items of stationery. Of course, there is nothing to stop you from using it as a jewellery container – get creative with your décor!
SKU: A7422
Price: GBP £1,595.00
I must admit, I am completely in love with this item. The iconic Art Nouveau style is perfectly presented on the enamel lid of this box. The depiction of a female water nymph, gazing through ripples and water lilies, glows with a hypnotic beauty that is so compelling; I feel that if I did own this beautiful piece, I would never be able to tear my eyes from it. An ideal size for small items, or even just for decoration, this stunning Edwardian antique is just crying out for a new home. I'm doing everything I can to ensure that that home is mine…
SKU: A2235
Price: GBP £1,795.00
Extras
Whilst all the items we've covered so far are exactly the type of antique desk accessories that make a study feel refined and sophisticated, these little 'extras' are the finishing touches that make it feel complete. Here's just a few of my favourite office additions from our plethora of smaller décor pieces.
I will be the first to admit that – despite its clear name – I had to search what an ink blotter was exactly. I understood that obviously it blots ink, but the rectangular, arched rocker form of this piece implies a specific methodology that left me curious. As it turns out, either end of the blotter features a hinged bar clasp, which allows access to the original detachable sheets of ink blotter paper with ease. Practical and beautiful, this antique is the perfect final touch for any studious space.
SKU: A7744
Price: GBP £1,295.00
Obviously, this item could have found a home in my previous category, but due to the specificity of its function, I believe it is more suited to this one. Moneyboxes are commonplace in studies and offices and even bedrooms around the world; make your space stand out by utilising a beautiful antique item in place of the typical pink pig we tend to picture. Another practical item that will not be reduced to set dressing, this Edwardian piece will safeguard your change and add class to its surroundings.
SKU: A7131
Price: GBP £1,695.00
You may mock my inclusion of this item, but you're a liar if you claim you've never wanted a magnifying glass. Harking back to the very end of the Victorian period, this beautiful item is presented in its original hinged leatherette box. The curves and arches of its design are evocative of the Art Nouveau styles, which is not so surprising, as its 1900 date puts it somewhere in between the gothic themes of the Victorian era, and the long, sweeping lines typical of the Art Nouveau period. Strikingly beautiful and significant, there is no desk that couldn't be improved by the addition of this piece.
SKU: A3401
Price: GBP £1,395.00
The solitude and privacy offered by a study or office is a special thing; the use of antique desk accessories is – in this writer's opinion – essential to capturing the wistful, contemplative aura of a perfect environment. Everything from the smallest vase to the largest ink stand can be used to make that sacred space just right. And – of course – once everything is just right, there are no more excuses: it's time to actually do some work.