Pearls are a universal symbol of sophistication and class. They have captivated the world for centuries with their timeless elegance, and feature in some of the most stunning jewellery we have in our collections. Pearls form within the shells of molluscs, a process which takes many years. We're sure you'll agree, however, that pearls are worth the wait.
Although pearls have been worn by both men and women throughout history, to contemporary audiences they are usually regarded as the perfect gift for a lady. While it is true that pearls are delicate stones, requiring special storage to avoid damage, they actually benefit from being worn often; the body's natural oils increase the lustre in the natural gemstone.
If you're looking for reasons to ask for pearl jewellery for yourself, or maybe you're wondering when you can give some pearl jewellery to a special woman in your life, read on.
30th Anniversary
Your 20th wedding anniversary is a momentous occasion, truly a sign of your devotion and commitment to one another. When you're thinking of pearl anniversary gifts for her, there are many avenues to explore. Take this 1900s natural saltwater pearl and diamond pendant, for example. The elegant design of this diamond-clad pendant is very typical of the Belle Époque and Art Nouveau styles which were crafted at the turn of the 20th century.
The feature pearl sitting in the position of pride at the drop of the pendant is one of the most popular pearl pendant designs, having a timeless aesthetic that is never out of style. After you've been married for 30 years, a beautiful piece of pearl jewellery that represents the wisdom and union shared between you and your spouse is priceless.
Wedding Present
Maybe your 30-year wedding anniversary seems like a great distance away. Thankfully, pearls are also a great wedding present. Polynesian legend says that Oro, the god of peace, descended to earth on a rainbow and presented a black pearl to the Princess of Bora Bora in order to win her love. In Christianity and Hinduism, pearls symbolise love, union, and purity; it's no wonder that many brides favour pearl jewellery on their wedding day.
How about these earrings for pearl wedding gifts for her? The vintage pearl and diamond earrings feature a beautiful bow setting that's perfectly romantic for your wedding day. The cultured pearls that make up the drops are bold and perfectly formed; the ideal companion jewellery piece for your wedding dress.
June Birthday
Gifting birthstone jewellery is a great way to be thoughtful and unique when buying for a loved one. We are proud to offer jewellery gifts for every birthstone, with those being born in June benefitting from our pearl jewellery collection. Pearl rings are a classic birthday gift for a June birthday. Whether you opt for a bold dress ring or a more subtle pearl feature, pearl rings are beautiful and unique in their colours and lustre.
Another type of pearl jewellery that makes a great birthday gift is pearl earrings. Both antique and vintage pearl earrings have a certain elegance and sophistication to them that equals extremely beautiful jewellery pieces that anyone would love to receive on their birthday. For something different, there are also mother of pearl gifts for her that come in both jewellery examples and silver examples.
Luxury Gift
Beyond 30th wedding anniversaries, pearls have been symbols of wealth and status for thousands of years. Egyptian legend says that Cleopatra and Marc Anthony once competed to see who could host the most expensive feast. Cleopatra dealt the winning hand by removing one of her pearl earrings, dissolving it in wine, then drinking it. We would never condone treating any jewellery like that, of course, but it is quite the party tale. With this in mind, you can see why pearl jewellery is the definition of indulgence. Try combining multiple pieces of pearl jewellery to create a custom set to surprise the woman that you love.
Check out our gift showcase below for more inspiration when it comes to the perfect pearl gifts for her. We are pleased to offer everything from brooches to rings, earrings to pendants, and more. No matter what the occasion, a pearl always sends the right message.
This single pearl strand made up of natural pearls with a 1.02ct diamond set clasp is a classic piece of pearl jewellery.
An antique 1890s piece, this necklace is a gift befitting all manner of occasions; promotions, graduations, anniversaries, whatever warrants celebration.
Strands of pearls are a very classic type of jewellery, whether it's a single strand or a multistrand piece; you can't go wrong when gifting this totally timeless piece of jewellery.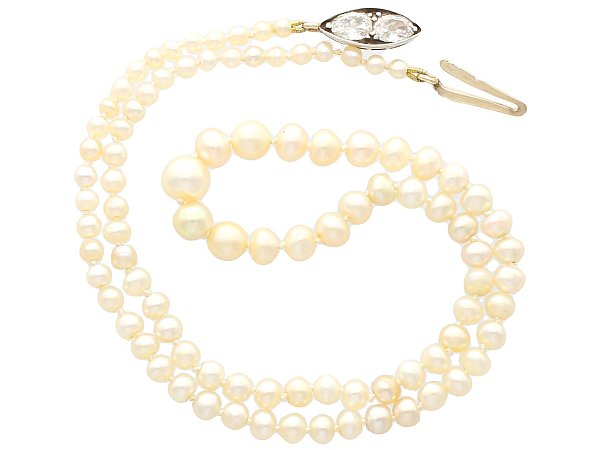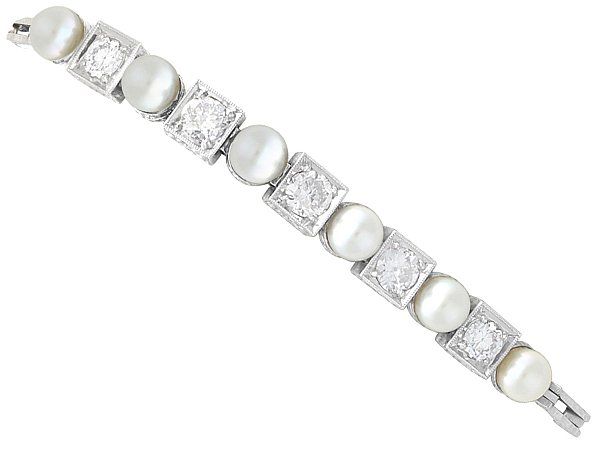 This 1930s pearl and diamond bracelet is crafted in white gold, conforming to the very popular 'white on white' effect created by using white metals with white and bright sparkling gemstones.
The alternation between soft round pearls and diamonds set in individual square links adds a unique touch to a popular jewellery style, allowing this bracelet to stand out from the crowd.
The decoration on this white gold bracelet is only on one side, which poses the benefit that the gemstones are much less likely to face scratching or damage through usage – beautiful and clever.
The final item we'll focus on is this stunning antique Victorian 9ct yellow gold and mother of pearl butter knife.
If you're thinking about mother of pearl gifts for her, look no further. The combination of the gold of the blade and the mother of pearl used to carve the handle for this knife creates a wonderfully elegant piece of silverware.
The level of detail in this butter knife transforms it into a work of art beyond simply being a practical tool.
Whether you make use of this knife or leave it on display as a feature of your home, you will always remember the joy you felt upon receiving such a gift.
Whether you are searching for gifts for newlyweds or have been married for 30 years, we hope that this gift guide inspires you. Pearls make stunning gifts whatever the occasion, and with such incredible versatility there is a pearl piece that will suit any style. Why not browse our selection of pearl jewellery, and let us know which your favourite is by commenting below!