Newcomers to the jewellery world will likely find themselves asking 'what is a marquise diamond ring?' Enter the AC Silver blog. We love to educate and celebrate the beauty and craftsmanship of antique jewellery. Today, we'll be covering the topic of all things marquise, be it diamond rings, dress & cocktail rings, or questions of cost effectiveness.
What is a Marquise Diamond Ring?
A marquise diamond ring can be two things. Firstly, it can describe the cut of the stone within the ring; and secondly, it can describe the overall shape of the ring itself.
The shape marquise is – ironically – what laymen might call a 'diamond' shape. A more accurate description might be a kite shape.
With the marquise cut, the gemstone is elongated, creating a type of cat-eye shape. Possessing an elliptical shape with pointed ends, the marquise ring has earned many monikers. These include 'the football' and 'the eye-shaped' style- not the most inventive, but they get the point across!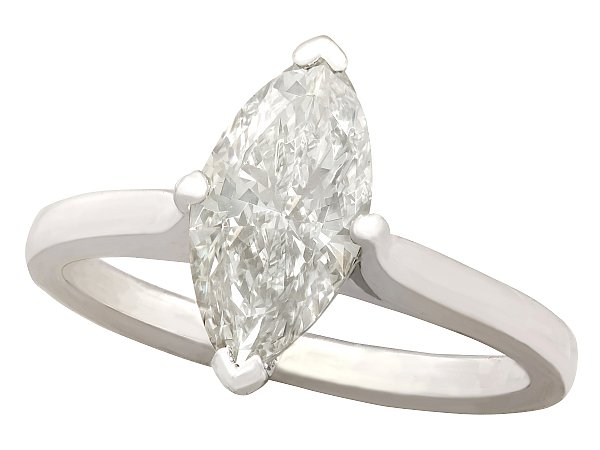 The marquise ring is often associated with a more vintage look; however, it is becoming increasingly popular of late, as modern consumers begin to recognise the timeless sophistication of this style. Most often, gemstones cut in the marquise shape are set with a claw setting, having small claws at their widest point, and specialised v-shaped claws holding the pointed tips of the gemstone.
A marquise is a hereditary rank placed somewhere between a count and a duke. The use of this in relation to jewellery originates from the fashions of marquises of the past. Much like today, fashion was intrinsically linked with wealth and status, and was used to display this to the world. Marquises demonstrated their rank by adorning themselves in this cut of diamond.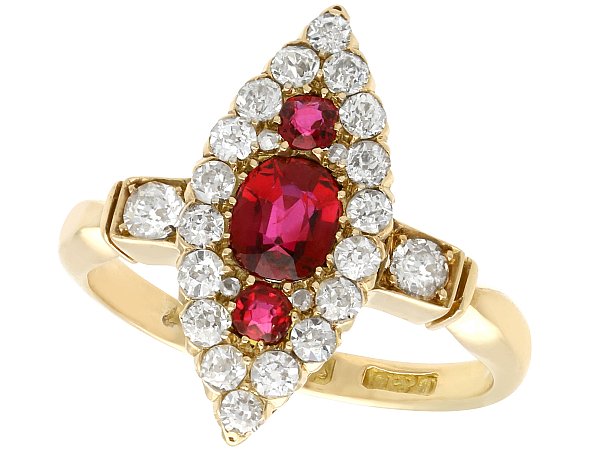 When the term 'marquise' is used to describe the shape of the overall design of a ring, it does not mean that any of the stones involved have to be marquise cut.
Take this ring, for example, which features cushion cut and round cut rubies and diamonds.
Although none of the gemstones on this ring are marquise cut, it is referred to as a marquise ring due to the shape of the setting. Since the gemstones are set out in that familiar, kite-like shape, this is an example of a marquise diamond ring that doesn't actually feature any marquise diamonds.
History of the Marquise Ring
The origin of the marquise cut dates back to 18th century France, where Louis XV (King and renowned womaniser) sat upon the throne. With all his wealth and influence, it is said that Louis commissioned a jeweller to design a cut that resembled the lips of the woman who had stolen his heart. Romantic! Sadly, this was not his wife but rather his favourite mistress, the Marchioness Madame de Pompadour.
Over time, the cut that the jeweller produced evolved into the distinctive shape that we know today. Even marquise engagement rings became a popular choice despite this somewhat questionable romantic history. The marquise diamonds history is certainly an interesting one, and ensures that Louis' grand gesture of love lives on beyond the time of him and the Madame de Pompadour.
What is the Best Setting for a Marquise Diamond?
As we have discussed, most marquise cut diamonds are set in specific claw settings. These settings are specifically designed for marquise diamonds, as they allow the most light to reach the gemstone, creating the beautiful refractions that we know and love as dazzling sparkle. This is arguably the best setting for a marquise diamond, since it contains the stone quite well whilst still allowing it to get plenty of light into its facets. If there is a downside to this setting, however, it's that it requires more attention than some other setting methods. The claws that hold the gemstone in place can get caught on things like clothes and many other things – especially considering the fact that your hands come into contact with all kinds of things every day. When claws get bent out of shape, the diamond is compromised, and can be damaged or even lost all together much easier than they can with other settings.
Another setting that marquise cut diamonds are often found with is the collet setting. The collet setting, sometimes called a bezel setting, is the name for when the setting metal sits directly alongside the gemstone.
In these settings, gemstones like marquise diamonds are very secure, as the metal border has a lip at its edge, securing the stone in place. For those who are interested in wearing their marquise diamond ring daily with less maintenance required, the collet setting is the best setting for a marquise diamond.
The disadvantage of this setting, however, is that the bottom half of the gemstone is blocked from the light, meaning that overall it appears less bright and sparkling than its claw-set counterpart. Regardless of what setting you prefer, it is important that regularly worn jewellery like engagement rings is professionally checked and cleaned annually.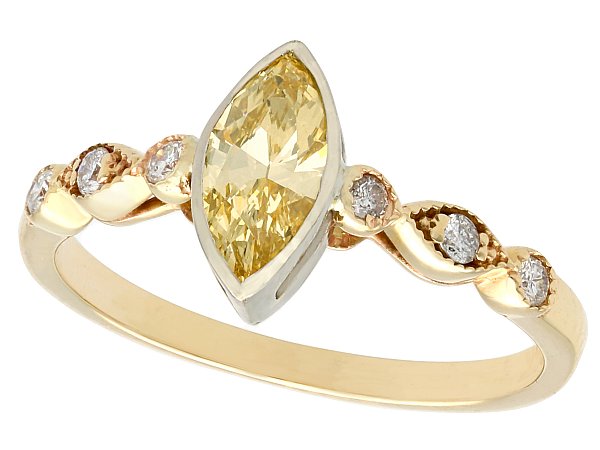 At AC Silver, we offer a complimentary service to ensure the jewellery you purchase with us is in its best health for the duration of its life.
Are Marquise Diamonds Expensive?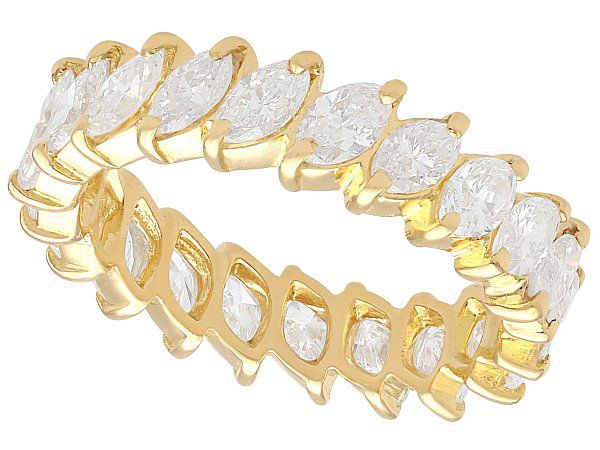 Diamonds in the marquise cut are not significantly more or less expensive than their differently-cut counterparts. Something interesting to note, however, is that – due to the elongated shape of the marquise – diamonds cut in the marquise style tend to appear larger than diamonds of the same carat weight that have been cut differently.
This certainly makes marquise cut diamonds very appealing for those wanting a statement for their money. Rings that are marquise-shaped without having a marquise cut gemstone in their settings are also not more or less expensive than similar rings in different shapes. Marquise rings are certainly unique in their shape and style, making them bold fashion statements when used as engagement rings especially.
Are Marquise Rings out of Style?
Since marquise rings are so bold in their shape and design, it's easy to believe that they must come and go with certain trends. The excellent news in that regard, however, is that marquise rings are a timeless style. Originating from the 1700s, marquise gemstones have been a popular choice for more than 300 years now, with no signs that they'll go out of style on the horizon.
All in all, marquise diamond rings have a certain je ne sais quoi about them that is unendingly appealing. Unique without being over-the-top, they make excellent engagement rings just as they make for exquisite luxury jewellery. You can't go wrong with a marquise on your side, whether you're after something simple or a really dramatic piece. What do you think about marquise diamonds?