Here at AC Silver, we are always ready for a gifting occasion. Christmas is the perfect time to go the extra mile for the ones you love, and we have a stunning selection of gifts that will be the cherry on top of a wonderful holiday this winter. With new items coming in all the time, there's sure to be something for the special ones in your life.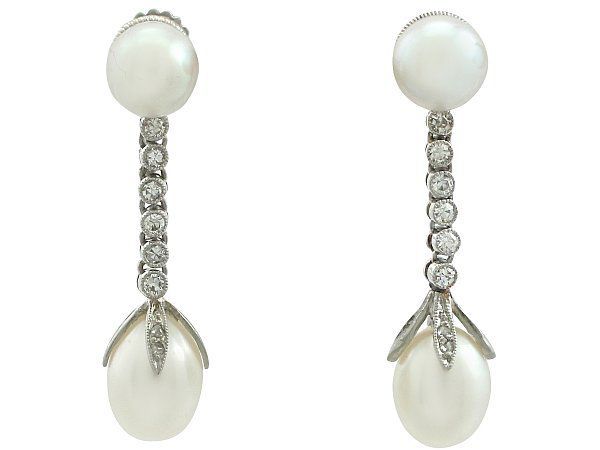 Antique Pearl and Diamond Platinum Drop Earrings
These gorgeous pearl drop earrings are accented with six diamonds each. They have a screw-back fastening, making them suitable even for those who don't have pierced ears. The combination of pearls and platinum creates a wonderful contrast between delicate and strong.
Antique Black Opal and Diamond Platinum Dress Ring
They originate from the turn of the 20th century, and they would make a wonderful gift for someone special this year.
Opals are always a popular gift; their iridescence is unlike anything else and they can really be a remarkable gift. This ring has a 2.05 ct black opal as its main feature, framed on either side by nine pavé set eight-cut diamonds. Set in platinum, and dating back to the 1920s, this opal ring is sure to set any Christmas off to a good start.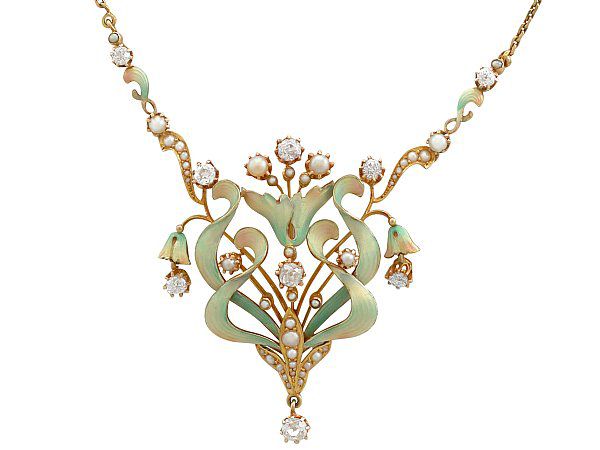 Art Nouveau Diamond, Seed Pearl, and Enamel 15 ct Yellow Gold Necklace
This necklace is something truly extraordinary. Dating from the early 1900s, this necklace perfectly illustrates the styles of the Art Nouveau period. The hand-painted enamel creates a beautiful floral image of leaves and flowers. Scattered throughout the design are nine individually claw set diamonds. As well as this, a stunning total of forty-two claw set seed pearls embellish the 15 ct yellow gold setting.
Vintage Coral and Diamond and Enamel 14 ct Gold Floral Brooch
This brooch displays a gorgeous floral spray, featuring twenty-seven claw set cabochon cut corals. The yellow and green enamel decoration is styled after leaves, and has a beautiful gold lining. Accenting the corals is a selection of nine individually claw set diamonds, all exceptionally well colour matched. The brooch is a wonderful size, ready to make a statement addition to any outfit.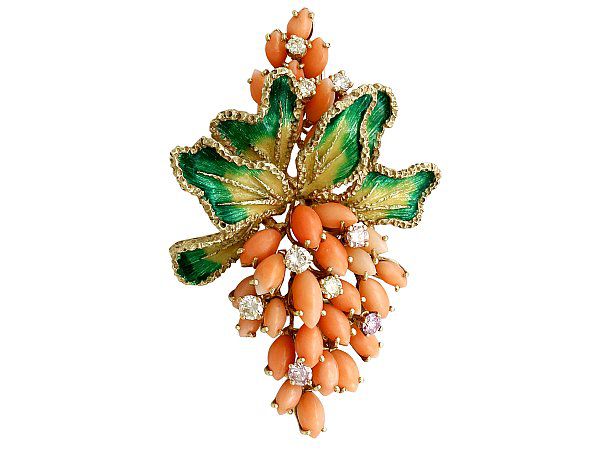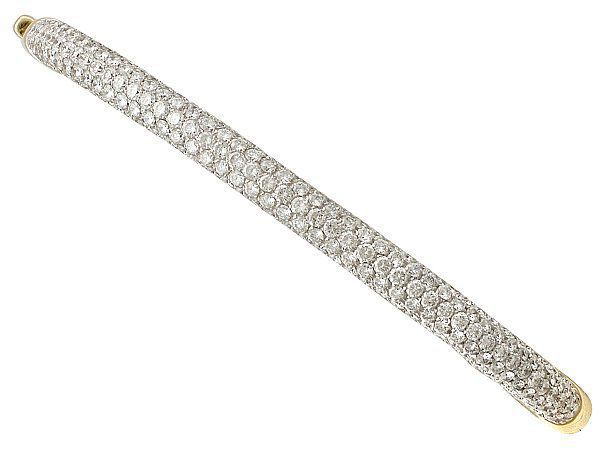 Vintage Diamond and 18 ct Yellow Gold Bangle
This bangle may be dated to the 1980s, but it has a stylish simplicity that makes it an elegant piece that carries modernity effortlessly. The anterior face of this hinged bangle is embellished with a spectacular total of two hundred and nineteen diamonds, totaling 2.85 cts.
The posterior face of the rounded bangle is plain and unembellished, displaying the 18 ct yellow gold beautifully. A more sparkling or glamorous gift surely cannot exist.
This is just a small selection of the variety of women's jewellery items – antique, vintage, and contemporary – that we have available. All items are shipped free of charge and fully insured.