Gate bracelets were great signifiers of true love during the Victorian era, although the exact origin of the design is difficult to trace. This bracelet style was meant for lovers, especially those who were destined to be apart for a long period. The padlock style fastening was only meant to be opened once they returned to each other's arms.
The gorgeous gate bracelet design is distinguished by a large heart-shaped charm with a lock and key – the fastening of the bracelet. The rest of the bracelet is made up of panels that are said to emulate the gates and fences of English country estates and castles. The design got its name, 'gate bracelet' from the unusual chain style of interlocked barred panels. The chain style of the gate bracelet is similar to other antique bracelet chain designs, such as the fetter link and the belcher link chains.
Believed to symbolise love and fidelity, gate bracelets demonstrate the Victorian fixation with romanticism and chastity.
Let's delve a little deeper into the history and romantic meaning behind this stylish design.
Gate Bracelet History
Supposedly, gate bracelets were worn by women whose significant others were due to be gone for an extended period of time. Usually, this absence was to serve in the army or travel for business. The yellow gold bracelet would be locked on to the woman's wrist by the padlock charm, to which only her beloved would have the key – ready to open it upon his return. The 'gate' style chain is chosen to symbolise strength and security.
Despite antiquated notions of a man's ownership over a woman, it is possible to view the gate bracelet as a wonderful example of romantic Victorian jewellery. We can also appreciate the ways in which the Victorian mindset influenced fashion and accessories. Gate bracelets are still created today, and since charm bracelets and chunkier accessories are back in vogue, they're seeing a surge in popularity.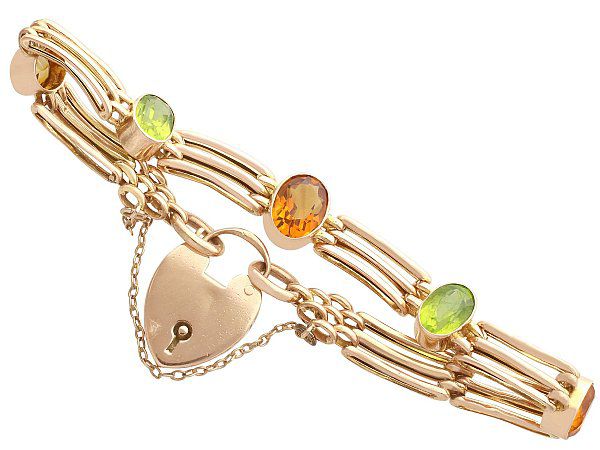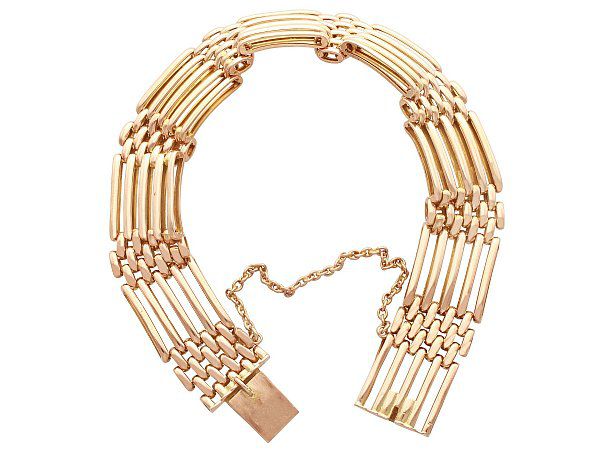 Most of the surviving antique Victorian gate bracelets are possible to wear and secure without the key. This makes them more accessible, whether or not you've been gifted one by a partner.
Here at AC Silver, we are fortunate enough to have several examples of gate bracelets. Some of our examples feature the traditional gate link chain, as well as the heart, shaped padlock charm. For those who prefer the symbolism of the 'gate' chain without the charm padlock, we also offer several gate bracelets which have a simpler fastening style.
Antique Victorian gate bracelets are a fantastically charming homage to the past, and for that reason are highly valued still.