Here at AC Silver we are lucky to come across a plethora of rare, intriguing and beguiling antique pieces of silverware and jewellery. From unusual origins and fascinating engravings or inscriptions, to items whose purpose and style seems to have disappeared in time, or simply sprung from nowhere!
Because we have so many of these items that all of our staff become enamoured with, we have decided to create a monthly feature called Item of Interest! Where we explore the history and story behind some of the most impressive and obscure pieces within our collection.
This month's item of interest is one which we have all fallen for, as none of us have ever seen anything quite like it!
This Edwardian cat sugar box is a fantastic example of Edwardian silverware, and the style which it has been created in adds to its allure. The cat is decorated with paste gemstones, which are coloured glass, to its collar, head and chest. This decoration gives the cat an exotic appearance, and certainly suggests that this cat was not any basic domestic moggy!
Edwardians and Victorians were enamoured with all forms of silverware and tableware, and were determined to rate as many items as possible to be used during dinner services. They believed that this knowledge of obscure flatware and dining service pieces demonstrated not only their etiquette skills, but their higher social standing.
Many of the sugar boxes which we are pleased to offer our customers at AC Silver are in the form of animals of all sorts of shapes and sizes! Sugar boxes were used as decorative items as well as for practical purposes, in no small part due to the high value of sugar.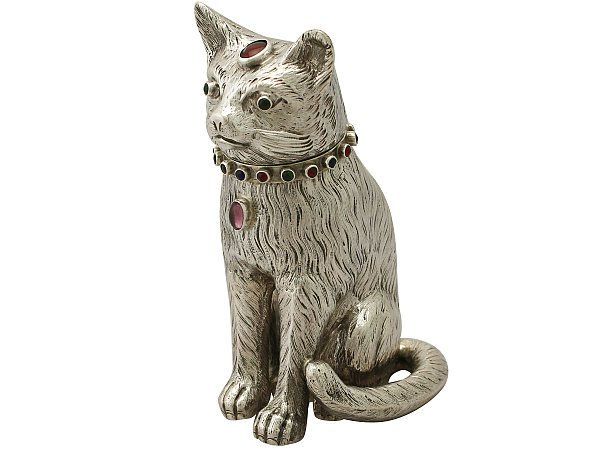 Sugar was more common as a condiment or an addition to a meal during the Victorian and Edwardian eras, and was sprinkled on top of desserts as well as being part of the traditional tea ceremony! Afternoon tea became a common routine during the eighteenth century, and especially in the houses of middle class and upper class families, as well as in aristocracy. When sugar was first imported into Britain, it was so valuable that the boxes it was kept in featured locks to prevent thieves!
Although the origin of the idea for silverware animals being used as sugar boxes is unclear, it is likely that they were very much a novelty item, which was either brought to the table to amuse guests, or revealed that the pieces had a second use other than simply ornamentation during the after dinner tea service!
Most of the animal sugar boxes which we have come across at AC Silver are not much more than 4 inches in height, presumably so as to 'fit' (as far as possible) with the rest of traditional tea service. However, our Edwardian cat sugar box is …. And is truly impressive! It can certainly stand alone as a decorative piece, for those who adore antique silverware, or even those who simply love cats!