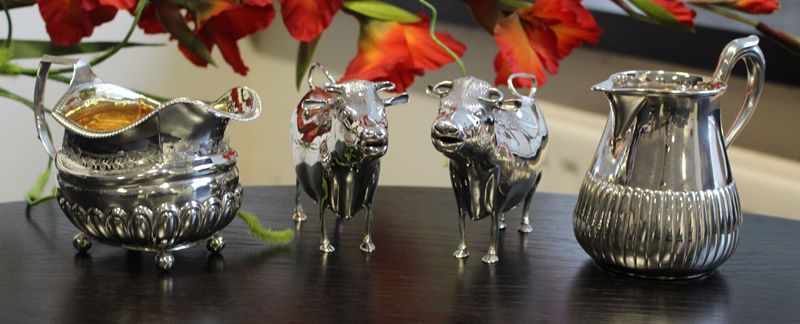 A creamer jug is a small jug or pitcher, designed for holding either cream or milk. They are most commonly made from silver, earthenware and porcelain.
The earliest examples of cream jugs which have been discovered are from the early 18th century, as the popularity of tea increased alongside the advent of tea and coffeehouses. Initially, tea was so expensive that only the wealthiest in society could afford it, hence the first examples of English tea ware were usually crafted in silver, rather than a more affordable material.
It was Western custom that cream would be served alongside tea and coffee and since this time, the creamer has become an almost obligatory part of a tea or coffee set.
Designs & Types of Cream Jugs
Creamer jugs vary in design depending on the period in which they were created, the earliest versions of creamer jugs were tall with rotund, baluster shapes, and a collet foot. However, over the course of the eighteenth century, these jugs became shorter and wider, with longer spouts, and often featured multiple feet or a single, elongated foot.
The design of creamer jugs became more and more embellished and ornate as the Georgian era transitioned into the Victorian era. This was common with many different types of silverware, and can be observed across a variety of pieces from these eras.
Cow Creamers
Dutch silversmith John Schuppe is credited with generating the widespread popularity of creamers produced in the form of cows, with his work dating back to the Netherlands in the 18th century. Schuppe's work was and still is viewed as being 'among the finest', inspiring potters in Staffordshire to produce cow creamers using earthenware, which was then decorated in order to make the items more aesthetically pleasing.
Novelty items were in fashion during this era, and items of silverware and all home ware became objects de curiosité, which the middle classes wanted to display and show to their guests as an example of their humour and good taste.
The lid of these creamers can be located on the back of the cow (pictured below), allowing access to the vessel. The cow's tail then functions as the handle of the creamer.
Pieces such as these novelty designs as well as toby jugs were common designs for creamer jugs. It is likely that the diminutive shape and size of the creamer jug lent itself well to these novelty designs, particularly when the creamer jug would be the final piece of the tea set which was used before drinking. This would no doubt add the effect of a comical flourish to the end of a meal or tea service.
As with all items of antique silverware, the quality and rarity of each example determines the value of each creamer jug. However, cow creamers are especially charming, particularly for those with a fondness for animals or an affinity to rural life.