Who Invented the Teapot
According to legend the first ever cup of tea was enjoyed by Emperor Shennung in 2737 BC, China. He was visiting part of his realm; he stopped for a break whist travelling, as his servants were boiling water for the court to drink. As they did this leaves from a nearby camellia sinsensis bush dropped into the boiling water and began to infuse resulting in a brown liquid. The Emperor drank some, making this the first cup of tea ever enjoyed.
The invention of the teapot came quite a while after the invention of tea for year the leave would be infused in bowls or sometimes whipped to make tea. There are many arguing cases of exactly when the teapot was first used, but it has been agreed it was a made in the Yixing region of China. The earliest discoveries of this type of teapot have been from the Song dynasty (960 -1279AD).
Since the use of the first teapot designs and composition developed throughout China, in 1610 when Dutch traders brought tea back to Europe its popularity began to grown on an international basis, especially throughout Britain.
Teapot History
Teapots and their shapes and styles have evolved over time, just as all other items of antique silverware. Often, the form of these teapots – as with other items of silverware – reflected the preferred tastes of the time, and these teapots- which would've been the staple of most upper class and middle class homes from the eighteenth century onwards – are a wonderful indicator of this shifting in fashion.
At first teapots were only fashioned in earthenware and ceramics, and then as the tendency for tea services to be a formal occasion and stately affair spread across Europe, the demand grew for more presentable and grand tea sets, which could match the presentation pieces at the grand dinner table.
Teapots come in all shapes and sizes, and silver antique teapots are no different! Teapots are highly collectable items of silverware; this may be as they are evocative of an earlier, more sophisticated age, when taking tea was an important part of a daily routine.
Teapots are also considered to be typically English, although we know many of our customers from all over the world have a certain affection for this type of silverware.
Whether you are searching for a comprehensive tea service, a dainty teapot to add to a set or to be used as an ornament, at AC Silver we have a fantastic selection of silver teapots and tea services.
Our collection of antique and vintage silver teapots features collectable makers such as Paul Storr and Joseph Angell II, and these items are highly sought after across the world, recognised as fantastic pieces to collect and are always reliable investment pieces.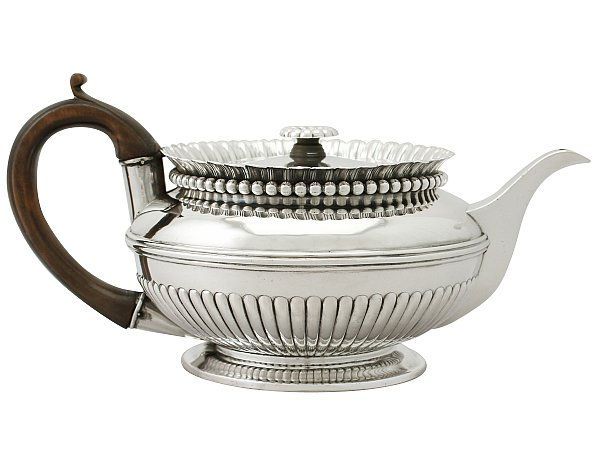 We hope that we can shed some light on the changing shapes and decorations of antique silver teapots over time, and help you to choose you preferred style and type.
Types of Silver Teapots
Georgian Teapots
Georgian teapots typically have fairly plain surfaces, with bodies which are in basic form and often stray form the usual spherical or dome based shape which we expect from teapots. Early Georgian teapots are usually distinguishable by their long, thin spout, which is completely straight. As time went on, this feature became less common, as this type of spout – much like that of a watering can- would result in a ferocious stream of tea rather than a gentle pouring!
Frequently, these pieces have an octagonal base, with flat, geometric sides. This panelling has the effect of mirroring an almost Art Deco style, and can make these antique pieces suitable for a modern table service or home décor.
Louis Style Teapots
Louis style is heavily ornamented with abundant decoration. This style is similar to Baroque and Rococo, with their extravagant flair and grand designs. Another common feature of the Louis style teapot is the rotund baluster form.
The Louis style teapot was popular during the early and mid Victorian era, owing to the Victorian's preference for large amount of embellishment. This style of teapot was a departure from the sparse early Georgian teapots, which gradually became more curved, linear and featured more and more adornment.
Art Deco Teapots
The Art Deco is the most popular style of teapot, with many teapots created after the period but heavily influenced by the Art Deco style. These teapots are usually easy to identify, they feature panelling, much like the Georgian teapots- but in the case of Art Deco teapots this paneling is often softer, tapering from the foot of the teapot, whereas in Georgian teapotsthe panelling is modelled around the octagonal form of the base.
Queen Anne Style Teapots
Queen Anne teapots are a very specific style, which is reproduced frequently, and has been in fashion over many eras. In the Edwardian era, it was common for teapots to be created in the Queen Anne style, although Queen Anne herself was actually reigning in 1702.
The most common feature of the Queen Anne Teapot is the delicate fluting which often surrounds the body of the teapot. The motif of the Queen Anne style was to use vertical lines to draw the attention to the height of the piece, and with silverware in particular, this results in simple embossed fluting to the lower half of the body, and delicate ornamentation.
Asian & Indian Teapots
Here at AC Silver we have a selection of Indian and Asian teapots which are in the traditional styles, with incredibly detailed engraving, and usually displaying a great deal many more figural characters than one might find on antique European silver.
These teapots feature incredible amounts of decoration, ornamentation and detailing, and they are highly sought after due to their unique nature. With such heavily embellished pieces, they are far more easily distinguished than antique silverware which was created to fit in with a certain style or type.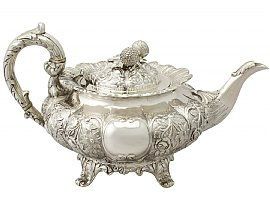 Bachelor Teapots
Bachelor teapots are wonderfully unique and charming pieces of antique silver, as they are simply smaller teapots which are only intended for one person. These teapots are sometimes mistaken for being part of a child's tea service – however they are actually purposefully small, and were created long before the advent of tea bags and individual 'cuppas' were brewed!
Spirit Kettles
Spirit kettles – although not technically teapots – are very similar to teapots, however they are unique in that they have their own stand, which incorporates a candle holder underneath the kettle, so that it may be boiled and kept warm.
These spirit kettles are often much larger than teapots, and are therefore often found with matching smaller teapots within the sets they were created in.
We are able to offer our customers many different styles, shapes and types of teapot, depending on your personal aesthetic preference, or if you are looking for a style to match your existing silverware collection.
Whether you already have a favourite type of teapot, or this blog has opened your eyes to the big wide world of teapot styles, we hope that we have been able to show you some beautiful examples of teapots which have peaked your interest in this incredibly popular item of antique silverware.