Stork Brooch for New Mothers
At AC Silver we are privileged to be able to provide for many special occasions in our customer's lives; engagements, birthdays and anniversaries as well as gifts for christening new members of the family.
We are now also able to offer an adorable gift for the new mother, to commemorate the birth of her child. Our beautiful antique French 18 carat gold stork brooch is clutching in its mouth a glimmering white diamond, which can represent the new-born baby and the joy and purity of new life.
This antique brooch may have been created to be a present for a mother or mother – to – be, and is beautiful enough to wear long after the baby has left the crib.
The association between storks and pregnancy is one that has been perpetrated through folklore, ancient mythology and storytelling between generations and eventually, through many ages of human history.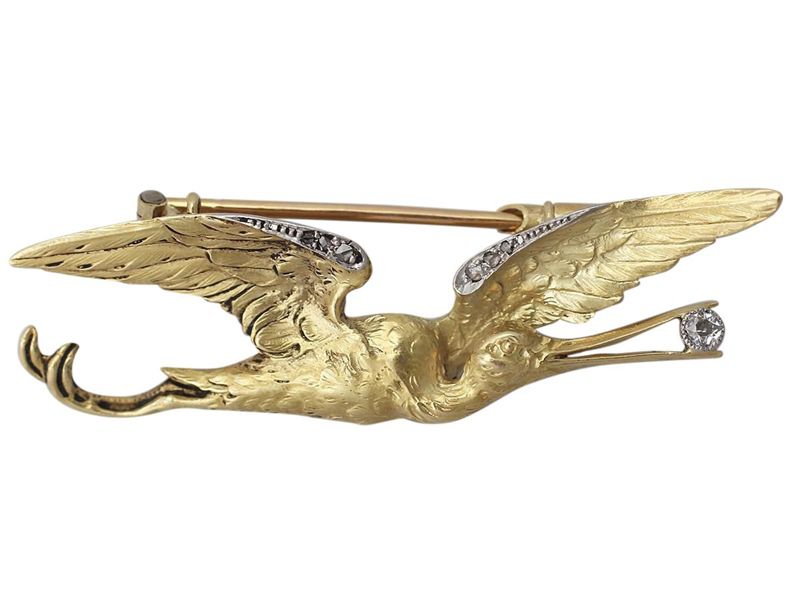 For the ancient Egyptians, a person's soul – known as a 'Ba' – was symbolised with a stork. For this civilization, with its belief in reincarnation, to see a stork was to see a soul returning to earth from the afterlife. This idea of bringing new life or signifying a re-birth may be the origin of the stork mythology.
Interestingly, in Norse mythology, the stork was considered to be a symbol of commitment and family values, which may further establish the connection between children being brought by the stork. A theory as to the basis for this association is that it is commonly believed that storks mate for life, and where therefore represented fidelity and monogamous marriage. Although they do not mate for life, they do return to the same place annually to mate, and usually mate with the same partner.
In more recent history, Hans Christian Andersen encouraged the mythology in his own fable 'The Storks', which he wrote in the nineteenth century. This story detailed storks picking up babies and delivering them to families which had good children, which suggests that this would've been used as a tale to tell children who wanted younger siblings- that if they behaved well, the stalk would come and deliver them a new baby brother or sister.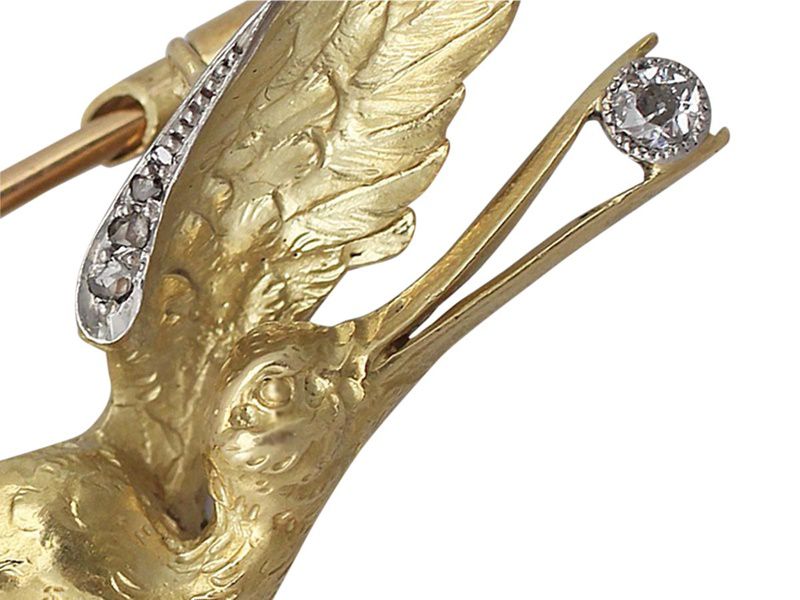 There is an alternative version of this story- as is often the case with ancient tales that are passed down through folklore- where the babies were found in caves known as Adeborsteines, which literally translates to 'Stork Stone'. Undoubtedly this story was used as it is commonly referred to in the present day – an almost comical and quaint way to answer the inevitable questions that children ask about the birds and the bees!
The stork is a natural, ancient symbol of the arrival of new life and this 18 carat gold and diamond brooch is a wonderful expression of the happiness and beauty of welcoming a child into your family.