Here at AC Silver we have an extensive range of silver from all over the world. We have pieces crafted in many styles, including Arts and Crafts, Art Deco and Art Nouveau. The release of the film 'Great Gatsby' has seen the rise in popularity of Art Deco; but what do we know about these other styles from the 19th and 20th Century? Come with me and delve into the exuberant history of Arts and Crafts.
What is the Arts and Crafts Movement?
The Arts and Crafts movement flourished internationally between 1880 and 1910, particularity in Europe and North America, before reaching Japan in the 1920s as the Mingei (Folk Craft) movement. The name was taken from the Arts and Crafts Exhibition Society (founded in 1887), with different countries adapting the philosophies to fit their own needs. Despite being visually different sometimes, the pieces all encompass the ideals behind the movement, often referred to as Kairos – the moment when the spiritual self breaks through into the material world of architecture, furnishings and decorative arts.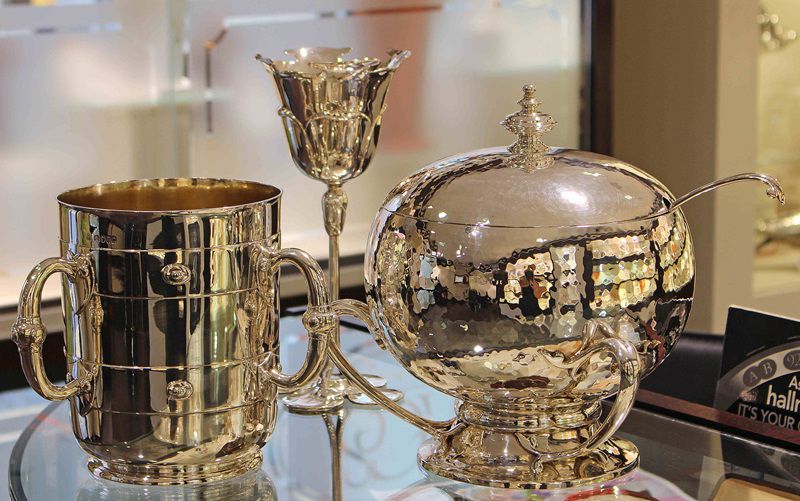 Arts and Crafts Style
The movement came at a time when architects, designers and artists began to develop new approaches to design and decorative arts following the disastrous effects of the industrial revolution. The revolution brought about a new set of principles for living and working and in turn gave way for home to become a work of art in its own right.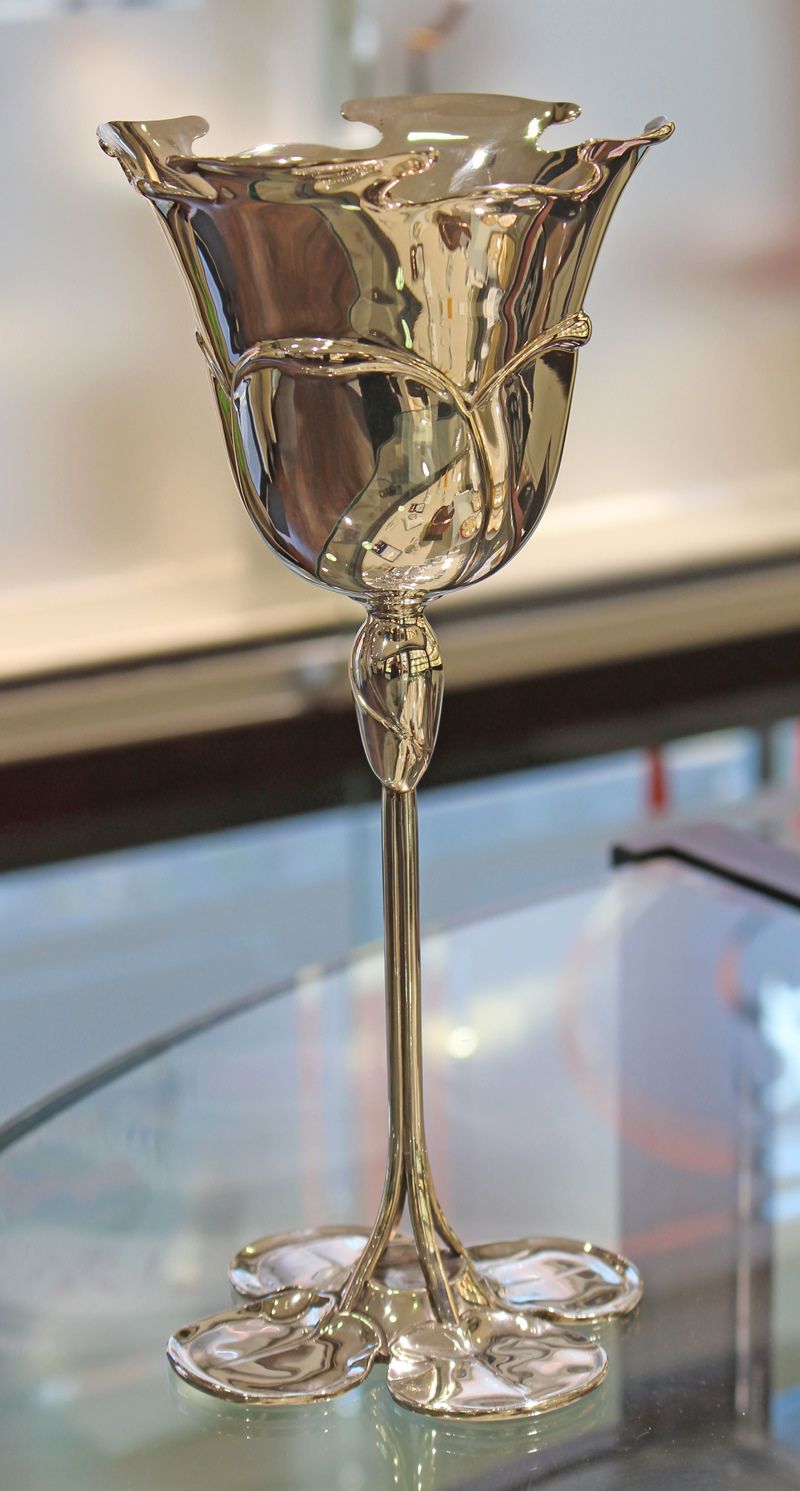 John Ruskin
The Arts and Crafts philosophy was somewhat derived from Ruskin's social criticism; particularly in his book The Stones of Venice. He is famous for his disapproval of the moral and social health of a nation to the qualities of its architecture and to the nature of work.
Ruskin believed that a healthy and moral society needed independent workers, who were in fact the designers of the items they crafted. Thus he was against industrial manufacture, and its impact on the loss of traditional skills.
William Morris
Morris attended Oxford, where he met Edward Burne-Jones and Dante Gabriel Rossetti. Together they joined a group called 'The Brotherhood', the members of which were strongly influenced by Ruskin's values.
After a brief stint studying architecture, Morris met Jane Burden who he would go on to marry. Their marital home – Red House – defines the early Arts and Crafts movement. Displeased with the mass produced furniture in stores, Morris and Burden sought out the pieces to furnish their home, as did their friends Burne-Jones, Rossetti and Phillip Webb (an architect).
During one evening at the Red House, the friends formed a partnership known as Morris, Marshall, Faulkner and Co. This company would hold onto Ruskin's morals and reject machine-produced decorations in a bid to keep hand-craftsmanship alive. Initially the focus was on stained glass. The company later become Morris and Co and produced a variety of items, from Jewellery to wallpaper to furniture.
For Morris, Arts and Crafts began with a strong influence from medieval themes, but as his interests grew, so did the themes. Simply put, Arts and Crafts was a return to the simplicity of design and hand decoration, producing items which had meaning to the creator or consumer.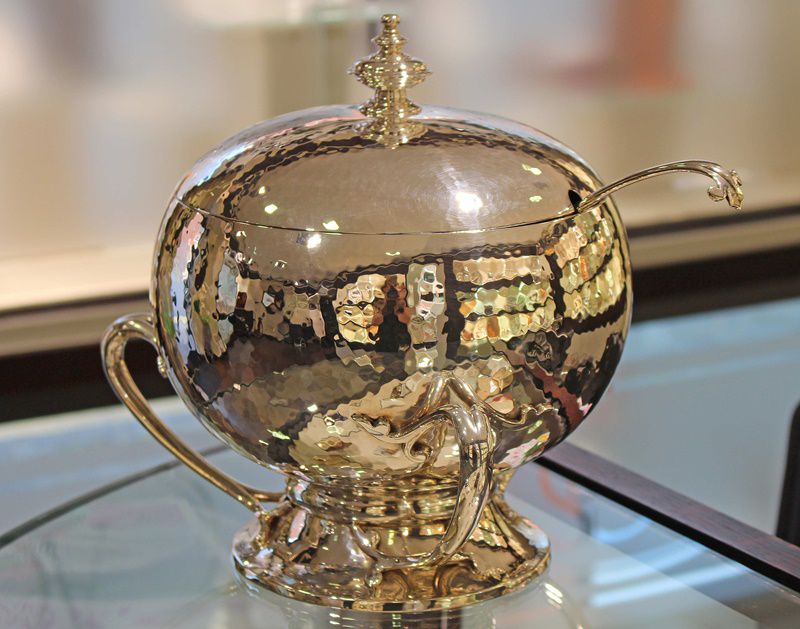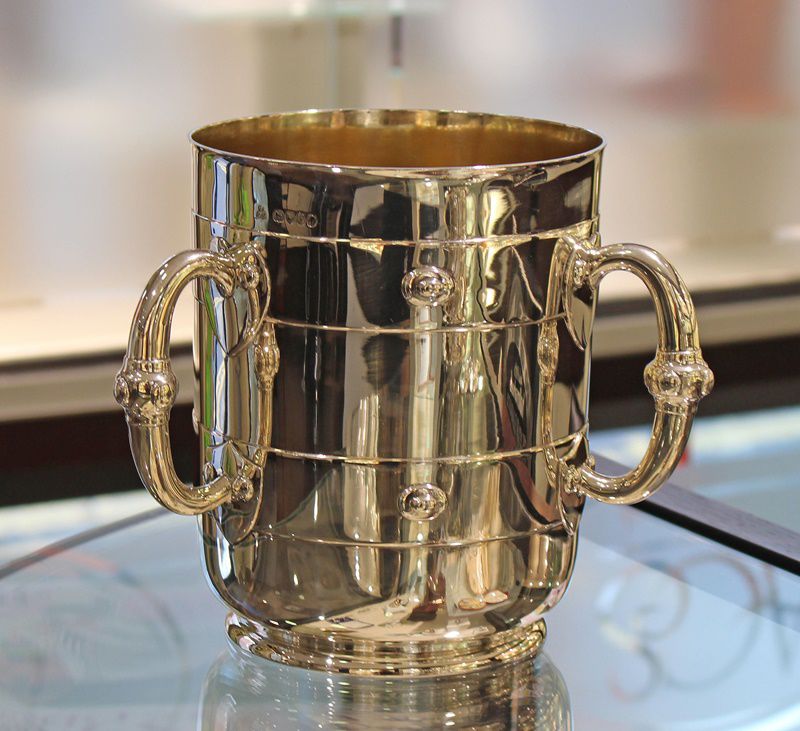 What pieces can I find in the Arts and Crafts style?
When trying to identify if items are of the Arts and Crafts style you may notice they are:–
Less formal than the Victorian styles
Simplistic
Less symmetrical
Often planished
Of Medieval influence
Often featuring rope twist designs
Here at AC Silver we have a number of items which are in the Arts and Crafts style, some of which are pictured throughout this blog. Jewellery, silver and architecture can be described as being Arts and Crafts style, with famous names such as John Paul Cooper and Charles Horner producing jewellery in this style, and silver makers such as Goldsmiths and Silversmiths Co. Ltd and Walker and Hall.
The knowledge that the Arts and Crafts movement stood for a period when handcraftsmanship was dying out makes me appreciate these pieces even more; knowing that they not only epitomise the innate and individual skills of great artisans, but also represent a piece of history.
Do you own any Arts and Crafts items? We'd love to see pictures of them!