Antique signet rings
have proved themselves to be timeless pieces of jewellery, teeming with historical significance. They were primarily used to represent power and status, as well as being an impressive accessory and a useful tool. Traditionally, they were one of the few pieces of jewellery that was worn exclusively by men; recent trends, however, have seen women opt for these simple, statement rings as well.
Signet rings generally feature a large oval-shaped, flat surface. This surface is often ornamented with intaglio (a term encompassing incising or engraving), a family coat of arms, or a personal signature/ initials. Engraving is sometimes done directly onto the metal, or alternatively, onto a gemstone which will be set into the ring. Particular gemstones are preferable for this use, such as carnelian, sardonyx, and onyx. This is because signet rings often served a dual use as wax seals (the word 'signet' actually originates from the Latin "sigillum" or "seal") and these gemstones are known for their anti-adhesive qualities.
What is a Signet Ring
As is the case with a lot of jewellery, signet rings originated in Ancient Egypt. Many were found upon the excavation of pharaohs and high up officials; they were evidently used to signify power during this time. Originally fashioned out of carved stone, their primary use was as a wax seal for sealing important documents. They tended to be decorated on their flat sides and would feature traditional Egyptian designs such as hieroglyphics, inscriptions, and symbols – including the revered scarab beetle.
Other early civilisations adapted the signet ring to their own culture. The Ancient Greeks adorned theirs with depictions of animals, gods, and mythological figures; whereas the Etruscans chose symbols of prestige, including lions and griffins.
How to Wear a Signet Ring
In Ancient Rome, signet rings were used to reflect the power and status of their wearer: the bigger the ring, the more powerful its owner. Some rings are reported to have supposedly been simply too big and heavy to wear all day in the sweltering Roman heat.
Originally, these status rings were only worn by those with high social standing, such as military personnel. Eventually, however, they were popularised throughout wider civilisation. When the Roman Empire went on to colonise other countries, the popularity of the signet ring spread even further. In Britain, the unwavering trend of signet rings prevailed from the middle ages through to the 19th Century. Similarly to the Romans, British signet ring owners wore them to illustrate their power and authority.
As they are often engraved, and traditionally unique and recognisable to all, these rings are normally personal and precious to their owner. A signet ring featuring a coat of arms, for example, would likely be passed down through generations, from father to son. By many families, they will be considered an important heirloom which carries historical significance.
Because of their worth and significance, it is of the utmost importance for them to be kept safe on the owner's finger. After all, they are a signifier of power and status, and are therefore kept in close proximity to their owner at all times. In England, the usual way to wear signet rings (for men) is on the little finger of the left hand.
Can Ladies Wear Signet Rings
For women who did wear signet rings, it was traditional to wear their family's coat of arms on a signet ring until the day of their wedding. After this, she could either take on her husband's coat of arms in the form of a signet ring or, alternatively, choose to combine the two coats of arms, creating a new design.
Post-millennial fashion has seen a surge of women wearing signet rings. Specific signet rings are now being designed for women, such as the Yurman 'Bubblegum Pinky Ring collection for her'. This design adds a splash of colour and femininity to the signet ring. It has also grown popular for women to wear an engraved ring with a plain surface also. Perhaps a nod towards the simple beauty of the gold or the chosen stone as it is.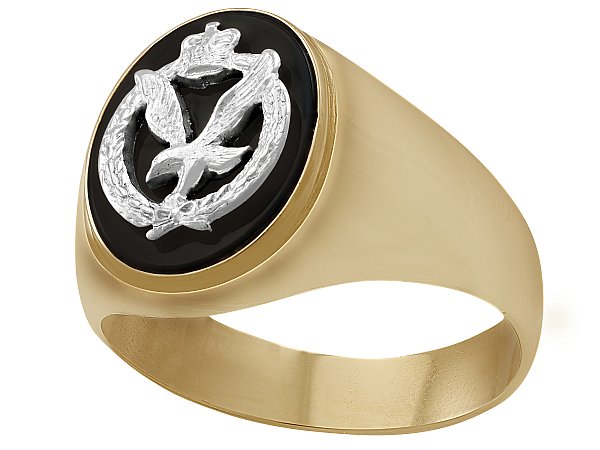 When to Wear a Signet Ring
You can wear a signet ring every day if you wish, similar to the stereotypical American 'gangster' image seen in films like The Godfather. If your signet ring is decorated with gemstones, or other decoration that adds value to it, perhaps you should consider wearing it for formal occasions in order to preserve it. Events like family weddings, New Year's Eve celebrations, and other black-tie events are the perfect times to wear a signet ring.
Equally, you can dress down a signet ring with more casualwear, such as linen trousers and casual loafers. Signet rings can be a very flexible accessory if you try them out. Not only are they suitable for everyday dress, they're also very fitting to the workplace. Whether your workplace is the kind without a dress code or a more traditional workplace, where shirt and tie are expected, a signet ring is the finishing touch to a stylish outfit.
When to Buy a Signet Ring
Whether it's for yourself or someone else, signet rings are a wonderful gift to give all year round. Signet rings are stylish, timeless, and a great way to show your affections. The perfect occasion to commemorate with a signet ring is a significant birthday or achievement. If someone you love is due to turn twenty-one, or perhaps a more advanced birthday like a fiftieth or a sixtieth, show them your affections with a signet ring worthy of Al Capone.
Another ideal time for a signet ring is an achievement such as a significant promotion, the completion of a degree, or even a retirement. This is applicable to men or women, as signet rings are a piece of jewellery that everyone can wear and appreciate. If you already own a signet ring with something personal like a family crest or specific initials, perhaps the best gift you can give is to pass your signet ring down through the family. Many signet rings become family heirlooms when they are passed down from generation to generation. Consider starting a tradition.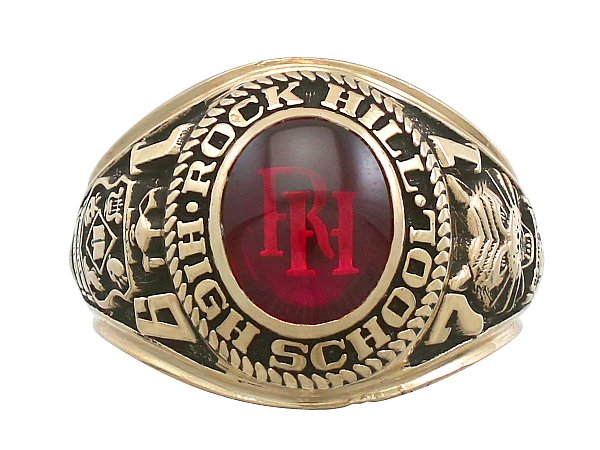 The Royals and Signet Rings
Signet rings have a particular standing within royal families and landed gentry. Prince Charles is often photographed wearing his; he abides to tradition and wears it on the pinky of his left hand, behind which he wears his wedding band, as is the standard for British aristocracy. His ring depicts the emblem of the prince of Wales: a fleur-de-lis. Princess Anne is another who flaunts a noble ring, as does Camilla (on occasion).
The tradition of the signet ring has continued into the current generation of royals: when Kate Middleton married William, it was decided that her family, namely Michael Middleton – her father – would be granted their own coat of arms. The Middleton coat of arms depicts three acorns, a tribute to the oak-tree-lavished Berkshire countryside where the family live. As is tradition, the coat of arms was fashioned onto signet rings which the whole family is now entitled to wear. Kate, along with her siblings Pippa and James, are sporadically seen sporting their family ring.
Signet rings are endowed with tradition and highly associated with royalty and grandeur. Despite this, they are no longer exclusive to certain social groups; it is refreshing to see these interesting pieces gain popularity with the masses.