Following my previous blog about the Biennale des Antiquaires in Paris, I have decided to elaborate on what was the highlight of the day for me: Van Cleef and Arpels' new collection.
Memorable First Encounter
I remember the first time I saw some of Van Cleef's pieces, I was about eight years old and it was my first family trip to Paris. My mother took us to the prestigious Place Vendôme, and here were fabulous displays of stunning, elegant, sparkly jewellery by Van Cleef; it was love at first sight! (it may have been unilateral but you know… it still counts!) For those of you who do not know of Van Cleef and Arpels, here is a quick history.
History of Van Cleef & Arpels
It all started when Alfred Van Cleef married Estelle Arpels in Paris in 1895. It was more than a "classic" love story, it was an encounter between a boy, son of a stone-cutter and a girl, daughter of a dealer in precious stones – so it is no surprise they ended up building such an empire!
In 1906 the Maison Van Cleef and Arpels was founded at 22 Place Vendôme, just across from the famous Hotel Ritz. It was a real family business; later on Estelle's brothers became involved, with one of them overseeing their Place Vendôme boutique. Since then the company has not stopped growing, always keeping in line with their very high standards, reflecting their love for exceptional gemstones and unique pieces.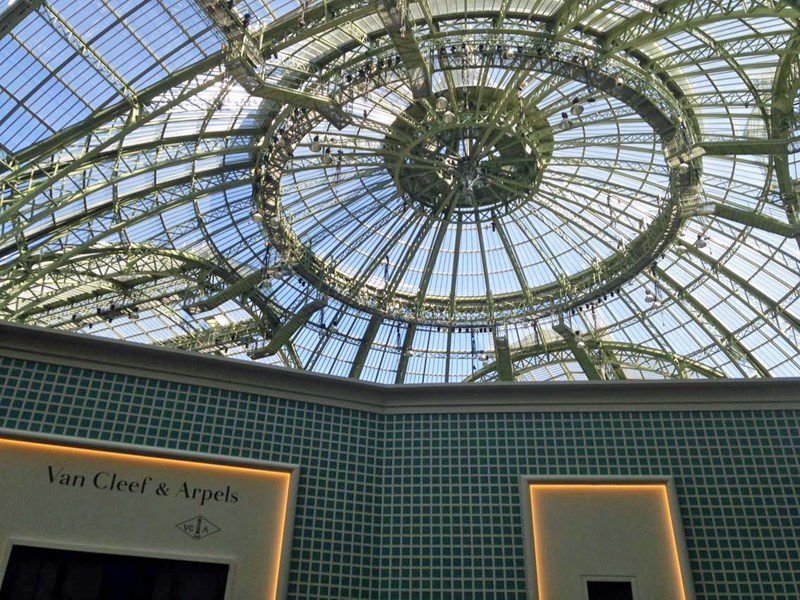 The Peau d'Âne Project
I was particularly looking forward to this year's collection as it is fairy tale related, and what fairy tale! As it is Van Cleef I'm referring to, it just had to be an original, fabulous yet elegant story; it could not have been something that had already been done and redone within the jewellery world.
A very iconic fairy tale came to mind: Peau d'Âne. The Charles Perrault fairy tale was adapted to the cinema by Jacques Demy in 1970 with the ever so glamorous Catherine Deneuve starring as the Princess. The movie was a huge success and had never been revisited until 2012 when Agnès Varda, Rosalie Varda Demy et Mathieu Demy presented their project and a collaboration with Van Cleef was born. The movie was loved in particular for its bright colours, its visual aesthetics, baroque and timeless very unique designs. The dresses in particular were very iconic and have made millions of little girls dream!
What a perfect opportunity for Van Cleef to create a colourful, magical collection using some of the world's finest gemstones!
Peau d'Âne and The Collection
I realise that Peau d'Âne may not be known by all so I will do a quick summary for you:
Peau d'Âne was a very happy little princess until her mother died, that led her father, the king to a world of confusion, sorrow and madness. As the princess was worried, she went to her fairy godmother for advice, and was told to run away from the kingdom to be safe. Peau d'Âne just hid her most precious possessions away inside a chest: her mirror, her jewels and the dresses given to her by her father. The dresses were a big part of Van Cleef and Arpel's collection as they were made into clips.

From left to right:
1. Clip Robe Couleur de la Lune made of white gold, diamonds, baguette cut sapphires, blue spinels and blue and purple tanzanites
2. Clip Robe Couleur du Temp: white gold, diamonds, turquoises, Paraiba tourmalines and green garnets
Please learn more of the history of spinel gemstones with us.
And here is the mirror: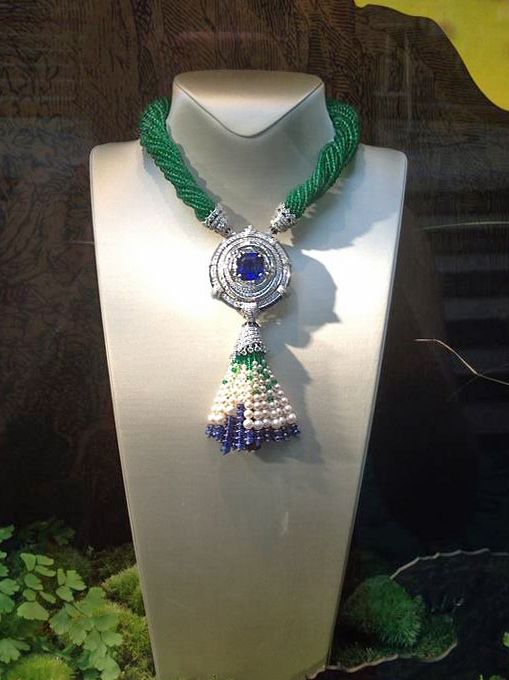 Necklace and Detachable Clip "Miroir enchanté":
White gold, pear, baguette and round cut diamonds, cabochon emeralds, round, calibre and cabochon cut sapphires, pearls, emerald balls with a total of 381,04 carats, and a 24,77 carats octagonal shaped Birman sapphire
Peau d'Âne went away to live in a farm near a forest and to disguise her regal appearance she hid in a dark-coloured animal hide – hence the Peau d'Âne nickname (Peau d'Âne literally means "donkey hide" or "donkey skin").
Here is the Peau d'Âne clip that depicts her time away, with deers incorporated into the design.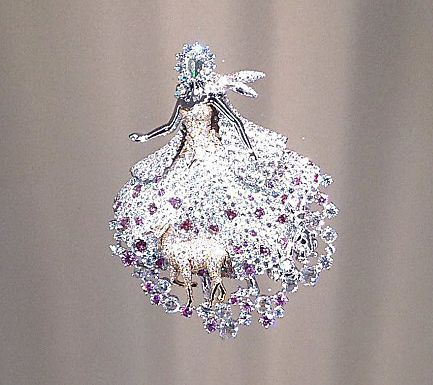 Clip Peau d'Âne:
White gold, pink gold, round, pear-shaped and rose cut diamonds, pink and gray diamonds.
Peau d'Âne forgot all about her royal connections whilst working so hard on the farm. Once a week however she would open her secret chest and wear her sumptuous jewellery and dresses (I do NOT blame her!) One day, the prince of the neighbouring kingdom saw her wearing her gold and jewels and he fell in love straight away (not for the jewels and the gold I'm hoping!)
He then asked for a cake baked by her specifically, which she did make, but her emerald ring fell into it and he found it. The prince then announced that he would only marry a girl who could wear this ring! (Doesn't that storyline ring a bell?)
Anyway, Peau d'Âne ended up marrying her prince. Her father came back to his senses and everybody lived happily ever after… (sigh)
A Right Royal Necklace
Here is one major piece of the collection, the Collier émeraude en majesté: a symbol of Peau d'Âne returning to her life as a princess. What a stunner!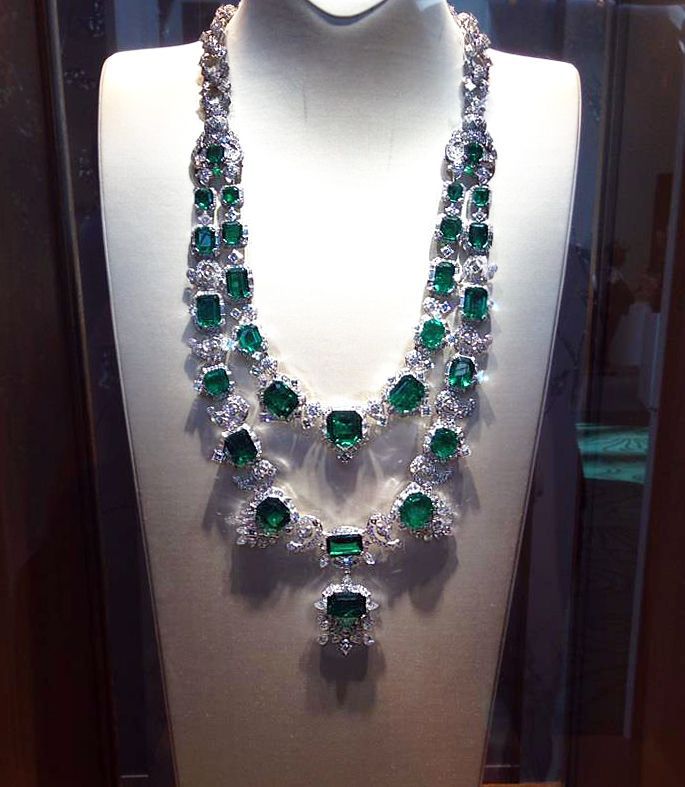 Emeraude en majesté necklace:
White gold, round, square, baguette, half-moon and pear cut diamonds, platinum, 29 round oval cut and emerald cut Colombian emeralds for a total of 195.11 carats.
Quality, Quality, Quality…..Dream On!
All the pieces in the collection are of the highest quality. Van Cleef and Arpels only use the best gemstones. To give you an idea, only diamonds that are a D, E or F colour and IF, VVS1 or VVS2 clarity are used!
So, if Peau d'Âne ever made you dream as a little girl, these pieces will just continue to make you adore this fairy tale, and if you did not know of Peau d'Âne before, I strongly recommend you read the story or watch the movie – we're never too old for a bit of daydreaming!