What exactly is a "Toi et Moi" ring?
"Toi et Moi" means You and Me in French (trust me, I'm French!) so a Toi et Moi ring is basically a ring which displays two gemstones. It is very often either S shaped or 8 shaped and set with diamonds, pearls or coloured gemstones. Toi et Moi can be limitlessly interpreted in any number of settings including the highly ornate. Here is a little selection of some of my favourite Toi et Moi rings in our inventory and a brief background about the 2 stone diamond ring meaning…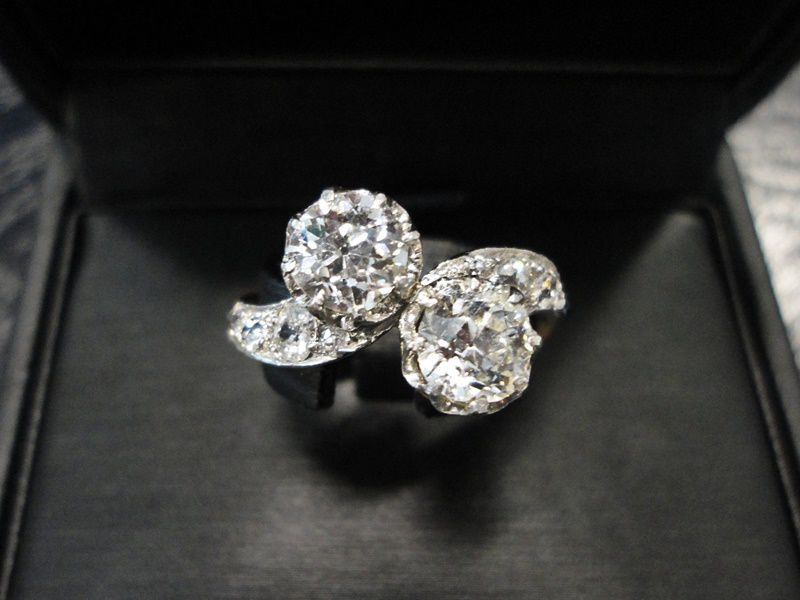 Two souls together forever
Due to its very romantic meaning Toi et Moi is a popular choice of design for an engagement ring.
It can indeed be seen as a symbol of the love and union between two people or as representing the twining of two souls.
The two stones can also represent two hearts eternally joined; proof of an "unbreakable" couple.
The closeness of both stones and the fact that they are of the same shape and size suggest balance and equity too.
If you want to go for a personal and super romantic engagement ring (you may know that I am all about the personal gifts by now!) how about a Toi et Moi ring featuring your birthstone and your fiancé(e)'s ? (I may take this into account when meeting a potential boyfriend…) If you are lucky enough, your gemstones may pair beautifully and create the perfect ring, if not there is always the diamond option, you can never go wrong with diamonds!
A design that is adored by all…
All these infinite combinations and interpretations make Toi et Moi a very popular design, all of the most famous jewellery brands have their own Toi et Moi rings; that includes De Beers, Cartier, Chopard, Van Cleef & Arpels, Harry Winston and Boucheron just to name a few.
Boucheron's Toi et Moi features two serpents (snakes) and has some history behind it. It actually celebrates the love between Frédéric Boucheron and his wife Gabrielle, it is a reminder of the jewel he gave her in 1888. The heads of the snakes cross to symbolise the eternal bind between two lovers. (How romantic?)
But when did it become so popular?
The Toi et Moi design supposedly became popular after Napoléon gave Joséphine a beautiful sapphire and diamond engagement ring in 1776.
Napoléon, despite being a fairly authoritarian emperor was a helpless romantic when it came to love of his life Joséphine de Beauharnais. He went against all opinions when proposing to Joséphine who was older than him and was also a widow, which was such a scandal at the time! But despite what people said he married her anyway! They did end up getting a divorce; one due to the fact she could not give him an heir, the other- she cheated on him quite a bit but that does not detract from the fact that it was a very passionate love story and that he spent all his money on an engagement ring for her as a gauge of that love!
The ring was sold by the Osenat auction house in March 2013 and despite its original estimate of about £11,000.00 – that only took into account the pure value of the gemstones which weighed just under a carat each – the final anonymous bid was of about £560,000.00. I can not say I find this surprising though, that ring has such an amazing history behind it, anyone would be lucky to own it!
So unfortunately, Joséphine's ring is not for sale anymore but do not worry, we have a lot of amazing Toi et Moi rings here at AC Silver, most of which are antique or vintage pieces, have a look at them here…