Art Deco Jewellery (1915-1935)
Art Deco jewellery comes chronologically directly after Art Nouveau jewellery but at no point does it try to replace it or be its competitor. Both styles are so different and yet so iconic that they can work together as people often have an affinity for both styles. I personally love them equally and would happily own pieces of Art Deco AND Art Nouveau jewellery… (hint hint…)
Paris – the epicentre of Art Deco jewellery
Once again France and more specifically its capital Paris were the epicentres of the Art Deco movement. The name Art Deco actually comes from an exhibition that took place in Paris in 1925 "Exposition Internationale des Arts Décoratifs et Industriels Modernes" (literally translated as the International Exhibition of Decorative, Industrial and Modern Arts). The exhibition which displayed a diverse array of furniture, sculpture, glass, ceramic, silver and jewellery attracted millions of visitors from all over the world. The impact was huge – the real originality and novelty of the bold new style with clean lines inspired new creations. The bases of the Art Dec move were defined then: elegant and chic, and these fundamentals are still clearly in evidence today.
The Inspirations
Art Deco jewellery found its inspiration in various artistic movements: fauvism, cubism and an early wake of the Vienna Secessionists. The simple, linear expressions were adopted by all trend makers of the times, including couturiers such as Chanel. Significant inspiration also came from further away in the world; the Russian ballets and a wave of Orientalism provided shoots from which Art Deco continued to flourish. The shapes incorporated into the iconic style were uncluttered, architectural. Lines were geometric and symmetrical and pieces of jewellery were treated like sculptures. Some jewellers such as Janesich, Lacloche, Van Cleef and Arpels and of course Cartier created links between Europe and the West using shapes and colours inspired by exotic cultures. Check out our blog to learn why we are so drawn to geometric jewellery which is so prevalent throughout the Art Deco period.
In 1922, the English archeologist Howard Carter discovered the tomb of the Egyptian King Tutankhamun, making Egypt an important source of inspiration too. A new range of "pharaonic" bracelets, brooches and clips were created, with solid clusters of emeralds, rubies, onyx and diamonds. This kind of jewellery was and still is highly valuable – just to give you an idea, an "Egyptian" bracelet crafted by Cartier could easily realise £150,000.
Coloured gemstones were cut, almost "sculptured" in an Indian style, in leaf or flower caliber that would perfectly fit the settings, differing from the more usual "pavé" settings of diamonds.
So, Art Deco jewellery reflected a very colourful movement, incorporating a wide variety of vibrant, coloured gemstones. Diamonds continued to remain fashionable with one cut becoming very popular: the baguette cut. Its shape was perfect for embellishing and enhancing geometric designs. The baguette cut is therefore remains closely associated with Art Deco jewellery, we have many beautiful examples of it in our inventory.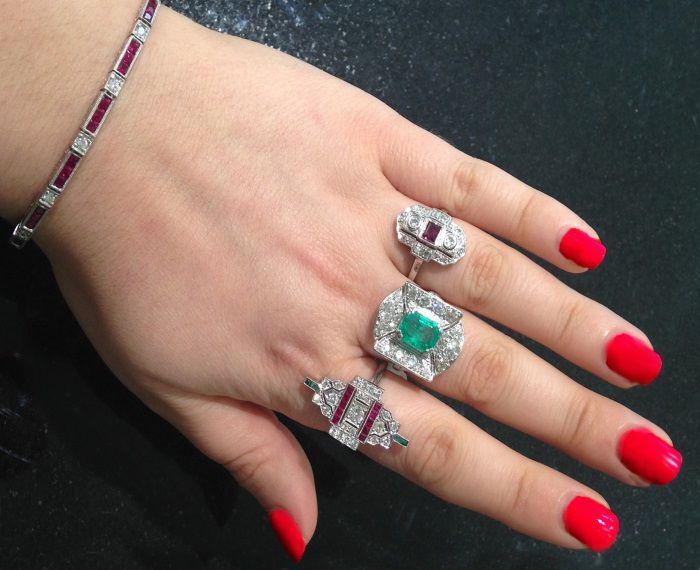 Art Deco jewellery – a feminist movement?
What I find particularly fascinating about this movement, is that when you put it into its historical context, it makes complete sense: its whole sophistication is an obvious answer to what was happening in Europe at that time. Women were becoming more liberated, they cut their hair short – the "garçonne" (literally "boyish") cut became so popular that earrings became longer and more ostentatious as , for once, they really could be on show. As a result of the First World War the vast majority of able men left home to fight on the front line, and women had to work. For the first time females became the principal breadwinners. That sense of freedom and independence gained by women in society was transferred to the wearing of bold Art Deco jewellery, in the new daring artistic forms and shapes that were in complete contrast with the past. The times of helpless, fluttering ladies that were covered in formal jewellery from head to toes were truly over. Many items of jewellery were innovative and more practical, allowing women to look more grave and businesslike.
Art Deco Jewellery at AC Silver
Art Deco Jewellery pieces are still very popular and remain cherished possesions. In my opinion, its classiness and magnificence could and would never fall out of fashion. Art Deco jewellery pretty much compliments any outfit and any style and can easily be worn by all ages.
You can possibly see by now, I am a big fan of Art Deco jewellery and I have happily selected some of my favourite pieces from our inventory, enabling me to share my appreciation of such an iconic and everlasting style!