Antique serving trays are a brilliant type of silver; varied, beautiful, and versatile. For new collectors, a silver tray is an excellent accent, and for people who know their silver very well, trays are a complex and wonderful area of silver that suits every taste.
When looking to acquire a tray, many people are unsure of where to begin. A good start is to consider 'What is the purpose of this tray?' There are many types of antique trays available, each designed to serve different functions.
The Tray
The term "tray" is derived from the English word 'trēg' or 'trīg' which connotes a 'flat board with a low rim.' In essence, a tray is a shallow, flat container which can be produced from various metals including silver and brass, wood and – in some cases – papier-mâché.
Antique trays today are used for a huge variety of things. Trays can be hung on walls as decor, and used as trinket dishes, tea trays, and more. Silver trays have served many purposes over centuries of craftsmanship, and so it makes sense to learn a little about which trays serve which purpose, so that you can make an informed decision about which tray you want.
Tea Trays
The plain oval tray became popular in the late 1700s. By the 19th century, carrying handles were added to large-sized salvers to accommodate the increasingly weighty tea and coffee services.
A tea tray is literally and figuratively the foundation of formal tea preparation. It offers a surface for tea preparation, including setting out the cups, pouring the tea, and then taking the cups to the guests or to the table where tea is going to be served.
This is a rather traditional use of a tea tray, and for many owning such items made in sterling silver is a sign of wealth. For some, using a fine silver tea trays is to impress their guests. Yet there are also many people who simply have an impressive tray as a focal point in a room and it is never actually used for serving purposes.
How to know if you have found a tea tray…?
Tea trays are often oval or rectangular in shape, and will be two-handled. They will be sturdy in order to hold the weight of the tea set (and in some cases cups).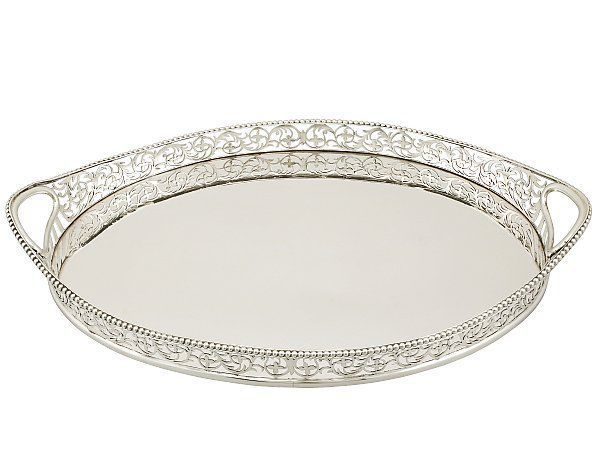 Drink and Gallery Trays
Similar to the tea tray, the drinks tray is often used on special occasions. The tray provides a suitable surface upon which drinks may be presented at such events.
Gallery trays are made in either wood or metal, with higher sides than the traditional tray, providing more security, preventing items from slipping or tipping off the surface of the tray.
How to know if you have found a drinks tray…?
The drinks tray will look similar to the tea tray, being of similar shape and also having handles, but it will be of a smaller size than the tea tray.
How to know if you have found a gallery tray…?
These pieces are quite easy to spot as they have raised sides (gallery) around the tray, often with fully integrated handles. The more impressive gallery trays have pieced decorated sides embellished with fine detailed designs. Such trays are often made of silver and may be used to serve drinks.
Snuffer Trays
Unlike the above, snuffer trays weren't used to serve drinks, they were produced so households had a receptacle to hold their candle snuffer once used.
This type of tray increased in popularity as candles became associated with wealth. Unlike the present times, candles were a lighting necessity rather than choice.'Only in the homes of the wealthy was there a generous supply of lighting equipment available, and its use became a measure of social standing.'
Wees B.C (1997) English, Irish & Scottish Silver at the Sterling and Francine Clark Art Institute.
How to know if you have found a snuffer tray.
Snuffer trays are often significantly smaller than a drinks or tea tray, and silver snuffer trays often have an incurved form. You may achieve success and be able to source a snuffer tray with the snuffer included (let us know if you do).
Although the above details some of the most popular types of serving trays, you may also discover more variations of the tray, such as salvers and waiters. When deciding on what type of tray to buy, you need to decide if you want the tray for a specific purpose, and which type of tray will suit that best, then consider material (clearly we vote for silver) and lastly, but more importantly, ensure it fits within your available budget.