Loss And Recognition
Loss is an inevitable part of life and has been cause for ceremony throughout the course of human history. No matter how far back you go in human history, those with the resources to do so have always honoured their dead. The Ancient Egyptians built gigantic pyramids and mausoleums to bury their pharaohs. In China, shrines to multiple generations of a family are built and maintained by the family line for centuries. In Britain, there are historical Celtic burial as well as churches, mausoleums and graves build by Christian colonisers.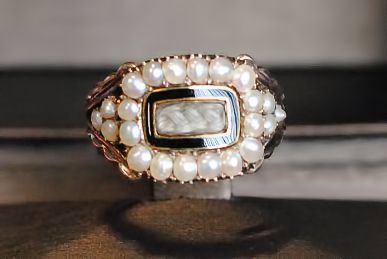 During the 16th and 17th centuries, mourning jewellery was primarily a 'memento mori', a reminder to the wearers of the inevitability of their own deaths. The jewellery was generally in the form of coffins, skulls, and skeletons. It was only later that memento mori jewellery came to be worn in memory of specific individuals. This came about especially after the time of the execution of Charles I when Royalists wore brooches or rings with the initials CR, or even enamelled portraits of their monarch.
Mourning rings tended to be given out at funerals, the shank of the ring often being engraved with the name of the deceased.
From the 18th century, coffins and skulls were swapped out in favour of sentimental depictions of romantic grief. Examples include: enamel weeping willows, broken tombs and angels on brooches and pendants.
The particular culture we are looking into today is the Victorian one, as they honoured their dead with elaborate mourning traditions often deeply entwined with outward appearance, and thus, clothing and jewellery.
Mourning jewellery came in all sizes, shapes, and forms; rings, brooches, pendants, and watches were often decorated with black enamel, jet, agate, or other dark gemstones with only a few exceptions. For instance, white enamel was used to mourn a woman who was unmarried and considered virginal. In the 'deepest' time of mourning, only black would have been appropriate for clothing and jewellery, with darker colours such a blue, purple, and red filtering back into the wardrobe toward the end of personal mourning time.
Queen Victoria was the figurehead of these mourning customs and traditions, and she was known for spending the rest of her life in a state of mourning after the death of Prince Albert, the husband whom she so adored.
Types of Mourning Jewellery
As has been mentioned, mourning jewellery came in many shapes and sizes, and all aspects of jewellery could be considered mourning jewellery under the right conditions. During the Victorian era especially, Queen Victoria's influence was so vast that the culture of mourning was altered across the country.
Periods of mourning evolved, beginning with a phase of deep mourning; the social norm was for this initial stage to last two or even three years. Throughout the deep mourning phase, the dress code was rigid and strict, for women especially. Outfits were expected to be entirely black, with jewellery being made to match.
The most common materials used in mourning jewellery had to reflect this moody colour palette; onyx, jet, black enamel, and dark agate colours were the most used. Since the mourning phase was expected to take over a person's life for a few years as a minimum, jewellery had to be made to accommodate the day-to-day lives of these citizens. Earrings, rings, brooches, necklaces, bracelets, and any other form of jewellery you can imagine had a mourning form.
Unlike the Georgian mourning jewellery that came before it, Victorian mourning jewellery was a little softer in its themes. Georgian mourning jewellery – more accurately described as memento mori jewellery – was often adorned with skeletons, funeral scenes, coffins, and other typical gothic imagery.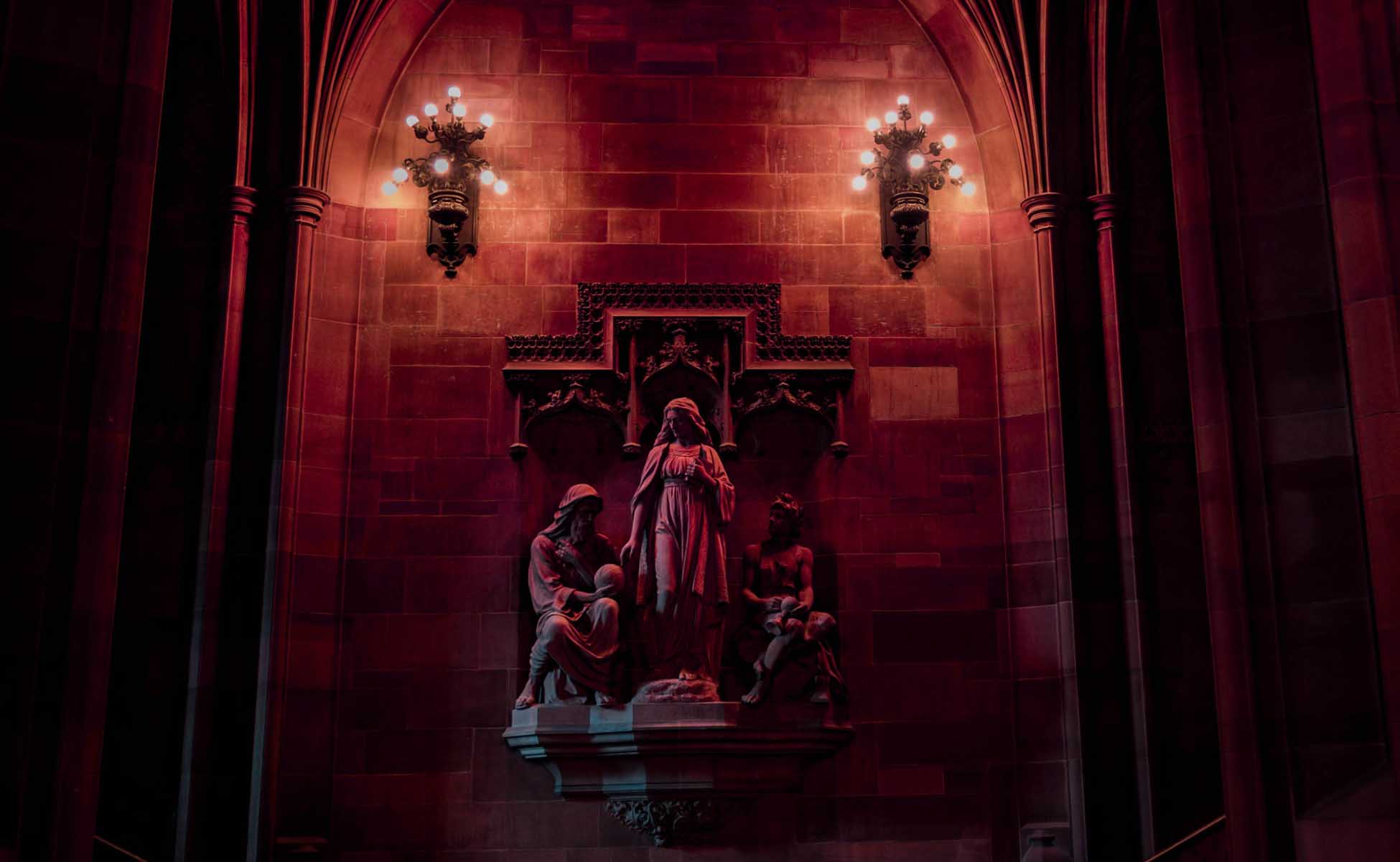 Image courtesy of Sam Barber on
Unsplash
,
CC BY CC0 1.0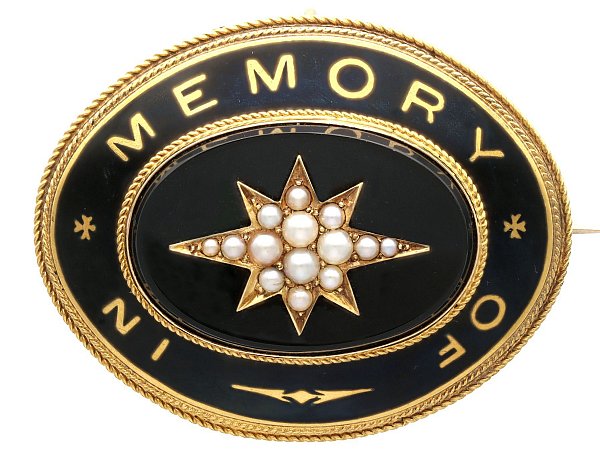 As Victorians wanted to fondly remember their dead, however, it was more culturally preferable to remove the harshness of death where possible.
Floral patterns were more or less a permanent fixture of Victorian jewellery throughout time, and so it's no surprise that flowers as well as weeping willow trees were common features in mourning jewellery pieces.
Willow trees are especially relevant, as they are given the name weeping willow for the way that raindrops fall like tears from their drooped branches.
Style in the Victorian era was a fairly complex thing, with trends coming and going, largely based on the evolution of Queen Victoria's personal tastes throughout her lifetime. For this reason, each type of mourning jewellery has its own journey and uniqueness that makes it interesting to explore now.
Mourning Brooches
Among the most common types of mourning jewellery to survive into the 21st century, mourning brooches were usually large and heavy in their designs. Jewellery made during Queen Victoria's mourning period was designed around grandeur, with thick yellow gold frame work often featuring etched decoration or scrollwork.
Another very common feature of mourning brooches was hair. Although modern society would suggest that wearing the hair of the dead in a piece of jewellery to memorialise them is bizarre or uncouth, Victorians found it to be very natural. In Victorian society, it was beleived that a person's hair held a part of their essence or soul, and so it was the natural choice for memorialising them.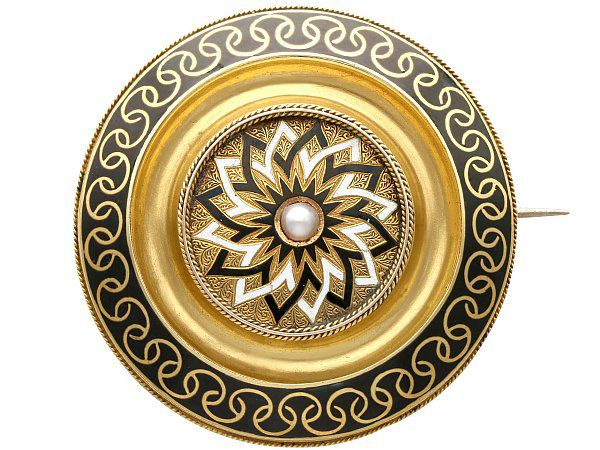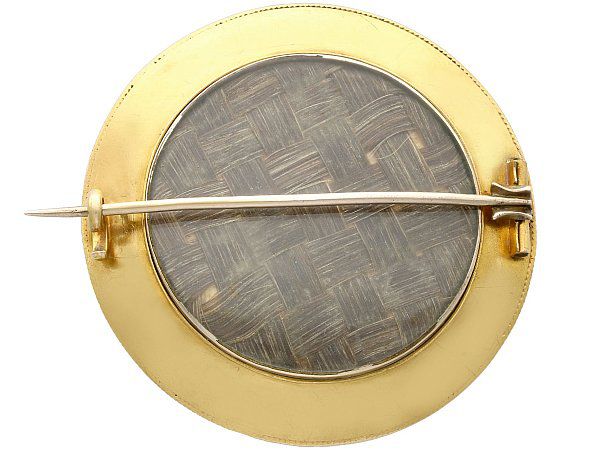 Hair does not deteriorate on its own, and so it was the perfect material to remember someone by, requiring no preservation beyond a glass panel.
How the hair was used varied from piece to piece; often it was intricately manipulated to create beautiful decorative patterns. These were usually displayed on a light-coloured backing in order for the hair to stand out, with a clear glass panel protecting it and a thick – often highly ornate – gold border containing it.
Hair was used in more ways than one, and in more types of mourning jewellery than one. It was a very popular material in mourning rings as well.
Mourning Rings
When hair was used in Victorian mourning rings, it was often plaited into a rope-like material, which in itself was then often used to decorate the shank of the ring. Sometimes, the plaited hair framed the face of the ring, creating square, rectangular, or round shapes which could then be accented by the deceased's initials. In some piece of mourning jewellery, the hair was even used to form the initials, either as loose hair pieces or as wound rope-like hair strands.
Messages were often incorporated into the mourning ring, such as the deceased's initials, the date of their death, or simple phrases such as 'in memory of' or 'in loving memory'.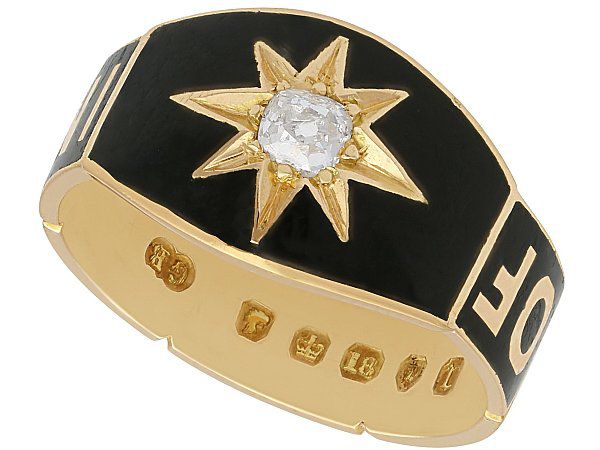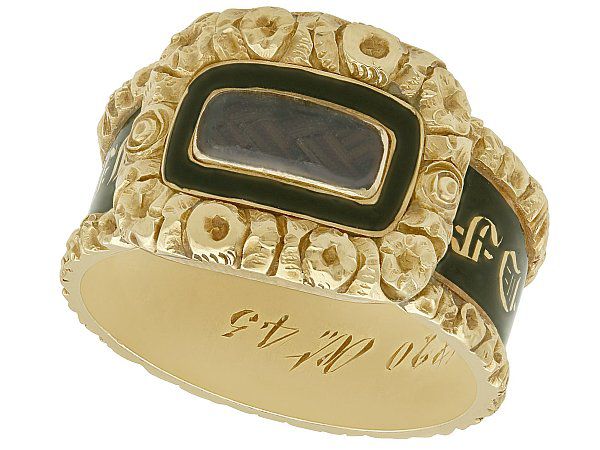 Mourning rings, due to this level of decoration as well as the more general styles of their time, were usually large piece of jewellery, featuring bulky designs that took up most of the finger. What is interesting to point out is that there doesn't seem to be any recorded norm for which finger bore the mourning ring.
Most of Victorian culture was highly regimented and almost strict in the need to adhere to it; and so, it is unique that this socially significant area of jewellery was so flexible. With wedding rings being worn during this time and engagement rings becoming increasingly popular, perhaps it is best to assume that there was no designated mourning ring finger so that the mourner could continue to wear their other jewellery pieces. If a widow wished to mourn in much the same way as Victoria, for example, she would never remarry, and so would perhaps wish to wear her wedding ring until her death.
In Remembrance
Another frequent trend was to have hair of the deceased woven or incorporated into the jewellery, personalising it and immortalising the departed. Later, along with the rise of Victorian 'death photography', lockets would be worn containing a picture of the deceased alongside using hair.
This trend was unique to the 18th and 19th centuries, in that human hair and even bones were used. The sentiment behind this practise, however, about needing something physical with which to remember our dead is timeless. There are even earlier examples of mourning jewellery from as far back as the 15th century, though it certainly was not as aesthetically pleasing as its Victorian descendent.
Moving With The Times
Even now, we still keep the ashes of a loved one, or perhaps a possession of theirs, or visit their graves. Some people even choose to have their ashes transformed into diamonds or used in a 'bio urn' which will grow into a plant of their choosing.
Better To Have Loved And Lost…
As love and loss will always be a part of our existence, mourning in all of its cultural forms will continue to endure. How we choose to respect and uphold our memories of the dead may vary from culture to culture, but it will always boil down to our own personal beliefs and tastes.
How we wish to hold on to precious memories through tokens of remembrance will always be a uniquely personal testament.