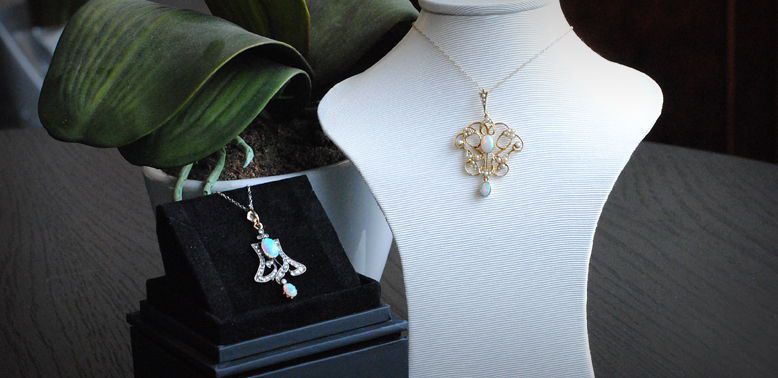 Art Nouveau … French?
When I heard "Art Nouveau jewellery" I must admit the first thing that came to my (French) mind was "Ohhh….French words! Yay!" and I was really amused when I found out that the terminology 'Art Nouveau' movement was only called this in France (obviously…) and English speaking countries; the words were actually "translated" or equivalents were used in most other countries: Jugendstil in Germany, Sezessionstil in Austria, Modernismo in Spain… So, as you may have realised by now, this movement was international. The movement only lasted for a short period of time as it emerged towards the end of the 19th century and ended at the start of the 20th, but during that time it was very intense and has certainly been very influential long term! Art Nouveau was important in the sense that it brought novelty to the art world in general and most particularly in the jewellery world.
After long years of Victorian jewellery (that is nonetheless magnificent by the way!) people were craving something different and new, which is what led to the emergence of Art Nouveau jewellery – "nouveau" meaning "new" in French – this all makes sense now, right? The style and designs were revolutionary and nouveau on many levels, new themes were featured, new materials and new techniques were used.
First thing you need to know about Art Nouveau jewellery is the predominance of the free-flowing line also sometimes referred as the "whiplash" line. (Funny story, in France the Art Nouveau movement was called "Style Nouille" by its detractors, which literally means "noodles style" (last French reference, I promise!). All these free-flowing lines were used to break away from the rigidity of Victorian symmetry, suggesting organic movement, just the way you would find it in plants, women's hair, feminine curves; pretty much anything that waved and undulated in nature.
Themes of Art Nouveau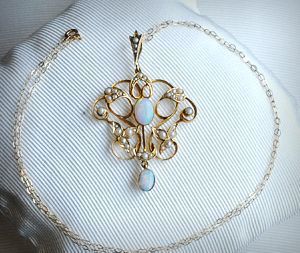 Jewellery craftsmanship was truly revitalised by Art Nouveau, as its main source of inspiration was nature. Jewellery was highly influenced by the emerging Japonism as well.
So, here are a few themes to look out for if you think a piece of jewellery might be Art Nouveau jewellery: insects, especially dragonflies and butterflies; they were seen as fantasy creatures. Beetles, grasshoppers, spiders and other insects were also an inspiration for Art Nouveau Jewellery.
A newer version of the Victorian serpent sneaked in as a reinterpreted, sensually moving design, using that free-flowing line so characteristic of the Movement, benefitting from new detail and colour.
Colours were widely used in Art Nouveau jewellery, so it is in all logic that peacocks became so popular, in addition to swans, swallows and cockerels.
Art Nouveau wasn't just fun, games and rainbows, there was also a dark side to it. I hear you say what better than bats, owls, vultures and mythological creatures to convey that theme? Well, nothing, and Art Nouveau jewellery craftsmen were aware of that so these creatures were widely featured too!
Gemstones and Art Nouveau
Now, the beauty of Art Nouveau jewellery in my eyes is that it allowed the emergence of so many different techniques and use of brightly coloured gemstones that were not previously fashionable. It was brilliant in the sense that cheaper gemstones were used and finally popularised, allowing fine jewellery to be more playful and accessible.
Opals were probably the most popular gemstones of the time, and even though they are only semi-precious they are extraordinary gemstones with such fascinating play on colours. Look at thess beauties in our inventory (pictured)
So, the semi-precious stones that used to be generally dismissed, finally became the 'heroes' of Art Nouveau jewellery. They became the feature stones and not just the supporting ones, and this was just revolutionary!
For completeness, I must mention new materials such as glass and ivory, which were also used, however, I can't get too excited about them… but yes, they were also used.
The technique of enamel became very popular as it was the perfect way to create any shade of colour, keeping in touch with the idea of having a revitalised, closer depiction or reflection of nature.
The 'Art' in Art Nouveau
Art Nouveau jewellery was the starting point of a new type of jewellery in the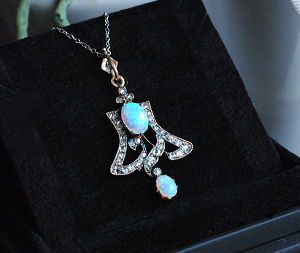 sense that it was more directed towards an artistic concept of drawing and creating new patterns rather than just focusing on the gemstone and only complementing it. It is at this point when the recognition of jewellery makers changed: they were revered and recognised through their creations, just like any other artist and not "soley" as a craftsperson.